A Tiered Approach to Geriatric Nutrition
Written by Karen M. Chapman-Novakofski, PhD, RDN
Edited by Mary Ann Cockram, MS, RD, and Wolf J. Rinke, PhD, RDN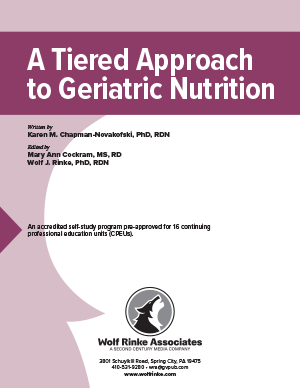 | | | | | |
| --- | --- | --- | --- | --- |
| T368 | 16 CPEUs | HARD COPY | $149.95 | |
(Manual, 116 pgs) Nutrition professionals must be aware of the special needs of older adults—the fastest-growing segment of our population. This CPE program examines and details the rationale for specific nutrient recommendations in both preventive health and therapeutic nutrition in the geriatric population.
For more information, click here.
Approved by CDR
For RDs/RDNs & DTRs/NDTRs for the Professional Development Portfolio

SUGGESTED Performance Indicators (PIs):
8.1.1, 8.1.5 8.2.1, 8.2.3

DON'T SEE your Performance Indicators listed here?
There are many Performance Indicators (PIs) that are applicable we can't list them all &
Per CDR you may use ANY PI as long as it relates to your Learning Plan.
For details click here.

Share with a friend and Save! Click here for important information about sharing.
To order an ADDITIONAL Reporting Form click below:
| | | | | |
| --- | --- | --- | --- | --- |
| T368F | 16 CPEUs | REPORTING FORM | $50.00 | |
A Tiered Approach to Geriatric Nutrition
Written by Karen M. Chapman-Novakofski, PhD, RDN
Edited by Mary Ann Cockram, MS, RD, and Wolf J. Rinke, PhD, RDN
© 2023 Wolf Rinke Associates, Inc. All rights reserved for this self-directed accredited learning program. Reproduction in whole or part without written permission, except for brief excerpts, is prohibited.
OVERVIEW AND INTRODUCTION
Nutrition professionals must be aware of the special needs of older adults—the fastest growing segment of our population. More older adults than ever are participating in community and outreach health programs and seeking independent nutritionists for a consultation about their health. To meet the nutritional needs of the older adult, nutrition professionals must understand the rationale for specific nutrient recommendations in both preventive health and therapeutic nutrition.
This self-directed, accredited learning program begins in chapter 1 with a summary of nutrition screening and nutrition assessments options available to those working with older adults. In chapter 2, you'll find an explanation of the nutrient requirements that change with age. As additional research is published concerning older adults, information is provided to care for these individuals specifically. The chapter includes recommendations for calories, protein, vitamins D and B12, calcium, sodium, and water as well as appropriate dietary patterns.
In chapter 3, the rationales and practical applications of nutrition in regards to cardiovascular diseases, hypertension, cancers, diabetes, and osteoporosis are discussed. As the individual ages, the prevalence of chronic disease increases. In chapter 4, managing multiple chronic diseases is discussed, since older adults often have two or more chronic diseases.
Chapter 5 focuses on the hospitalized older adult. The most common reasons for hospitalization are covered, including heart failure, myocardial infarction, stroke, pneumonia, and diabetes. The importance of malnutrition awareness is highlighted as well as discharge planning. Chapter 6 addresses issues with home care, nursing home, and long-term care as well as end-of-life concerns and palliative care. Four case studies provide practice and application.
This CPE program is a level 2 Continuing Professional Education (CPE) program approved for 16 continuing professional education units (CPEUs). That means that the reader has general knowledge of literature and professional practice in the area covered. The focus of the program is to enhance knowledge and application.
To get the most out of this CPE program, it is suggested that you adhere to the following four steps:
Review the objectives of this study guide.
Read and study the book.
Assess what you have learned by answering the self-assessment questions in this study guide.
Compare your answers to the answer key, which you will find at the end of the study guide. If you scored at least 80% correct, you have completed the program and are ready to claim your CPE credit. If you scored less than 80% correct, re-read the appropriate sections of the book and re-test yourself until you score at least 80% correct.
After you have successfully completed the program by scoring at least 80% correct, follow these instructions to claim your CPE credit:
Fill out the CPE REPORTING FORM and the MANDATORY Critical Thinking Evaluation Tool (CTT) that must be completed by all credentialed practitioners per CDR and submit them online at www.easyCPEcredits.com.
If you would like to submit your completion via fax or mail, please transfer your test answers and fully complete the CPE Reporting Form and:
fax to (410) 531-9282, or
mail to Wolf Rinke Associates, 3801 Schuylkill Road, Spring City, PA 19475.
Upon receipt of your CPE Reporting Form, we will email you a Certificate of Completion within 3-5 business days.
When you submit your CPE Reporting Form to us via fax or mail, be sure to write your correct email address in the space provided on the CPE Reporting Form. If writing by hand, be sure to print your email address.
Study well and enjoy the learning process!
Karen Chapman-Novakofski, PhD, RDN
To ensure that our emails are delivered to your inbox (instead of your junk/spam folders), please add cpesupport@wolfrinke.com to your Address Book or Safe List of allowed email senders. Also, be sure to allow attachments from this email address.
LEARNING OBJECTIVES

As a result of studying and applying the information presented in this accredited, selfdirected learning program, you will be better able to:
Counsel clients about diets that reflect nutrient requirements of older people;
Recognize why requirements change with age and are able to integrate that knowledge into case management;
Recommend appropriate biochemical or dietary assessments to determine the nutrition status of older people;
Counsel clients regarding nutritional modifications that are important in the prevention and treatment of cardiovascular disease, hypertension, cancer, diabetes, osteoporosis, and cognitive decline;
Provide nutrition care for the older client with multiple conditions;
Care for the hospitalized older adult;
Provide nutritional care for the older adult receiving home care, while in a nursing home or long-term care facility, or palliative care;
Recognize how disability and end-of-life issues affect nutritional assessment and care of the older adult.
ABOUT THE AUTHOR
Karen Chapman-Novakofski, PhD, RDN, is a registered dietitian with more than 30 years of experience working with the elderly. For 11 years she was a nutrition support team dietitian at a veteran's medical center where she worked with severely malnourished as well as outpatient aging veterans.
Currently, Dr. Chapman-Novakofski is a Professor of Nutrition in the Department of Food Science and Human Nutrition, the Division of Nutritional Sciences, the Department of Kinesiology and Community Health, and the Department of Internal Medicine at the University of Illinois. Her research, teaching, and outreach efforts focus on geriatric nutrition. Dr. Chapman-Novakofski has published more than 300 journal articles and abstracts, and she teaches geriatric nutrition to both undergraduate and graduate students. Her outreach efforts in geriatric nutrition education include state and national conference presentations, and the distribution of educational materials. In 2006, she received the Distinguished Service Award from the American Dietetic Association Gerontological Nutritionist Practice Group. She is the Academy of Nutrition and Dietetics representative on the American Society for Bone and Mineral Research Coalition (ASBMR) to implement an action plan for ASBMR's Strategic Roadmap to Prevent Secondary Fractures. In her role as an extension specialist at the university, Dr. Chapman-Novakofski collaborates with many public and private agencies in the delivery of nutrition education and nutrition services to the older adult in Illinois.
ABOUT THE EDITORS
Mary Ann Cockram, MS, RD, is retired from Abbott Nutrition where she was a Research Scientist in the Scientific and Medical Affairs group. In this role, she provided clinical nutrition education and brand support internally to Sales and Marketing and externally to clinicians and consumers for Abbott's critical care and surgical enteral nutrition products. Her area of interest is enteral feeding.
Mary Ann received a Bachelor of Science in Home Economics from Valparaiso University in Valparaiso, Ind., and a Master of Science in Clinical Nutrition from Rush University in Chicago. Mary Ann served as chair of the Medical Nutrition Practice Group, and as the assistant editor and editor of Medical Nutrition Matters, the newsletter of this practice group.
Mary Ann participated as an evidence analyst on the Evidence Analysis Team for Adult Weight Management for the Academy of Nutrition and Dietetics, and she attended the test item writer workshop sponsored by the Commission on Dietetic Registration.

Wolf J. Rinke, PhD, RDN, is the president and founder of Wolf Rinke Associates, Inc., a company that has provided high-quality CPE programs to nutrition and dietetics practitioners since 1990.
Dr. Rinke earned a BS at Drexel University, an MS at Iowa State University, a PhD in Continuing and Vocational Education (Adult Ed) at the University of Wisconsin, and interned at Walter Reed Army Medical Center. He completed a CPE item writing workshop sponsored by the Commission on Dietetic Registration (CDR).
Dr. Rinke is a past Adjunct Associate Professor, Graduate School of Management & Technology at the University of Maryland, and a former Adjunct Faculty Member of the School of Continuing Studies at The Johns Hopkins University.
He has served as past president of the District of Columbia (DC) Dietetic Association and has been honored by the Academy of Nutrition and Dietetics with the Award for Excellence in the Practice of Management, the Outstanding Dietitian of the Year Award, and the Outstanding Service Award, in addition to delivering the Lenna Frances Cooper Lecture.
Dr. Rinke has served in numerous leadership roles at the Academy of Nutrition and Dietetics: Chair of the Scholarship Committee for Dietitians in Business and Communications; Chair of the Communication Committee, Honors Committee, and Licensure Panel and Ethical Practices Task Force for the Commission on Dietetic Registration; Chair of the Area Coordinating Committee and Chair for the Code of Ethics; Member of the Resource for Education Programs Committee; Member of the House of Delegates; and Member of the Board of Directors.
Dr. Rinke is the author of more than 500 articles, numerous CPE self-study programs, and several popular books including Make It a Winning Life: Success Strategies for Life, Love and Business; Winning Management: 6 Fail-Safe Strategies for Building High-Performance Organizations; and Don't Oil the Squeaky Wheel and 19 Other Contrarian Ways to Improve Your Leadership Effectiveness.
His popular CPE programs available at www.easyCPEcredits.com include:
Beat the Blues: How to Manage Stress and Balance Your Life
Win-Win Negotiation: Fail-Safe Strategies to Help You Get More of What You Want
Time Management: How to Stretch the Time Rubber Band
Knock 'em Alive Presentation Skills: How to Make an Effective Presentation for 1 to 1,000
The Power of Communication: How to Increase Your Personal and Professional Effectiveness
Manage Electronic and Traditional Meetings and Correspondence More Effectively
Delegation and Coaching: High Impact Strategies for Doing More with Less
High Impact Strategies for Achieving Peak Team Performance
Develop a Positive Attitude: Live a Healthier and More Productive Life
Goals—Your Road Map to Success
Manage Your Energy: Get More Done and Have More Fun
Contrarian Leadership: 21 Strategies to Improve Your Leadership Effectiveness
ACKNOWLEDGEMENTS
Special thanks to the following individuals for their careful review of this program.
Shauna Del Prete, RDN, CDN, CLT
Registered Dietitian Nutritionist
Results Professional Food Coaching
Syosset, NY
Taylor Durkin, MS, RD
Diabetes Educator and Nutrition Specialist
University of Chicago Medical Center
Chicago, IL
Janet Kolmer Grommet, PhD, RDN, CDCES, FAND
Associate Professor of Clinical Nutrition (Adj)
Hunter College, City University of New York
New York, NY
Patti Welch, MPH, RDN
Nutrition Advisor
Save the Children
Washington, DC
---
If you prefer to order by phone, mail or fax click below.
or click here to contact us with other questions.
For information about our other products and services return to the sidebar at the top of the page.