Wolf Rinke Associates is one of the first major accredited continuing professional education (CPE) providers of pre-approved self-study programs in the field of dietetics. Since 1990 we have provided the highest quality CPE programs for RD's, RDNs, NDTRs, DTRs, and CDEs. Most of our customers are "customers for life" because every one of our team members is passionate about delivering exceptionally high levels of customer service while consistently fulfilling our company philosophy which is:
"To make your life easier by providing you with high quality pre-approved CPE programs that are easy to earn, easy to learn, inexpensive and fun."
Thousands of nutrition professionals, diabetes educators, & nurses have greatly advanced their knowledge and competence through our world class CPE.
Wolf Rinke Associates was founded in 1988 by Wolf J. Rinke, LTC(Ret), PhD, RDN, CSP, with the mission of helping its customers maximize their potential by providing exceptionally high quality CPE products and services. To learn more about Wolf in his own words, click here.
In 2021, Wolf Rinke Associates was acquired by Great Valley Publishing, the publisher of Today's Dietitian Magazine. Under new ownership, Wolf Rinke Associates will continue its mission to deliver the highest quality CPE programs for the dietetics profession.
ABOUT WOLF J. RINKE, LTC (Ret), PhD, RDN, CSP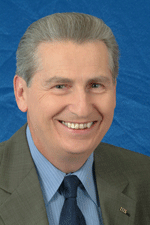 Here is a bit of background about me. I began my career at age 14 when I started working full time as an apprentice steward in the German merchant marine. After immigrating to America, with only the proverbial "shirt on my back," I put myself through prep-school and Drexel University by holding down three part-time foodservice jobs. In 1968 I joined the Army Medical Specialist Corp (AMSC), and completed my dietetic internship at Walter Reed Army Medical Center (WRAMC). During my time in the AMSC I held various leadership positions in Foodservice departments of three different medical centers in Germany and the U.S., finishing as Director of AMSC Research, Department of Clinical Investigation, WRAMC. While in the military I discovered my passion for public speaking, publishing, and volunteering in the American Dietetic Association (now the Academy) first holding numerous leadership responsibilities at the local level, culminating as president of the DC Dietetic Association; and then at the national level in various leadership roles in CDR, COE, House of Delegates and Board of Directors. After completing a 20 year distinguished military career, I was awarded the Legion of Merit, one of the highest non-combat medals, and retired as a Lieutenant Colonel.

My passion for public speaking and dietetics inspired me to start my own business in 1988--Wolf Rinke Associates, Inc. and subsequently Achievement Publishers, and easyCPEcredits.com. My initial focus was to become an effective professional speaker and author so that I could help nutrition professionals enhance their skills and success. After a couple of years I authored numerous CPE programs and wrote my first book The Winning Food Service Manager: Strategies for Doing More with Less. It was published by ASPEN, had a foreword by J. W. Marriott, and was endorsed by the Presidents of ADA and Domino's Pizza, as well as many other top achievers. The success of my book expanded my business from speaking to dietetic professionals to corporate clients and enabled me to earn a Certified Speaking Professional (CSP) credential, one of the very first RDs to earn this distinction.

Becoming a CSP led to me speaking to numerous companies and organizations in about a dozen countries. Because of my ability to deliver a powerful message that helped thousands of professionals enhance their effectiveness I was asked to expand my services to include management/leadership consulting, and executive coaching for more than
40 major corporate clients in the US, Canada, Germany, Denmark and the Pacific Rim.

To better serve my clients I became a prolific author of more than 400 articles, numerous audio and video programs, and popular books including MAKE It a Winning Life: Success Strategies for Life, Love, and Business; Winning Management: 6 Fail-Safe Strategies for Building High-Performance Organizations; and Don't Oil the Squeaky Wheel and 19 Other Contrarian Ways to Improve Your Leadership Effectiveness. Due to my visibility as an author I was featured in the media over 300 times on various radio and TV programs including CNN. For my speaking achievements I was recognized with the National Capital Speakers Association's Outstanding Speaker Award, and the John Jay Daly Award--the highest honor bestowed by the DC National Speakers Association.

While speaking, consulting and coaching I continued to be heavily involved in managing and expanding the easyCPEcredits part of our business. In this role I continue to edit all new nutrition and clinical CPE programs, and have written most of our management and professional development programs such as Develop a Positive Attitude: Live a Healthier and More Productive Life; The Power of Communication: How to Increase Your Personal and Professional Effectiveness; Knock'em Alive Presentation Skills: How to Make and Effective Presentation for 1 to 1,000; Manage Your Energy: Get More Done and Have More Fun; Beat the Blues: How to Manage Stress and Balance Your Life; Win-Win Negotiation: Fail-Safe Strategies to Help You Get More of What You Want; How to Motivate Employees to Achieve Peak Performance; and countless others.

For my my services in the dietetic community I have received numerous awards and honors from ADA (now the Academy), such as the Award for Excellence in the Practice of Management, the Outstanding Dietitian of the Year Award; the Outstanding Service Award, and the Lenna Frances Cooper Lecture--one of the top awards bestowed by the Academy.
Click to return to top of page.