Time Management: How to Stretch the Time Rubber Band, Fifth Edition
Wolf J. Rinke, PhD, RD, CSP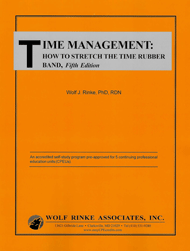 | | | | | |
| --- | --- | --- | --- | --- |
| T356 | 5 CPEUs | HARD COPY | $44.95 | |
| T356E | 5 CPEUs | ELECTRONIC | $39.95 | |
Manual with 1 reporting form (52 pgs)
This program will enable you to:
Master a four-step process to get the most out of every 24 hours.
Chunk time and routinize crisis.
Apply the Task Analysis Grid (TAG) to prioritize tasks, set goals and delegate more effectively.
Balance your life and reduce stress.
Succeed faster.
Click here for more information and customer comments
Approved by CDR
For RDs/RDNs & DTRs/NDTRs for the Professional Development Portfolio:
SUGGESTED Performance Indicators (PIs):
1.1.3, 1.1.4, 1.1.5, 1.1.6,1.1.7, 1.2.1, 1.2.2, 1.2.3, 1.2.4, 1.2.5, 1.2.6, 1.3.3, 1.3.7, 1.4.5, 1.5.4, 1.6.2, 2.2.4, 3.1.1, 3.1.3, 3.1.5, 3.1.6, 3.2.2, 3.2.3

DON'T SEE your Performance Indicators Listed here?
There are many Performance Indicators (PIs) that are applicable we can't list them all &
Per CDR you may use ANY PI as long as it relates to your Learning Plan.
For details click here.

Share with a friend and Save! Click here for important information about sharing.
To order an ADDITIONAL Reporting Form click below:

| | | | | |
| --- | --- | --- | --- | --- |
| T356F | 5 CPEUs | REPORTING FORM | $40.00 | |
Copyright 2021 Wolf Rinke Associates, Inc.

CUSTOMER COMMENTS
Lou Ann Shannon: "This course was easy to read and understand. I will be able to use the skills to better organize my work days. I particularly liked the part about saying I have to or saying I want to do something!"
Shannon Simpfenderfer: "This resource outlined practival tips for ways in which I can utilize my time more effectively, thus increasing my efficiency!"
Marie Brutus: "It is clear and simple. I thought I was doing it Live! I could not stop laughing at your humor breaks! Fantastic!"
OVERVIEW AND INSTRUCTIONS

Welcome to Time Management: How to Stretch the Time Rubber Band, 5th ed. an accredited continuing professional education (CPE) self-study program.
This program is designed to help you get the most out of the only nonrenewable resource you will ever manage--your time. It is a Level 2 CPE program approved for 5 continuing education units (CPEUs). That means that the reader has some knowledge of the literature and professional practice within the area covered. The focus of the program is to enhance knowledge and application.
To get the most out of this CPE program, it is suggested that you adhere to the following six steps:
Step 1: Review the objectives.
Step 2: Assess your current knowledge by completing the pre-self-assessment instruments and any other exercises contained in this CPE program.
Step 3: Score your current knowledge by comparing your answers to the scoring instructions contained in this CPE program.
Step 4: Read and reflect on how you can apply the information.
Step 5: Assess what you have learned by completing the self-assessment instrument at the end of the CPE program.
Step 6: Compare your answers to the answer key located at the end of the CPE program. If you scored at least 80% correct (16 questions), you have completed the CPE program and are ready to transfer your answers to the CPE REPORTING FORM. If you scored less than 80% correct, re-read the CPE program until you score at least 80% (16 questions) correct.
After you have completed the program, fill out the CPE REPORTING FORM and the MANDATORY Critical Thinking Evaluation Tool (CTT) that must be completed by all credentialed practitioners per CDR and:
Submit them online at www.easyCPEcredits.com,
Or fax them to (410) 531-9282,
Or mail them to Wolf Rinke Associates, 3801 Schuylkill Road, Spring City, PA 19475.
Upon receipt of your CPE Reporting Form and the CTT, we will email you a Certificate of Completion within 3-5 business days.
NOTE: Per CDR we are NOT able to send you a Certificate of Completion unless we receive your completed CTT.
When you submit your CPE Reporting Form and the CTT to us via www.easyCPEcredits.com, fax, or mail, be sure to write your correct email address in the space provided on the CPE Reporting Form. If writing by hand, be sure to print your email address.
To ensure that our emails are delivered to your inbox (instead of your junk/spam folders), please add cpesupport@wolfrinke.com to your Address Book or Safe List of allowed email senders. Also, be sure to allow attachments from this email address.
I would like you to become a super-effective time manager! If you have questions or suggestions, please feel free to e-mail me at
cpesupport@wolfrinke.com
.
Happy Learning!
Wolf J. Rinke, PhD, RDN
OBJECTIVES
As a result of studying and applying the concepts presented in this self-directed learning program, you will be better able to:
Appreciate that one of the most precious resources that anyone manages is time.
Distinguish the different types of time.
Make the most of the time that is under your discretion.
Recognize that time management is a misnomer.
Apply the rubber band approach to time to get the most out of every 24 hours.
Squeeze the most out of each day by learning how to chunk time and routinize crisis.
Assess how well you currently utilize your time.
Take advantage of the Pareto Principle.
Maximize your time utilization by using a four-step process.
Apply the Task Analysis Grid (TAG) to prioritize tasks and set goals.
Apply the Task Analysis Grid (TAG) to determine how and what to delegate.
Apply specific strategies to balance your life.
Reduce your perceived level of stress.
Apply specific time "management" strategies that will enable you to succeed faster.
TABLE OF CONTENTS
Know Thy Time
Types of Time
Boss-Imposed Time
System-Imposed Time
Self-Imposed Time
Subordinate-Imposed Time
Discretionary Time
Time Management: Fact or Fiction
The Rubber Band Approach to Time Management
Chunking Time, or How to Get it All Together
How to Routinize Crisis
Time Rubber Band Stretching Skills: A Self-Assessment
What Your Score Means
How to Get the Most Out of Every 24-Hour Day
Record Your Time
Analyze Your Time Expenditures
Looking for Time Patterns in All the Right Places
Categorize Your Tasks
Distinguish Between the Urgent and the Important
Allocate Your Tasks
Set Goals and Priorities
A Simple Tool to Prioritize Your Life
How to Eat an Elephant
One More Time with Feeling
Take Advantage of the Three-Minute Rule
How to Balance Your Life and Conquer Stress
Take Control
Master the Most Powerful Stress Control System of All Time
Change the Changeable
Accept the Unchangeable
Remove Yourself from the Unacceptable
Make a Weekly Date with Your Significant Other
Simplify Your Life
Create Solitude
Exercise--Your Life Depends on It
Sleep Well
Maintain a Regular Sleep Schedule
Wind Down
Eat as Early as Possible
Don't Fight It
Make Time for Joy
Summary 
Time Management Action Steps
Notes
For Your Continuing Learning
Self-Assessment Instrument
Answer Key
Explanations to Self-Assessment Questions
About the Author
About Wolf Rinke Associates, Inc
ABOUT THE AUTHOR
Wolf J. Rinke, PhD, RDN is the president and founder of Wolf Rinke Associates, Inc., a company that has provided high-quality CPE programs to nutrition and dietetics practitioners since 1990.
Dr. Rinke earned a BS at Drexel University, an MS at Iowa State University, a PhD in Continuing and Vocational Education (Adult Ed) at the University of Wisconsin, and interned at Walter Reed Army Medical Center. He completed a test item writer workshop sponsored by the Commission on Dietetic Registration (CDR).
Dr. Rinke is a past Adjunct Associate Professor, Graduate School of Management & Technology at the University of Maryland, and a former Adjunct Faculty Member of the School of Continuing Studies at The Johns Hopkins University.
He has served as past president of the District of Columbia (DC) Dietetic Association and has been honored by the Academy of Nutrition and Dietetics with the Award for Excellence in the Practice of Management, the Outstanding Dietitian of the Year Award, and the Outstanding Service Award, in addition to delivering the Lenna Frances Cooper Lecture.
Dr. Rinke has served in numerous leadership roles at the Academy of Nutrition and Dietetics: Chair of the Scholarship Committee for Dietitians in Business and Communications; Chair of the Communication Committee, Honors Committee, and Licensure Panel and Ethical Practices Task Force for the Commission on Dietetic Registration; Chair of the Area Coordinating Committee and Chair for the Code of Ethics; Member of the Resource for Education Programs Committee; Member of the House of Delegates; and Member of the Board of Directors.
Dr. Rinke is the author of more than 500 articles, numerous CPE self-study programs, and several popular books including Make It a Winning Life: Success Strategies for Life, Love and Business; Winning Management: 6 Fail-Safe Strategies for Building High-Performance Organizations; and Don't Oil the Squeaky Wheel and 19 Other Contrarian Ways to Improve Your Leadership Effectiveness.
His popular CPE programs available at www.easyCPEcredits.com include:
Win-Win Negotiation: Fail-Safe Strategies to Help You Get More of What You Want
Goals: Your Road Map to Success
Knock 'em Alive Presentation Skills: How to Make an Effective Presentation for 1 to 1,000
The Power of Communication: How to Increase Your Personal and Professional Effectiveness
Manage Electronic and Traditional Meetings and Correspondence More Effectively
Delegation and Coaching: High Impact Strategies for Doing More with Less
High Impact Strategies for Achieving Peak Team Performance
Develop a Positive Attitude: Live a Healthier and More Productive Life
Manage Your Energy: Get More Done and Have More Fun
Contrarian Leadership: 21 Strategies to Improve Your Leadership Effectiveness
ACKNOWLEDGMENTS
Special thanks to the following individuals for their review.
Kris M. Mogensen, MS, RDN, LDN, CNSC
Team Leader Dietitian
Department of Nutrition
Brigham and Women's Hospital
Boston, MA
Richard F. Patterson, EdD, RDN
Associate Dean, College of Health and Human Services
and
Associate Professor, Hospitality Management and Dietetics
Western Kentucky University
Bowling Green, KY
Sara Long Roth, PhD, RDN
Professor Emerita
Department of Animal Science, Food & Nutrition
Southern Illinois University
Carbondale, IL
---
If you prefer to order by phone, mail or fax click below
or click here to contact us with other questions.
For information about our other products and services return to the sidebar at the top of the page.