Facilitating Behavior Change with Evidence-Based Nutrition Education Strategies
Alessandra Sarcona, EdD, RDN, CSSD
Edited by Mary Ann Cockram, MS, RD and Wolf J. Rinke, PhD, RDN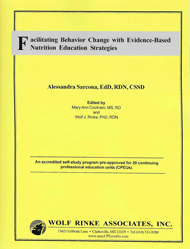 | | | | | |
| --- | --- | --- | --- | --- |
| T353 | 20 CPEUs | HARD COPY | $149.95 | |
| T353E | 20 CPEUs | ELECTRONIC | $134.95 | |
Manual with 1 Reporting form, 172 pgs.
This program is ideal for diabetes educators and a must for anyone who works with the public. Learn how to:
apply the principles of nutrition education

recognize the challenges facing nutrition educators

realize the role theory plays in designing nutrition interventions

select suitable intervention strategies for various subgroups of the population

apply various communication strategies

utilize effective communication skills with clients and program participants

identify the characteristics of lectures and group discussions

deliver successful presentations

recognize the significant role mass media plays in nutrition education

develop effective tools to communicate nutrition messages

recognize common pitfalls of ineffective educational tools

identify appropriate content and designs for print materials

write effective manuals and lesson plans

develop appropriate visual aids

For more information click here.
Approved/Accepted by CDR, NCBDE
For RDs/RDNs & DTRs/NDTRs for the Professional Development Portfolio

SUGGESTED Performance Indicators (PIs):
1.3.3, 2.1.5, 2.3.3, 8.2.4, 8.3.6, 8.4.5, 9.1.4, 9.1.5, 9.2.1, 9.2.2, 9.2.3, 9.2.4,
9.3.2, 9.3.4, 9.3.5, 9.4.1, 9.4.2, 9.4.3, 9.4.5, 9.4.6, 9.4.8, 9.5.4, 9.5.8, 10.2.9, 12.4.3, 12.4.5


DON'T SEE your Performance Indicators or Code Listed here?
There are many Performance Indicators (PIs) that are applicable we can't list them all &
Per CDR you may use ANY PI or CODE as long as it relates to your Learning Plan.
For details click here.

Share with a friend and Save! Click here for important information about sharing.
To order an ADDITIONAL Reporting Form click below:

| | | | | |
| --- | --- | --- | --- | --- |
| T353F | 20 CPEUs | REPORTING FORM | $60.00 | |
Facilitating Behavior Change with Evidence-Based Nutrition Education Strategies
Alessandra Sarcona, EdD, RDN, CSSD
Edited by Mary Ann Cockram, MS, RD and Wolf J. Rinke, PhD, RDN
© 2021 Wolf Rinke Associates, Inc.
No part of this publication may be reproduced, stored in a retrieval system, or transmitted in any form or by any means, electronic, mechanical, photocopying, recording, scanning, or otherwise, without the prior written permission of the Publisher.
CUSTOMER COMMENTS
Kathy Isoldi: "The review of all models regarding communication/counseling was very valuable, as well as all the information offered to consider when preparing a presentation."
Michelle Kofoed: "Understanding different types of counseling - I would love to learn more about this. I also really enjoyed the points on developing effective handouts/written material."
Elizabeth Bertrand: "This is a very thoughtful, well outlined, relatable, and practical book on behavior change for nutrition educators/health professionals."
Jacqueline Kaetzel: "Theories and models used in nutrition behavior were helpful to better understand needing to understand how people behave the way the way they do. Stages of changes were helpful to learn about."
Amanda Carter: "This program will allow me to improve and tailor not only the initial and subsequent interviews, but also the development and implementation of positive changes in behavior."
OVERVIEW AND INTRODUCTION
Welcome to Facilitating Behavior Change with Evidence-Based Nutrition Education Strategies, a self-directed, accredited, learning program.
Nutrition and dietetics practitioners often graduate knowing all about the biochemical science of nutrition, but very little about behavioral science or applications of nutrition. Many of us end up working in community programs and are expected to educate clients, develop nutrition education materials, and develop theory-based interventions; yet, we receive little training on how to accomplish these tasks. How should we communicate with our audience? What should a brochure look like? How do we use a printed piece with different population groups? How could we reach specific population groups more effectively and impact their dietary behaviors? This learning program was developed to answer a number of these questions and many others to help you, the nutrition professional, better serve your clients and program participants. Please note that this learning program does not discuss program evaluation. To thoroughly cover all facets of program evaluation requires a learning program on its own.
This learning program is divided into two parts. Part I introduces you to the principles of nutrition education. Part II provides you with practical information to help you develop and evaluate print materials and other educational tools.
This level 2 learning program is designed to help you earn 20 Continuing Professional Education Units (CPEUs). To get the most benefit from this program, we suggest you adhere to the following steps:
Step 1: Review the objectives for the CPE program.
Step 2: Study each chapter. As you read, think of patients from your own practice who fit the situation described.
Step 3: Assess what you have learned by answering the self-assessment questions and compare your answers to the answer key at the end of this program. Once you scored at least 80% correct go to our website http://www.easycpecredits.com and click on the link Submit Reporting Form to submit your Continuing Professional Education Reporting Form and the MANDATORY Critical Thinking Evaluation Tool (CTT). You must do this before your program expires (one year from the date of your purchase). Your program registration number is T+Your Receipt Order Number, i.e T10219. You will find the order number in the email confirmation you received when you purchased your program. Fill out this form and click the submit button at the bottom of the form...it's that simple. You will get an immediate confirmation that we received your reporting form and your certificate will be emailed to you within 2-5 days to the email you provided on the reporting form.
To ensure that our emails are delivered to your inbox (instead of your junk/spam folders), please add cpesupport@wolfrinke.com to your Address Book or Safe List of allowed email senders. Also, be sure to allow attachments from this email address.
NOTE: Per CDR we are NOT able to send you a Certificate of Completion unless we receive your completed CTT.

GOAL AND OBJECTIVES
Goal
To provide nutrition professionals with an understanding of the factors influencing human dietary behavior.
Objectives
After reviewing and applying the information presented in this accredited, self-directed learning program you will be better able to:
1. Apply the principles of nutrition education
Recognize the challenges facing nutrition educators

Realize the role theory plays in designing nutrition interventions

Select suitable intervention strategies for various subgroups of the population
2. Apply various communication strategies
Utilize effective communication skills with clients and program participants

Identify the characteristics of lectures and group discussions

Deliver successful presentations

Recognize the significant role mass media plays in nutrition
3. Develop effective tools to communicate nutrition messages
Recognize common pitfalls of ineffective educational tools

Identify appropriate content and designs for print materials

Write effective manuals and lesson plans

Develop appropriate visual aids

TABLE OF CONTENTS
Part I: Principles of Nutrition Education and Behavior Change
Chapter 1. Introduction to Nutrition Education
What Is Nutrition Education?
The Job of the Nutrition Educator
Interpreting Science
Keeping Up-to-Date
Using Proper Communication
Facilitating Change
Lobbying for Nutrition Causes
Evaluating Interventions
Mentoring Colleagues
Methods and Tools Used by Nutrition Educators
Conclusion
Chapter 2. The Challenges of Changing Dietary Behavior
Challenges to Behavior Change
Dietary Factors
Individual Factors
Environmental Factors
The Science of Nutrition
Conclusion
Chapter 3. Theories and Models Used in Nutrition Behavior Research
Why Use Theory?
Definitions
Concepts and Constructs
Variables
Propositions.
Principles
Models
Theories
Theories and Models for Behavior Change
Social Cognitive Theory
Theory of Reasoned Action
Health Belief Model
Stages of Change Model
Motivational Interviewing
Conclusion
Chapter 4. Audience Segmentation
Children
Child Development Research.
Implications for Nutrition Education
Adolescents
Implications for Nutrition Education
Adults
Theories of Adult Learning
Nutrition Knowledge and Attitudes of Adults
Implications for Nutrition Education
Older Adults
Review of Characteristics of Older Adults
Implications for Nutrition Education
Multicultural Groups
Implications for Nutrition Education
Low-Income Populations
Implications for Nutrition Education
Conclusion
Chapter 5. Teaching Nutrition Meaningfully: Traditional Versus
Participatory Education Approaches
What Is Meaningful Education
Traditional Approaches to Nutrition Education
Less Traditional Approaches to Nutrition Education
Conclusion
Part II: Developing Effective Educational Strategies and Resources
Chapter 6. Working with the Media
Characteristics of the Media
Uses and Advantages of the Media
Drawbacks of the Media
Working with Media Representatives
Conclusion
Chapter 7. Developing Person-Centered Counseling Skills
Definitions
The Act of Communicating
Counseling
Verbal Communication
Be Descriptive Rather Than Evaluative
Avoid Sarcasm
Be Provisional
Involve Your Clients in the Counseling Process
Nonverbal Communication
Motivational Interviewing
Practice Listening Skills
Ask Open-Ended Questions
Provide Affirmations
Reflect or Paraphrase
Summarize
Encourage Change Talk
Addressing Counseling Challenges
Conclusion

Chapter 8. Planning Learning and Creating Lesson Plans
Getting Ready to Build Your Lesson Plan
Adhere to Learning Principles
Structure Your Knowledge
Writing Performance Objectives
Components of Lesson Plans
Conclusion
Chapter 9. Delivering Effective Presentations
Preparing Your Presentation
Audience Analysis
Program Analysis
Content Analysis
Delivering Your Presentation
Evaluating Your Presentation
Conclusion
Chapter 10. Designing Educational Print Materials
Designing Print Materials
Steps in the Design Process
Factors to Be Considered When Designing Print Materials
Conclusion
Chapter 11. Developing Practical Manuals
Why Develop Manuals?
Types of Manual
Tutorial
User's Guide
Policy and Procedure Manual
Reference or Practice Manual
Practical Considerations in Developing Manuals
Know Your Target Audience
Readability
Flow and Organization
Appearance
Practicality
Testing the Usability of Your Manual
Conclusion
Bibliography
For Your Continuing Learning
Self-Assessment Instrument
Answer Key
Explanations to Self-Assessment Instrument
About the Author
About the Editors
ABOUT THE AUTHOR
Alessandra Sarcona, EdD, RDN, CSSD, also known as Sandy, is an Assistant Professor at West Chester University of Pennsylvania in the Department of Nutrition. She was previously employed at Long Island University for 27 years as an Adjunct Professor, Clinical Coordinator, and Dietetic Internship Director.
Dr. Sarcona earned her Bachelor of Science degree at East Carolina University, completed her Dietetic Internship at Yale-New Haven Hospital, Master of Science degree at New York University, and Doctorate in Interdisciplinary Educational Studies at Long Island University.
Dr. Sarcona's research focuses on nutrition and lifestyle behaviors of various population groups and outcomes of teaching strategies in the classroom. In addition to teaching in higher education, she has worked in clinical dietetics, and nutrition and wellness. She is a certified specialist in sports dietetics (CSSD) and has conducted numerous workshops and lectures on sports nutrition for athletes. Dr. Sarcona participated in a test item writer workshop sponsored by the Commission on Dietetic Registration (CDR) and uses this work in her classroom testing and in the development and review of study guides for Wolf Rinke, Inc. She is presently the chairperson for the Nutrition and Dietetic Educators and Preceptors (NDEP) Development Committee, providing resources for nutrition educators and preceptors.
ABOUT THE EDITORS
Mary Ann Cockram, MS, RD is retired from Abbott Nutrition where she was a Research Scientist in the Scientific and Medical Affairs group. In this role, she provided clinical nutrition education and brand support internally to Sales and Marketing and externally to clinicians and consumers for Abbott's critical care and surgical enteral nutrition products. Her area of interest is enteral feeding.
Mary Ann received a Bachelor of Science in Home Economics from Valparaiso University in Valparaiso, Ind., and a Master of Science in Clinical Nutrition from Rush University in Chicago.
Mary Ann served as chair of the Medical Nutrition Practice Group, and as the assistant editor and editor of Medical Nutrition Matters, the newsletter of this practice group. Mary Ann participated as an evidence analyst on the Evidence Analysis Team for Adult Weight Management for the Academy of Nutrition and Dietetics, and she attended the test item writer workshop sponsored by the Commission on Dietetic Registration.
Wolf J. Rinke, PhD, RDN is the president and founder of Wolf Rinke Associates, Inc., a company that has provided high-quality CPE programs to nutrition and dietetics practitioners since 1990.
Dr. Rinke earned a BS at Drexel University, an MS at Iowa State University, a PhD in Continuing and Vocational Education (Adult Ed) at the University of Wisconsin and interned at Walter Reed Army Medical Center. He completed a test item writer workshop sponsored by the Commission on Dietetic Registration (CDR).
Dr. Rinke is a past Adjunct Associate Professor, Graduate School of Management & Technology at the University of Maryland, and a former Adjunct Faculty Member of the School of Continuing Studies at The Johns Hopkins University.
He has served as past president of the District of Columbia (DC) Dietetic Association and has been honored by the Academy of Nutrition and Dietetics with the Award for Excellence in the Practice of Management, the Outstanding Dietitian of the Year Award, and the Outstanding Service Award, in addition to delivering the Lenna Frances Cooper Lecture.
Dr. Rinke has served in numerous leadership roles at the Academy of Nutrition and Dietetics: Chair of the Scholarship Committee for Dietitians in Business and Communications; Chair of the Communication Committee, Honors Committee, and Licensure Panel and Ethical Practices Task Force for the Commission on Dietetic Registration; Chair of the Area Coordinating Committee and Chair for the Code of Ethics; Member of the Resource for Education Programs Committee; Member of the House of Delegates; and Member of the Board of Directors.
Dr. Rinke is the author of more than 500 articles, numerous CPE self-study programs, and several popular books including Make It a Winning Life: Success Strategies for Life, Love and Business; Winning Management: 6 Fail-Safe Strategies for Building High-Performance Organizations; and Don't Oil the Squeaky Wheel and 19 Other Contrarian Ways to Improve Your Leadership Effectiveness.
His popular CPE programs available at www.easyCPEcredits.com include:
Win-Win Negotiation: Fail-Safe Strategies to Help You Get More of What You Want.
Time Management: How to Stretch the Time Rubber Band.
Knock'em Alive Presentation Skills: How to Make an Effective Presentation for 1 to 1,000.
Manage Electronic and Traditional Meetings and Correspondence More Effectively.
Delegation and Coaching: High Impact Strategies for Doing More with Less.
Develop a Positive Attitude: Live a Healthier and More Productive Life.
Goals—Your Road Map to Success.
High Impact Strategies for Achieving Peak Team Performance.
The Power of Communication: How to Increase Your Personal and Professional Effectiveness.
Manage Your Energy: Get More Done and Have More Fun.
Contrarian Leadership: 21 Strategies to Improve Your Leadership Effectiveness.

ACKNOWLEDGEMENTS

Special thanks to the following individuals for their careful review of this program.

Dara Dirhan EdD, MPH, RDN, LDN
Assistant Professor of Nutrition
West Chester University
West Chester, PA

Kathy K. Isoldi, PhD, RDN, CDN
Associate Professor
Long Island University/Post
Brookville, NY

Shauna Del Prete, RDN, CDN, CLT
Registered Dietitian
Staci Leavitt Mind and Body
Syosset, NY

The author and publisher wish to acknowledge Rayane AbuSabha, PhD, RD, the author of the first four editions of Effective Nutrition Education for Behavior Change on which this CPE program is based.
---
If you prefer to order by phone, mail or fax click below
or click here to contact us with other questions.
For information about our other products and services return to the sidebar at the top of the page.