Yoga and Meditation: Tools for Weight Management, Third Edition
Annie B. Kay, MS, RDN, LDN, E-RYT500, C-IAYT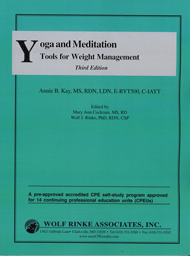 | | | | | |
| --- | --- | --- | --- | --- |
| C325 | 14 CPEUs | | $114.95 | |
| C325E | 14 CPEUs | ELECTRONIC | $104.95 | |
Manual with 1 Reporting Form, 130 pgs.
Upon successful completion of this learning program, you will be able to:
Articulate and discuss the current status of the obesity epidemic.

Identify national trends underlying the obesity epidemic.

Assess an individual's weight status.
Explain societal, cultural and psychological factors that influence eating and body weight.

Evaluate the underlying principles, philosophy and scientific literature on the practices of yoga and meditation, and how these practices may aid behavior change and weight management.

Construct and prescribe individual weight management plans combining diet and yoga.

Employ various behavior change theories and provide examples.

Assess and incorporate an individual's readiness to change into weight management planning.

Perform exercises to enhance body awareness.

Demonstrate exercises to explore lifestyle moderation.

Use exercises to explore relationships.

Perform exercises to explore a process of renewal.
For more information and customer comments, click here.
Approved/Accepted by CDR, NCBDE
For RDs/RDNs & DTRs/NDTRs for the Professional Development Portfolio

SUGGESTED Performance Indicators (PIs):
8.2.4, 8.3.6, 9.6.1, 10.4.1, 12.3.1, 12.3.2

DON'T SEE your Performance Indicators Listed here?
There are many Performance Indicators (PIs) that are applicable we can't list them all &
Per CDR you may use ANY PI as long as it relates to your Learning Plan.
For details click here.
Share with a friend and Save! Click here for important information about sharing.
To order an ADDITIONAL Reporting Form click below:
| | | | | |
| --- | --- | --- | --- | --- |
| C325F | 14 CPEUs | REPORTING FORM | $40.00 | |
Yoga and Meditation: Tools for Weight Management, Third Edition
Annie B. Kay, MS, RDN, LDN, E-RYT500, C-IAYT
© 2019 Wolf Rinke Associates, Inc. All rights reserved for this self-directed learning program. Reproduction in whole or part without written permission from the publisher prohibited.
Customer Comments
Mrs. Kristen Burns - "Learning how I, as a RD, can encourage Yoga as a weight loss tool."
Kristine Koski - "Presents the potential possibility of introducing simple yoga activities into stress and weight management programs to provide patient with 'teaser' before they might be ready to commit to a full yoga program."
Annette B. Peterson - "Unique ideas for the incorporation of yoga and meditation into a weight management program."

Judith R. Plon - "I liked that the information is highly relevant to the challenges for helping clients with weight loss. Using yoga and meditation in addition to weight loss program will be of interest to several of my clients."
Ellen Reiss-Goldfarb - "I love Yoga and incorporate Yoga, Meditation and Wellness into my practice and my private life. This course defiantly validates all that I have learned and gave me new and vital information that I can share with others."
Maria V. Miller - "I found the correcting cognitive distortions table to be very insightful."
Julieta M. Vargas - ,"I like how a safe physical activity is a part of an effective , healthy, safe, weight loss program. The senior population will benefit from this."

Diane Byler - "The basics about types of yoga to suit a particular student, how to find an accredited instructor, resources, time for skill development."
Michelle Kirrane -"The explanation of the yoga language and history was excellent to help understand the concepts of being introduced to yoga. I also like the step by step of the positions."
Program Overview
Through the past several decades, health professionals and population-watchers have observed a weight phenomenon unprecedented in recorded history. The explosive increase in the number of individuals who are overweight, obese, and extremely obese may provide nutrition and dietetics practitioners the greatest challenge and the greatest opportunity of their professional careers.

Due to the complex nature of obesity, an individual's response to a specific weight management strategy may vary widely. For that reason, the development of a broad spectrum of approaches may best serve the growing overweight population.

Yoga and yoga therapy are evolving rapidly as are distinct professions with distinct credentialing. The scientific basis for the therapeutic use of yoga, and the mechanism by which yoga benefits those seeking to improve their diets are very active areas of investigation. The blending of a science-driven approach to weight management with the complementary therapies of yoga and meditation can clearly be a beneficial option for many. This self-directed continuing education program will provide you with the basic principles of this approach, a review of its scientific basis, a summary of credentialing in the young professions of yoga and yoga therapy, and areas where further investigation is warranted. Specific guidelines and exercises will enable you to incorporate these Eastern spiritual modalities into your current treatment protocols.

This program begins with an overview of the trends underlying the modern weight phenomenon: data on obesity, food consumption and physical activity trends, and economic and political trends within the food supply that undermine normal weight. The success of the Western market-based consumer culture has shaped our lives and perhaps our bodies to a vast degree. The role of consumerism in eating behaviors and self-perception norms will be examined in regard to the obesity epidemic. The psychopathology of disordered eating and the role of stress in the lives of overweight individuals amplify the effects of consumerism. Changes in family structure, work, and other aspects of modern society seem to synergize to undermine the maintenance of healthy body weight.  

Yoga is an ancient spiritual science thought to have begun in India over five millennia ago. Like many alternative health practices, there seems an overstatement of its benefits by its proponents, an overzealous debunking by its critics and a certain mystic aura around the practice held by some of its practitioners. This program will provide an overview of the history, philosophy and potential psycho-physiological outcomes of a classical yoga and meditation practice. Yoga therapy may help to address stress; physical misalignment, in some cases disordered eating and may be an effective adjunct to behavior change, thus supporting lifestyles that promote healthful weight. Benefits and limitations of these practices will be reviewed and discussed from a practical and scientific perspective. Credentialing in the new field of yoga therapy will be reviewed.

The process of nutrition assessment, goal setting, and monitoring is familiar to practitioners in the field. In this program, yogic principles will be incorporated into standard methods for dietary change. An overview of the science of behavior change as it pertains to this process will also be presented. Eastern and Western health paradigms for weight management will be presented and integrated. Various aspects of weight management including the analysis of family and community relationships and of motivation and resistance to change will be discussed in the context of yoga.

Tools to Aid Experiential Learning

Meditation and yoga are experiential practices. An understanding of the principles and benefits of these modalities cannot be fully understood without personal experience of the process. Mastery and the ability to teach yoga effectively come with daily personal practice. Likewise, skillful communication and the incorporation of these practices into weight management protocols are difficult if not impossible to undertake without the insight provided by personal experience. For this reason, it is highly recommended that nutrition practitioners undertake at least some yoga study, preferably including study in yoga therapy to determine and understand the value and validity of the approach, and have an awareness of credentialing, especially prior to utilizing yoga in their own work.

Sanskrit is an ancient Indo-European language. Many of the original and foundational texts of yoga were written in this lyrical language, which is no longer widely spoken with the exception of in spiritual and yoga-related practices. As yoga has evolved, Westernized and modernized, Sanskrit terms used in yoga have also evolved. Today, many yogic terms have multiple spellings and may or may not include the range of diacritic marks found in the original language. For this program, we use the B.K.S. Iyengar's Light on Yoga book (see the Yoga and Meditation Resources section in this program) and writings from the Kripalu Center for Yoga & Health (the author's lineage) for spelling, and have eliminated diacritics for legibility.

There are many styles of yoga, and teachers bring with them their own training, personal insights, and limitations. Some styles such as Kripalu, Kundalini, Anusara, Viniyoga and gentle Hatha styles may be more appropriate for the physical and psycho-spiritual approach described in this program. While Ashtanga, Bikram and Power Yoga styles can embody the elements of yoga philosophy and practice, their physically demanding nature may be intimidating and injury-inducing for beginners, particularly for those unaccustomed to regular physical activity. Young athletes, however, may be drawn to and benefit from a more vigorous practice so long as injury prevention and accepted concepts of wellness are included. Skilled and compassionate teachers exist in all yoga styles. With yoga's explosion in popularity and with national certifications and professional standards evolving rapidly, it is becoming easier to identify teachers with the credentials to offer therapeutic yoga to particular populations. Resources for finding well-trained yoga teachers and yoga therapists and types of training are included in this program.

One of the benefits of yoga is its practice of introspection. During this program, it is recommended that nutrition practitioners participate in the exercises to explore their own physical and emotional landscape. The practice of journaling, that is, free-writing thoughts, insights, ideas, and reactions to the process within the context of the nutrition practitioner's own life, may be useful for this exploration.

This CPE program is a level 2 CPE program approved for 14 continuing professional education units (CPEUs). That means that the reader has a general knowledge of literature and professional practice in the area covered. The focus of the program is to enhance knowledge and application.
To get the most benefit from this program, we suggest you adhere to the following four steps:
Step 1: Review the objectives for the CPE program.
Step 2: Study each chapter. As you read, think of patients from your own practice who fit the situation described.
Step 3: Assess what you have learned by completing the self-assessment instrument at the end of this CPE program.
Step 4: Compare your answers to the answer key that has been provided. If you score at least 80% (40 questions) correct, you are ready to transfer your answers to the CONTINUING PROFESSIONAL EDUCATION REPORTING FORM. If you scored less than 80% correct, re-read the appropriate sections of the book and re-test yourself until you score at least 80% (40 questions) correct.
After you have successfully completed the program, complete the CPE REPORTING FORM and:
Submit online at www.easyCPEcredits.com,
Or fax to (410) 531-9282,
Or mail to Wolf Rinke Associates, 3801 Schuylkill Road, Spring City, PA 19475.
Upon receipt of your CPE Reporting Form, we will email you a Certificate of Completion within 3-5 business days.
When you submit your CPE Reporting Form to us via www.easyCPEcredits.com, fax, or mail, be sure to write your correct email address in the space provided on the CPE Reporting Form. If writing by hand, be sure to print your email address clearly.
To ensure that our e-mails are delivered to your inbox (instead of your junk/spam folders), please add cpesupport@wolfrinke.com to your Address Book or Safe List of allowed email senders. Also, be sure to allow attachments from this email address.

Program Objectives
Upon successful completion of this learning program, you will be able to:
Articulate and discuss the current status of the obesity epidemic.

Identify national trends underlying the obesity epidemic.

Assess an individual's weight status.

Explain societal, cultural and psychological factors that influence eating and body weight.

Evaluate the underlying principles, philosophy and scientific literature on the practices of yoga and meditation, and how these practices may aid behavior change and weight management.

Describe aspects of yoga and yoga teaching styles that may undermine healthy weight and body image, and elements of yoga practices or programs that foster healthy relationships with food and body image.

Describe the field of yoga therapy including credentialing for nutrition and dietetics practitioners.

Construct individual weight management plans combining diet and yoga.

Employ various behavior change theories and provide examples.

Assess and incorporate an individual's readiness to change into weight management planning.

Perform yoga-based exercises to enhance body awareness.

Demonstrate exercises to explore moderation in eating and lifestyle.

Use exercises to explore relationships.

Perform exercises to explore a process of renewal.
Table of Contents

CHAPTER ONE: The Obesity Epidemic
NATIONAL TRENDS AND STATISTICS
The Metabolically Healthy Obese
NATIONAL NUTRITION AND PHYSICAL ACTIVITY RECOMMENDATIONS
MYPLATE
THE NATIONAL FRUITS AND VEGETABLES PROGRAM
HEALTHY PEOPLE 2020
Dietary Reference Intakes (DRI
Physical Activity Guidelines for Americans
A SUPER-SIZED ENERGY SURPLUS: FOOD CONSUMPTION AND PHYSICAL ACTIVITY TRENDS
Energy In: What are Americans Eating?
Environment
Energy Out: Physical Activity
How Large Is the Energy Gap?
INDICATORS AND TREATMENT OPTIONS FOR THE OBESITY EPIDEMIC
Macronutrients and Weight
Assessment of Weight Status
Recommendations for Treatment of Overweight and Obesity
Implications for the Individual
REFERENCES
CHAPTER TWO: The Collision of Culture and Biology: Consumerism and the Psychopathology of Disordered Eating
THE BUSINESS OF FOOD
Profitable vs. Nutritious Food
Food Advertising
Other Food Marketing Techniques
THE PSYCHOPATHOLOGY OF DISORDERED EATING
Prevalence of Eating Disorders
Body Image
Media Images and Body Image
THE PSYCHOPATHOLOGY OF OBESITY
Prevalence
Binge Eating Disorders
Social Stigmatization
THE ROLE OF STRESS IN BODY WEIGHT
What is Stress?
The Stress Response: Physiology
Stress and Visceral Obesity in Women
Treatments for Stress
IMPLICATIONS FOR THE INDIVIDUAL
REFERENCES
CHAPTER THREE: Yoga and Meditation: An Overview
WHAT IS YOGA?
YOGA HISTORY
YOGA PHILOSOPHY
IS YOGA A RELIGION?
YOGA PSYCHOLOGY
WHAT IS MEDITATION?
Physiological Effects of Meditation
HOW YOGA AND MEDITATION AID WEIGHT MANAGEMENT
When Yoga is also the Problem
Yoga Therapy
REFERENCES
CHAPTER FOUR: Self-Discovery: Exploring Lifestyle Choices
SELF-ASSESSING DIET AND LIFESTYLE
Thoughts on Goal-setting and Shifts
Fostering Personal Discovery and Growth
YOGA AND MEDITATION EXERCISES FOR SELF-DISCOVERY
Beginning a Yoga and Meditation Practice
REFERENCES
CHAPTER FIVE Awareness: Personalizing Goals/Shifts and Plans
TOOLS FOR GUIDING INDIVIDUAL DIET AND LIFESTYLE PLANS
Food, Activity, and Eating Journaling
INTERNAL AWARENESS AS A TOOL TO EXPLORE EMOTIONAL EATING
Accessing Witness Consciousness
Conscious Eating
The Breath as a Mind-Body Tool
YOGA AND MEDITATION EXERCISES FOR BODY AWARENESS
REFERENCES
CHAPTER SIX: Change: The Art and Science of Transformation
AN OVERVIEW OF BEHAVIOR CHANGE THEORY
Health Behavior Change Theories at-a-Glance
INDIVIDUAL BEHAVIOR CHANGE STRATEGIES
Identification of Non-Food Rewards
Contingency Planning
Exploring Self-limiting Automatic Thoughts
Exploring Resistance
The Additive Approach
FOSTERING TRANSFORMATION AND SELF-EXPRESSION
YOGA AND MEDITATION TOOLS FOR EXPLORING CHANGE
REFERENCES
CHAPTER SEVEN: Balance: An East-West View of Moderation
MODERATION
What is Moderation?
Yogic Moderation: Standing in the Fire
Teaching and Fostering Moderation: Insights for Practitioners
Yoga and Meditation Tools for Exploring Moderation
REFERENCES
CHAPTER EIGHT: Connection: Relationships and Renewal
DEVELOPING CONNECTIONS
The Role of Relationships in Physical and Emotional Health
Developing Communities of Support
Detoxification for Physical and Emotional Health
The Spice of Challenge and Self-Study
Finding a Yoga Teacher/Therapist
Yoga and Meditation Tools for Exploring Relationships
REFERENCES
CASE STUDY
RESOURCES
SELF-ASSESSMENT QUESTIONS
ANSWER KEY
EXPLANATIONS TO QUESTIONS
ABOUT THE AUTHOR
ABOUT THE EDITORS

About the Author

Annie Kay, MS, RDN, LDN, E-RYT500, C-IAYT, is a leading integrative registered dietitian, registered yoga teacher, and certified yoga therapist, author, educator, and speaker. She is the former Lead Nutritionist at the Kripalu Center for Yoga & Health in Stockbridge, MA, the largest yoga center in the USA. Annie received a BS in Nutritional Biochemistry from Cornell University, an MS in Nutrition Communications from Boston University, maintains yoga teacher registration through Yoga Alliance and yoga therapy certification through the International Association of Yoga Therapy. She is the former director of the Osteoporosis Awareness Program, a national model chronic disease prevention program at the MA Department of Public Health and was an outpatient dietitian at the then Boston City Hospital specializing in nutrition for cancer, HIV/AIDS, prenatal care, and chronic disease prevention.
Annie was a manager of education for the Nutritional Restart Center, a groundbreaking clinic serving individuals with severe malabsorptive disorders, and led public health nutrition programs on Nantucket Island, MA.
She is the author of Every Bite Is Divine, a finalist for the Nautilus Award for books on positive social change, a finalist for a Ben Franklin Award, and for USA Best Books. She co-authored Yoga & Diabetes for the American Diabetes Association. Ms. Kay has written for national publications such as Cooking Light Magazine and Yahoo.com and hosts a growing online community at www.anniebkay.com. She speaks widely on integrative chronic disease prevention and treatment and conducts workshops for practitioners and professionals on combining yoga and nutrition.
Annie Kay lives in the Berkshire Mountains of Massachusetts with her husband Craig. She is a hiker, yogini, chef, poet, knitter, and gardener.

Mary Ann Cockram, MS, RD, is a Research Scientist in the Scientific and Medical Affairs group at Abbott Nutrition where she provides clinical nutrition education and brand support internally to Sales and Marketing and externally to clinicians and consumers for Abbott's critical care and surgical products. Her area of interest is enteral feeding.
Mary Ann received a Bachelor of Science degree in Home Economics from Valparaiso University in Valparaiso, IN, and a Master of Science degree in Clinical Nutrition from Rush University in Chicago.
She is a member of the American Society for Parenteral and Enteral Nutrition (ASPEN) and the Society of Critical Care Medicine. Mary Ann has served as chair of the Medical Nutrition Practice Group, and as the assistant editor and editor of Medical Nutrition Matters, the newsletter of this practice group. Mary Ann continues to write continuing professional education test questions for the articles in Medical Nutrition Matters. She participated as an evidence analyst on the Evidence Analysis Team for Adult Weight Management for the Academy of Nutrition and Dietetics, and she attended the test item writer workshop sponsored by the Commission on Dietetic Registration.

Wolf J. Rinke, PhD, RDN, CSP is the president and founder of Wolf Rinke Associates, Inc., a company that has provided high-quality CPE programs to nutrition and dietetics practitioners since 1990.
He earned a BS at Drexel University, a MS at Iowa State University, a PhD in Continuing and Vocational Education (Adult Ed) at the University of Wisconsin, and interned at Walter Reed Army Medical Center. He participated in a test item writer workshop sponsored by the Commission on Dietetic Registration (CDR).
Wolf is a past Adjunct Associate Professor, Graduate School of Management & Technology, University of Maryland, and a former Adjunct Faculty Member, School of Continuing Studies, The Johns Hopkins University.
He is the past president of the DC Dietetic Association and has been honored by the Academy with the Award for Excellence in the Practice of Management; the Outstanding Dietitian of the Year Award; the Outstanding Service Award; and has delivered the Lenna Frances Cooper Lecture.
At the Academy he has served in numerous leadership roles including Chair, Scholarship Committee, DBC; Chair, Communication Committee, CDR; Chair, Area Coordinating Committee, COE; Chair, COE, and member of the Resource for Education Programs Committee; Honors Committee; CDR, Licensure Panel and Ethical Practices Task Force; CDR; House of Delegates and Board of Directors.
He is the author of more than 500 articles, numerous CPE self-study programs, and several popular books including Make It a Winning Life: Success Strategies for Life, Love and Business; Winning Management: 6 Fail-Safe Strategies for Building High-Performance Organizations; and Don't Oil the Squeaky Wheel and 19 Other Contrarian Ways to Improve Your Leadership Effectiveness.

Acknowledgments

Thank you, Wolf Rinke, PhD, RDN, and other editors for your patience, guidance, and support through three editions of this offering. Thanks also to my friends and colleagues who reviewed earlier versions of this material: Kathianne B. Sellers, MEd, RD, LDN, CSCS, Stephanie Vangsness, MS RD/LDN, CNSD, Caitlin Hosmer Kirby MS RD/LDN, Shirley Pantoliano, MS, RD, RYT, Christine Economos, PhD, Kristann Hentz, MD, Liz Weiss, MS, RD, Bonita Oelke, MS, RD, and Francesca Vanegas.

Thank you master yoginis and teachers Barbara Benagh and Silvia Bhavani Maki for the indelible impression you have made on my practice, my teaching, and my life. I am also grateful to my friends in the yoga and spiritual community on Nantucket, and to my gifted colleagues at the Kripalu Center for Yoga & Health. I am blessed to be working with you to help redefine (and to remember) what it means to eat delicious whole foods and support vibrant health for all living things.
---
If you prefer to order by phone, mail or fax click below
or click here to contact us with other questions.
For information about our other products and services return to the sidebar at the top of the page.