Medical Nutrition Therapy for Diabetes Mellitus, 8th Edition
Written by Marion J. Franz, MS, RD, LD, CDE and Janice MacLeod, MA, RDN, LDN, CDE
Edited by Mary Ann Cockram, MS, RD and Wolf J. Rinke, PhD, RDN, CSP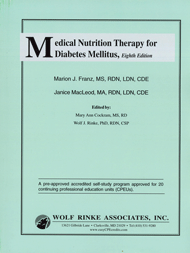 | | | | | |
| --- | --- | --- | --- | --- |
| C324 | 20 CPEUs | HARD COPY | $184.95 | |
| C324E | 20 CPEUs | ELECTRONIC | $169.95 | |
Manual with 1 Reporting Form, 157 pgs.
This comprehensive, up-to-date manual has been written by one of the most renowned diabetes educators in the country. You will learn how you can have a major impact on medical and clinical outcomes and help patients with diabetes achieve dramatic improvements in the quality of life. You will discover how to:
apply strategies for attaining and maintaining blood glucose control in T1D
implement strategies to achieve nutrition goals for persons with T2D
recommend guidelines for carbohydrate in diabetes meal planning
identify long-term complications of diabetes
specify guidelines for fat in diabetes meal planning
recognize five stages of intentional behavior change as outlined by the transtheoretical model of change
provide follow-up and ongoing nutrition care for people with diabetes
plus much, much more
For more information and customer comments, click here.
Approved/Accepted by CDR, NCBDE
For RDs/RDNs & DTRs/NDTRs for the Professional Development Portfolio:

SUGGESTED Performance Indicators (PIs):
1.2.2, 8.1.1, 8.1.2, 8.1.5, 8.3.1, 9.3.5, 10.1.3, 10.2.1, 10.2.2, 10.2.24, Series 10.2.7-10.2.10, 10.4.2, 12.4.6

DON'T SEE your Performance Indicators Listed here?
There are many Performance Indicators (PIs) that are applicable we can't list them all &
Per CDR you may use ANY PI as long as it relates to your Learning Plan.
For details click here.
Share with a friend and Save! Click here for important information about sharing.
To order an ADDITIONAL Reporting Form click below:

| | | | | |
| --- | --- | --- | --- | --- |
| C324F | 20 CPEUs | REPORTING FORM | $60.00 | |
Medical Nutrition Therapy for Diabetes Mellitus, 8th Edition
Written by Marion .J. Franz, MS, RD, LD, CDE and Janice MacLeod, MA, RDN, LDN, CDE
Editted by Mary Ann Cockram, MS, RD and Wolf J. Rinke, PhD, RDN, CSP
Copyright 2018 Wolf Rinke Associates, Inc. All rights reserved for this self-directed, accredited learning program. Reproduction in whole or part without written permission from the publisher is prohibited.
CUSTOMER COMMENTS
Marian M. Benz - "As a retired CDE I appreciated the depth of information. I loved the level of organization. Thank you."
Julieta M. Vargas - "I like that I gained knowledge in this area of practice, diabetes, and its complications; gives me confidence in assessing the nutrition needs both for the newly diagnosed and those with complications."
Christine A. Gilbert - "The content in this course was a great update to my knowledge base and helped reinforce what I already knew."
OVERVIEW AND INSTRUCTIONS
Diabetes and prediabetes are serious chronic diseases affecting over 100 million Americans or approximately 43% of the U.S. population, but, unfortunately, a large majority have not been diagnosed. More than 23% of people with diabetes are undiagnosed and more than a third of U.S. adults have prediabetes with only a third aware of it (Centers for Disease Control and Prevention, 2017). It is costly in both economic terms and its impact on an individual's quality of life. Clinical trials and outcomes research report that diabetes medical nutrition therapy (MNT) provided by Registered Dietitian Nutritionists (RDNs) and delivered using a variety of nutrition interventions and multiple encounters is effective in improving glycemia and other metabolic outcomes (Franz, 2017a). However, for RDNs to be effective clinicians and educators requires not only knowledge and skills in diabetes nutrition therapy, but also knowledge and skills in the overall management of diabetes and in effective diabetes education and counseling. By developing these competencies, MNT can be integrated effectively into diabetes management. This allows the person with diabetes flexibility in lifestyle and improved quality of life while still achieving and maintaining metabolic goals. The goal of this continuing education program is to provide the information and skills needed by dietetic/nutrition professionals to develop these competencies.
Chapter 1 discusses the classifications, screening, and diagnosis of prediabetes and diabetes. Chapter 2 outlines lifestyle interventions for the prevention of diabetes. Chapter 3 reviews the management of diabetes, beginning with a review of the goals of diabetes therapy. The section on MNT reviews MNT goals and outcomes and nutrition-related interventions that have been shown to be effective. Also summarized are the roles of physical activity, medications—both glucose-lowering medications and insulin, self-management education and support, and how diabetes is monitored. A new section introduces the role of technology and eEducators. Chapter 4 provides an overview of the acute complications of diabetes—hypo- and hyperglycemia—and the role of nutrition therapy in treatment and prevention. The long-term complications of diabetes and MNT for macrovascular disease, hypertension, microvascular disease, and nephropathy are discussed in chapter 5. Issues related to nutrition therapy for preexisting diabetes and pregnancy and for gestational diabetes are covered in chapter 6.
The implementation of MNT for diabetes is a primary responsibility for RDNs and implementation of MNT and the role of RDNs beyond MNT are addressed in chapter 7. Implementation steps as outlined in the Nutrition Care Process (NCP) include nutrition assessment, nutrition diagnosis, nutrition intervention (planning and implementation), nutrition monitoring and evaluation. Chapter 7 also includes a brief discussion of the implementation of nutrition interventions in healthcare facilities. A case study provides the opportunity to apply the overall information gained from the learning program to clinical situations.
This CPE program is a level 2 Continuing Professional Education (CPE) program approved for 20 continuing professional education units (CPEUs). That means that the reader has a general knowledge of literature and professional practice in the area covered. The focus of the program is to enhance knowledge and application.
To get the most benefit from this program, we suggest you adhere to the following four steps:
Step 1: Review the objectives for the learning program.
Step 2: Study each chapter. As you read, think of patients from your own practice who fit the situation described.
Step 3: Assess what you have learned by completing the self assessment instrument at the end of this learning program.
Step 4: Compare your answers to the answer key that has been provided. If you score at least 80% correct, you are ready to transfer your answers to the CONTINUING PROFESSIONAL EDUCATION REPORTING FORM If you scored less than 80% correct, re-read this learning program until you score at least 80% correct.
After you have successfully completed the program complete the CPEU REPORTING FORM and
Submit on-line at www.easyCPEcredits.com,
Or fax to: (410) 531-9282,
Or mail to: Wolf Rinke Associates, 3801 Schuylkill Road, Spring City, PA 19475.

Upon receipt of your successfully completed CONTINUING PROFESSIONAL EDUCATION REPORTING FORM, a certificate of completion for 20 CPEUs will be sent to you.

OBJECTIVES

Upon completion of this accredited, self-directed learning program, the nutrition professional should be able to:
Recognize types of glucose intolerance, screening recommendations, and diagnostic criteria.

Identify symptoms and discuss etiologies of the different classifications of diabetes.

Implement lifestyle interventions with research support for the prevention of diabetes.

Implement the Academy of Nutrition and Dietetics Nutrition Practice Guideline (Academy NPG) for the Prevention of Type 2 Diabetes (T2D).

Monitor outcomes from the implementation of the Academy NPG.

Recommend blood glucose, lipid, and blood pressure goals for persons with diabetes.

Evaluate and monitor outcomes from MNT for diabetes.

Identify interventions leading to desired MNT outcomes.

List goals of MNT.

Apply strategies for attaining and maintaining blood glucose targets in type 1 diabetes (T1D).

Monitor outcomes from implementation of MNT for T1D.

Implement strategies to achieve the nutrition goals for persons with T2D.

Monitor outcomes from implementation of MNT for T2D.

Recommend guidelines for total and types of carbohydrates in diabetes Eating Plans.

Define acceptable daily intake for nonnutritive sweeteners.

Discuss the role of protein in overall diabetes management.

Recommend guidelines for types and amounts of fat in diabetes Eating Plans.

Suggest guidelines for the use of alcoholic beverages.

Recommend guidelines that allow a person with diabetes to exercise safely.

Recognize classes of glucose-lowering medications and their primary mode of action.

Identify types, peak effect, and usual duration for insulins.

Recognize two types of monitoring of glucose.

Monitor outcomes from implementation of self-management education and support.

Evaluate the role of technology in MNT, patient care, and lifestyle change.

Recognize how the diabetes-focused dietitian/educator can be a leader/expert consultant in health care in optimizing diabetes care in evolving payment and care models.

Integrate digital health technology, such as eHealth tools, into clinical practice.

Recognize the causes and treatment for hypoglycemia, hyperglycemia, and ketoacidosis.

Identify four long-term complications of diabetes.

Implement MNT for the prevention and treatment of macrovascular disease, hypertension, microvascular disease, and nephropathy.

Monitor outcomes from the implementation of MNT for the prevention and treatment of long-term diabetes-related complications.

Implement MNT interventions for pregnancy with preexisting diabetes and gestational diabetes (GDM).

Monitor outcomes from the implementation of MNT intervention for pregnancy with preexisting diabetes and GDM.

Recognize the roles of RDNs beyond implementation of MNT.

Assess the components of the NCP and their application to diabetes MNT.

Recognize potential nutrition diagnoses related to diabetes.

TABLE OF CONTENTS

CHAPTER 1 Classification, Screening, and Diagnosis of Prediabetes and Diabetes
MEDICAL NUTRITION THERAPY AND DIABETES
DIABETES MELLITUS FACTS
CLASSIFICATION CRITERIA
T1D
T2D
Prediabetes or Categories of Increased Risk for Diabetes
Gestational Diabetes Mellitus
Other Types of Diabetes
SCREENING FOR DIABETES
DIAGNOSIS OF PREDIABETES
DIAGNOSTIC CRITERIA FOR DIABETES
CHAPTER 2 Prevention of Diabetes
DIABETES PREVENTION RESEARCH STUDIES
MNT FOR PREDIABETES
Weight Loss Interventions
Physical Activity
Other Food- and Nutrition-Related Factors
BARIATRIC SURGERY
DIABETES IN YOUTH
ACADEMY NPG FOR THE PREVENTION OF T2D
CHAPTER 3 Management of Diabetes
MONITORING
Self-Monitoring of Blood Glucose
Monitoring Lipids and Blood Pressure
MNT
Goals of MNT for Diabetes
NPG for T1D and T2D in Adults: Effectiveness
Nutrition Intervention Priorities Evidence Reviews and Recommendations
Nutrition Interventions for Persons on MNT Alone or Glucose-Lowering Medications
Nutrition Intervention Priorities for Persons Requiring Insulin Therapy
Nutrient Recommendations
PHYSICAL ACTIVITY/EXERCISE
Benefits
Potential Problems with Exercise
Exercise Recommendations
Exercise Precautions for Persons with T2D
Exercise Precautions for Persons Taking Insulin and/or Insulin Secretagogues
MEDICATIONS
Glucose-Lowering Medications for T2D
Insulin
SELF-MANAGEMENT EDUCATION AND SUPPORT
TECHNOLOGY-ENABLED POPULATION HEALTH FOR DIABETES CARE AND EDUCATION
Healthcare Landscape Observations
Integrating Technology Tools into Practice: Population Health Diabetes
Care and Education
Dietitians as the Leaders in Technology-Enabled Population Health: Diabetes Care and Education
CHAPTER 4 Nutrition Therapy and the Acute Complications of Diabetes
HYPOGLYCEMIA
HYPERGLYCEMIA/DIABETICKETOACIDOSIS
Fasting Hyperglycemia
HYPEROSMOLAR HYPERGLYCEMIC STATE
CHAPTER 5 Nutrition Therapy and the Long-Term Complications of Diabetes
MACROVASCULAR DISEASE
CVD
Hypertension Management
MICROVASCULAR DISEASE
Diabetic Kidney Disease
Retinopathy
NEUROPATHY
CHAPTER 6 Nutrition Therapy for Diabetes and Pregnancy
WEIGHT GAIN DURING PREGNANCY
ENERGY AND NUTRIENT INTAKE DURING PREGNANCY
Energy Intake for Pregnancy
Macronutrient Recommendations during Pregnancy
Other Nutrition Therapy Recommendations for Pregnancy
Physical Activity for Pregnancy and Diabetes
PREEXISTING DIABETES AND PREGNANCY
MNT for Preexisting Diabetes and Pregnancy
GESTATIONAL DIABETES MELLITUS
MNT for Gestational Diabetes Mellitus
LACTATION
CHAPTER 7 Putting It All Together: Implementing Medical Nutrition Therapy
IMPLEMENTING NUTRITION PRACTICE GUIDELINES AND THE NCP
Nutrition Assessment
Nutrition Diagnosis
Nutrition Interventions
Nutrition Monitoring and Evaluation
Reimbursement
IMPLEMENTING DIABETES NUTRITION INTERVENTIONS INTO HOSPITALS
AND LONG-TERM CARE FACILITIES
Hospital Settings
Long-Term Care Settings
SUMMARY
CASE STUDY
REFERENCES
FOR YOUR CONTINUING EDUCATION
LIST OF ABBREVIATIONS
GLOSSARY
RESOURCES
SELF-ASSESSMENT QUESTIONS
ANSWER KEY
EXPLANATION TO QUESTIONS
ABOUT THE AUTHORS
ABOUT THE EDITORS

ABOUT THE AUTHORS

Marion J. Franz is a registered dietitian nutritionist and a certified diabetes educator with a master's degree in nutrition from the University of Minnesota. She is a nutrition/health consultant with Nutrition Concepts by Franz, Inc. For more than 20 years she was the Director of Nutrition and Health Professional Education at the International Diabetes Center, Minneapolis. She has authored books, numerous articles in professional and lay journals, and chapters in texts and manuals for professionals and the lay public. She lectures frequently in the United States and internationally on nutrition, exercise, and diabetes. She has co-chaired and been a member of task forces to write the American Diabetes Association's nutrition recommendations and technical reviews, the Academy of Nutrition and Dietetics' nutrition practice guidelines for type 1 and type 2 diabetes, and an editor of the American Diabetes Association Guide to Nutrition Therapy for Diabetes, 1st, 2nd, and 3rd edition. She received the 2001 American Diabetes Association Charles H. Best Medal for Distinguished Service in the Cause of Diabetes, the American Dietetic Association 2006 Medallion Award, the American Dietetic Association 2008 Huddleson Award, and the 2012 American Association of Diabetes Educators Living Legend Award.
Janice MacLeod is a registered dietitian nutritionist and a certified diabetes educator with a master's degree in Psychology from Hollins University. She serves as the Director, Clinical Innovation for WellDoc, a digital health company. She previously served at the University of Maryland Center for Diabetes and Endocrinology as Senior Diabetes Network Coordinator and began her career as a diabetes dietitian with Carilion Health System in Roanoke, VA. She worked for many years at Johnson & Johnson Diabetes Care as Clinical Affairs Manager developing web- and mobile-based diabetes management tools and as Diabetes Senior Medical Science Liaison. She has served as both author and editor for multiple publications, contributed to book and curriculum manuals on diabetes, and has developed numerous continuing education programs and presentations on diabetes nutrition, glucose monitoring, digital health, and practice transformation. She has been a member of task forces to write the American Diabetes Association nutrition recommendations, the Diabetes Self-Management Education and Support Standards, and the Academy of Nutrition and Dietetics Nutrition Practice Guideline for Type 1 and Type 2 Diabetes. She is currently serving as editor of the Academy's Diabetes Care and Education Practice group's national peer-reviewed publication, On The Cutting Edge.
Mary Ann Cockram, MS, RD is a Research Scientist in the Scientific and Medical Affairs group at Abbott Nutrition where she provides clinical nutrition education and brand support internally to Sales and Marketing and externally to clinicians and consumers for Abbott's critical care and surgical products. Her area of interest is enteral feeding.
Mary Ann received a Bachelor of Science degree in Home Economics from Valparaiso University in Valparaiso, IN, and a Master of Science degree in Clinical Nutrition from Rush University in Chicago.
She is a member of the American Society for Parenteral and Enteral Nutrition (ASPEN) and the Society of Critical Care Medicine. Mary Ann has served as chair of the Medical Nutrition Practice Group, and as the assistant editor and editor of Medical Nutrition Matters, the newsletter of this practice group. Mary Ann continues to write continuing professional education test questions for the articles in Medical Nutrition Matters. She participated as an evidence analyst on the Evidence Analysis Team for Adult Weight Management for the Academy of Nutrition and Dietetics, and she attended the test item writer workshop sponsored by the Commission on Dietetic Registration.
Wolf J. Rinke, PhD, RDN, CSP is the president and founder of Wolf Rinke Associates, Inc., a company that has provided high-quality CPE programs to dietetic practitioners since 1990.
Dr. Rinke earned a BS at Drexel University, a MS at Iowa State University, a PhD in Continuing and Vocational Education (Adult Ed) at the University of Wisconsin and interned at Walter Reed Army Medical Center. He participated in a test item writer workshop sponsored by the Commission on Dietetic Registration (CDR).
Dr. Rinke is a past Adjunct Associate Professor, Graduate School of Management & Technology at the University of Maryland, and a former Adjunct Faculty Member of the School of Continuing Studies at The Johns Hopkins University.
He has served as past president of the District of Columbia (DC) Dietetic Association and has been honored by the Academy of Nutrition and Dietetics with the Award for Excellence in the Practice of Management, the Outstanding Dietitian of the Year Award, and the Outstanding Service Award, in addition to delivering the Lenna Frances Cooper Lecture.
Dr. Rinke has served in numerous leadership roles at the Academy of Nutrition and Dietetics: Chair of the Scholarship Committee for Dietitians in Business and Communications; Chair of the Communication Committee, Honors Committee, and Licensure Panel and Ethical Practices Task Force for the Commission on Dietetic Registration; Chair of the Area Coordinating Committee and Chair for the Code of Ethics; Member of the Resource for Education Programs Committee; Member of the House of Delegates; and Member of the Board of Directors.
Dr. Rinke is the author of more than 500 articles, numerous CPE self-study programs, and several popular books including Make It a Winning Life: Success Strategies for Life, Love and Business; Winning Management: 6 Fail-Safe Strategies for Building High-Performance Organizations; and Don't Oil the Squeaky Wheel and 19 Other Contrarian Ways to Improve Your Leadership Effectiveness.
ACKNOWLEDGMENTS
Special thanks to the following individuals for their review of this CPE program.
Patricia Davidson, DCN, RDN, CDE, LDN, FAND
Associate Professor, Nutrition Department
College of Health Science
West Chester, University-PA
West Chester, Pennsylvania
Sue McLaughlin, RDN, CDE, LMNT
Staff, Nebraska Medicine
Children's Hospital and Medical Center, Endocrinology & Diabetes Clinic
Winnebago Tribe of Nebraska
Omaha, Nebraska
Diane Reader, RDN, LDN, CDE
Manager, Diabetes Professional Education
International Diabetes Center
Minneapolis, Minnesota
---
If you prefer to order by phone, mail or fax click below
or click here to contact us with other questions.
For information about our other products and services return to the sidebar at the top of the page.