Medical Nutrition Therapy forGestational Diabetes Mellitus, Second Edition
D. M. Reader, RD, LD, CDE
and M.J. Franz, MS, RD, LD, CDE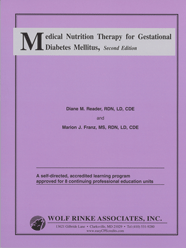 | | | | | |
| --- | --- | --- | --- | --- |
| C304 | 8 CPEUs | HARD COPY | $89.95 | |
| C304E | 8 CPEUs | ELECTRONIC | $79.95 | |
Manual with 1 Reporting Form, 72 pgs.
The completion of this CPE program will assist nutrition professionals in improving maternal and fetal outcomes when gestational diabetes complicates a pregnancy. You will discover how to:
Improve maternal and fetal outcomes when GDM complicates a pregnancy

Apply GDM management interventions—monitoring, medical nutrition therapy (MNT), physical activity, and medications

Recommend glucose goals for GDM and rationale for additional pharmaceutical therapy

Discuss issues related to the use of glyburide and metformin during GDM pregnancies

Plan and implement strategies for the prevention of type 2 diabetes in women with prior GDM
For more information and customer comments, click here.
Approved/Accepted by CDR, NCBDE
For RDs/RDNs & DTRs/NDTRs for the Professional Development Portfolio:

SUGGESTED Learning Need Codes:
2000, 2060, 2070, 2090, 2100, 2110, 3000, 3005, 3010, 3040, 3060, 3070, 3090, 3100, 4000, 4010, 4040, 4050, 4060, 4090, 4120, 4130, 4140, 4150, 4180, 5000, 5010, 5120, 5160, 5180, 5190, 5260, 5280, 5290, 5310, 5370, 5390, 5400, 5410, 5460, 6000, 6010, 6030, 6060, 6070

SUGGESTED Performance Indicators (PIs):
8.1.5, 8.3.1, 8.3.6, 10.2.7, 10.2.9, 12.4.6

DON'T SEE your Performance Indicators or Code Listed here?
There are many Performance Indicators (PIs) that are applicable we can't list them all &
Per CDR you may use ANY PI or CODE as long as it relates to your Learning Plan.
For details click here.
Share with a friend and Save! Click here for important information about sharing.
To order an ADDITIONAL Reporting Form click below:
| | | | | |
| --- | --- | --- | --- | --- |
| C304F | 8 CPEUs | REPORTING FORM | $30.00 | |




MEDICAL NUTRITION THERAPY FOR GESTATIONAL DIABETES MELLITUS, Second Edition

D. M. Reader, RD, LD, CDE and M.J. Franz, MS, RD, LD, CDE

Copyright 2018 Wolf Rinke Associates, Inc. All rights reserved for this self-directed, accredited learning program. Reproduction in whole or part without written permission from the publisher is prohibited.

CUSTOMER COMMENTS

Christine C. Hotham - "Materials are great; written format is great; to keep as a reference. Materials are
organized, practical and well-researched."

Heather Miller - "I liked the history of GDM, case studies, charts/parameters, goals of MNT, definition of evidence grades, specifics on non-nutritive sweeteners, explanation of uses between pharmacological therapies, information on hypertension/meds that are appropriate."

Nicole Muzones - "I liked that it was comprehensive and easy to read. The practice questions provided valuable insight on use and application of information. Also helped to identify weaknesses and reinforce ideas."

OVERVIEW AND INSTRUCTIONS

Change is an excellent word to describe what is happening in the gestational diabetes mellitus (GDM) field! A major change is the expected number of women who will be diagnosed with GDM. Previously about 1 in 15 or ~7% of pregnant women were diagnosed with GDM. However, the increase in obesity has resulted in more women of childbearing age being diagnosed with type 2 diabetes (T2D), an increase in the number of women with undiagnosed T2D, as well as an increase in GDM during pregnancy. This will have a major impact on Registered Dietitian Nutritionists (RDNs) as medical nutrition therapy (MNT) is, and will continue to be, the first line of therapy for GDM. Thus, the increase in women with GDM who are predicted to be referred to RDNs for MNT is why it is important for RDNs to be up-to-date on the management of GDM.
Research has reported the risk of adverse outcomes for the mother and infant increase at glycemic levels previously thought to be normal during pregnancy. Glycemic goals for GDM are reviewed in chapter 3. As a result, it is likely RDNs will find more health care providers using either metformin or insulin combined with MNT if glucose goals are not met with MNT alone. Perhaps the most important change that will result from the changes in therapy will be an increase in healthier infants and mothers!
Several major research studies have supported the role of MNT in the management of GDM. The Hyperglycemia and Adverse Pregnancy Outcome (HAPO) study, a large-scale multinational epidemiologic study, reported that previous glucose recommendations for diagnosis and therapy were too high. The frequency of adverse outcomes increased with increasing maternal glucose levels that were previously considered to be normal (HAPO Study Cooperative Research Group, 2008). Three studies documented the effectiveness of MNT as first-line therapy for GDM (Crowther, 2005, Reader, 2006, and Landon, 2009).
Changes have also been made in the Academy of Nutrition and Dietetics (Academy) 2016 nutrition practice guideline (NPG) for gestational diabetes (Academy, 2016). This important guideline, based on a systematic review of evidence, outlines optimal nutrition therapy and desired clinical outcomes. The emphasis is on individualizing the nutrition prescription based on nutrition assessment, treatment goals, a caloric intake for fetal and maternal health, amount and type of carbohydrate based on blood glucose responses, and the women's unique cultural and socioeconomic needs.
This continuing professional education (CPE) program is written to assist nutrition professionals (RDNs; nutrition and dietetic technicians, registered [NDTR]; and others) to become familiar with the changes in the GDM field and how they impact on their practice. Chapter 1 reviews screening and the controversy over how to diagnose GDM. Chapter 2 reviews the pathophysiology and maternal and fetal risks of GDM. Management goals, glucose monitoring, self-management education, physical activity, surveillance during pregnancy, and delivery and post-delivery postpartum care are covered in Chapter 3. Chapter 4 summarizes MNT for GDM based on the updated Academy's NPG. Medical therapies for GDM, including glucose-lowering medications and insulin, are reviewed in Chapter 5. Chapter 6 covers the important role that nutrition professionals, and lifestyle changes, can make in preventing future diabetes in women diagnosed with GDM during their pregnancies.
As authors, we are indebted to the researchers and clinicians who have pioneered and researched the changes reviewed in this CPE program. We are also indebted to the professional staff at the Academy and to the expert work group—Diane Reader, Diana Gonzales-Pacheco, Susan Wang, Becky Gregory, Maria Duarte-Gardea, Alyce Thomas, and the project manager/lead analyst, Kyle Thompson—authors of the 2016 Academy of Nutrition and Dietetics Gestational Diabetes Nutrition Practice Guideline.
It is our hope that completion of this CPE program will assist nutrition professionals in improving maternal and fetal outcomes when gestational diabetes complicates a pregnancy.
This CPE program is a level 2 CPE program approved for eight (8) continuing professional education units (CPEUs). That means that the reader has general knowledge of literature and professional practice in the area covered. The focus of the program is to enhance knowledge and application.
To get the most benefit from this program, we suggest you adhere to the following four steps:
Step 1: Review the objectives for the CPE program.
Step 2: Study each chapter. As you read, think of patients from your own practice who fit the situation described.
Step 3: Assess what you have learned by completing the self-assessment instrument at the end of this CPE program.
Step 4: Compare your answers to the answer key that has been provided. If you score at least 80% correct (40 questions), you are ready to transfer your answers to the CONTINUING PROFESSIONAL EDUCATION REPORTING FORM. If you scored less than 80% correct, re-read this learning program until you score at least 80% correct.
After you have successfully completed the program complete the CPE REPORTING FORM and:
Submit on-line at www.easyCPEcredits.com,
or fax to: (410) 531-9282,
or mail to: Wolf Rinke Associates, 3801 Schuylkill Road, Spring City, PA 19475.
We will e-mail your Certificate of Completion within 3-5 business days.
When you submit your CPE Reporting Form to us via www.easyCPEcredits.com, fax or mail, be sure to write your correct email address in the space provided on the CPE Reporting Form. If writing by hand, be sure to print your e-mail address clearly.

To ensure that our e-mails are delivered to your inbox (instead of your junk/spam folders), please add cpesupport@wolfrinke.com to your Address Book or Safe List of allowed email senders. Also, be sure to allow attachments from this email address.

HAPPY LEARNING!

Diane Reader, RDN, LD, CDE and Marion J. Franz, MS, RDN, LD, CDE


OBJECTIVES

Upon completion of this accredited, self-directed learning program, the nutrition professional should be able to:
State the definition of gestational diabetes and screening criteria for testing for diabetes or prediabetes at the first prenatal visit in asymptomatic pregnant women.
Describe the two diagnostic criteria for GDM and assess the reasons for the controversy on which criteria should be implemented.

Explain the pathophysiology of glucose intolerance during pregnancy.

Identify maternal and fetal complications if glucose control is not achieved.

Recommend glucose goals for women with GDM.

Apply the GDM management interventions—self-management education, glucose monitoring, MNT, and physical activity, that apply to all women with GDM, and medications if glucose target goals are not met.

Recognize the MNT goals during pregnancy.

Implement assessments needed in order to provide MNT for GDM.

Plan and implement nutrition interventions for women with GDM.

Apply energy and weight gain recommendations for normal weight and obese women with GDM.

Apply recommendations for carbohydrate, protein, fat, and micronutrient intakes for GDM.

Implement an individualized eating plan.

Recommend guidelines and precautions for physical activity.

Recognize emotional responses of women diagnosed with GDM.

Monitor and evaluate outcomes from MNT and identify the need to add pharmacologic therapy.

Evaluate pharmacologic therapies and discuss issues related to the use of glucose-lowering medications during GDM pregnancies

Describe the use of insulin in GDM.

Provide or plan for follow-up and ongoing nutrition care for the woman with GDM.

Implement recommendations for postpartum glucose evaluation.

Plan and implement strategies for the prevention of T2D in women with prior GDM.

TABLE OF CONTENTS
Chapter 1: Screening and Diagnosis of Gestational Diabetes Mellitus
DEFINITION AND SCREENING
DIAGNOSIS
How to Diagnose GDM
Chapter 2: Fetal and Maternal Risks of Gestational Diabetes Mellitus
FETAL COMPLICATIONS
Macrosomia
Neonatal Hypoglycemia
Other Fetal Complications
MATERNAL COMPLICATIONS
Hypertension
Chapter 3: Management of Gestational Diabetes Mellitus
GLYCEMIC THERAPY GOALS FOR GLUCOSE MANAGEMENT
GLUCOSE MONITORING
SELF-MANAGEMENT EDUCATION
PHYSICAL ACTIVITY
SURVEILLANCE DURING PREGNANCY
DELIVERY AND POST-DELIVERY POSTPARTUM CARE
Chapter 4: Medical Nutrition Therapy for Gestational Diabetes Mellitus
NUTRITION PRACTICE GUIDELINE RECOMMENDATIONS FOR GDM AND
GOALS OF NUTRITION THERAPY
Goals of MNT
SCREENING AND REFFERRAL
NUTRITION ASSESSMENT
NUTRITION INTERVENTIONS
Calories and Weight Gain
Calories
Weight Gain during Pregnancy
Macronutrient Intake
Carbohydrate
Protein
Other Nutrient and Food Recommendations
Vitamins and Minerals
Nonnutritive Sweeteners
Alcohol
Mercury-Contaminated Fish
Listeriosis.
Nutrition Counseling
NUTRITION MONITORING AND EVALUATIONS
Food/Nutrition-Related History Outcomes
Anthropometric Measurement Outcomes
Biochemical Data, Medical Tests, and Procedure Outcomes
Chapter 5: Pharmacologic Therapy for Gestational Diabetes Mellitus
INSULIN
METFORMIN
GLYBURIDE
PREGNANCY DRUG CATEGORIES
HYPOGLYCEMIA
Chapter 6: Postpartum Care for Gestational Diabetes Mellitus
BREASTFEEDING
RISK OF FUTURE GDM AND TYPE 2 DIABETES
POSTPARTUM SCREENING FOR PREDIABETES AND DIABETES
CONTRACEPTION AND PREGNANCY PLANNING
RISKS FOR OFFSPRING OF WOMEN WITH GDM
PREVENTING FUTURE DIABETES
CONCLUSION
Case Study
References
For Your Continuing Education
List of Abbreviations
Glossary
Resources
Self-Assessment Questions
Answer Key
Explanation to Questions.
About the Authors
About the Editors

ABOUT THE AUTHORS

Diane Reader has been a manager of diabetes professional training programs at International Diabetes Center since 2000. She has extensive experience providing nutrition education and counseling at the Park Nicollet Medical Center for adults with all types of diabetes. Diane is nationally known as an advocate for quality diabetes education and her work in gestational diabetes. She served on the board of directors of the American Diabetes Association and was chair of the Education Recognition Program Committee from 2005-2007.
A special area of interest of hers has been gestational diabetes. She haslectured on this subject extensively, including at the 5th International Conference on Gestational Diabetes in November 2005. She has been chair or a committee member for the Academy of Nutrition and Dietetics' Nutrition Practice Guideline for Gestational Diabetes since the first edition in 1997 through the current 5th edition published in 2016. She has authored the booklets Gestational Diabetes and Taking Care of Gestational Diabetes andthe GDM BASICS client book and curriculum published by the International Diabetes Center at Park Nicollet, Minneapolis, Minn.
Diane has been active with the Diabetes Care and Education Practice group for many years, receiving their Distinguished Service Award in 2005. She has a Bachelor of Science degree in Nutrition and Dietetics from the University of Minnesota and completed their Coordinated Undergraduate Program.
Marion J. Franz is a registered dietitian nutritionist and a certified diabetes educator with a master's degree in nutrition from the University of Minnesota. She is a nutrition/health consultant with Nutrition Concepts by Franz, Inc. For more than 20 years she was the Director of Nutrition and Health Professional Education at the International Diabetes Center, Minneapolis. She has authored books, numerous articles in professional and lay journals, and chapters in texts and manuals for professionals and the lay public. She lectures frequently in the United States and internationally on nutrition, exercise, and diabetes. She has co-chaired and been a member of task forces to write the American Diabetes Association's nutrition recommendations and technical reviews, the Academy of Nutrition and Dietetics' nutrition practice guidelines for type 1 and type 2 diabetes, and an editor of the American Diabetes Association Guide to Nutrition Therapy for Diabetes, 1st, 2nd, and 3rd edition. She received the 2001 American Diabetes Association Charles H. Best Medal for Distinguished Service in the Cause of Diabetes, the American Dietetic Association 2006 Medallion Award, the American Dietetic Association 2008 Huddleson Award, and the 2012 American Association of Diabetes Educators Living Legend Award.
ABOUT THE EDITORS
Mary Ann Cockram, MS, RD, LD is a Research Scientist in the Scientific and Medical Affairs group at Abbott Nutrition where she provides clinical nutrition education and brand support internally to Sales and Marketing and externally to clinicians and consumers for Abbott's critical care and surgical products. Her area of interest is enteral feeding.
Mary Ann received a Bachelor of Science degree in Home Economics from Valparaiso University in Valparaiso, IN, and a Master of Science degree in Clinical Nutrition from Rush University in Chicago.
She is a member of the American Society for Parenteral and Enteral Nutrition (ASPEN) and the Society of Critical Care Medicine. Mary Ann has served as chair of the Medical Nutrition Practice Group, and as the assistant editor and editor of Medical Nutrition Matters, the newsletter of this practice group. Mary Ann continues to write continuing professional education test questions for the articles in Medical Nutrition Matters. She participated as an evidence analyst on the Evidence Analysis Team for Adult Weight Management for the Academy of Nutrition and Dietetics, and she attended the test item writer workshop sponsored by the Commission on Dietetic Registration.
Wolf J. Rinke, PhD, RDN, CSP is the president and founder of Wolf Rinke Associates, Inc., a company that has provided high quality CPE programs to nutrition professionals since 1990.
He earned a BS at Drexel University, a MS at Iowa State University, a PhD in Continuing and Vocational Education (Adult Ed) at the University of Wisconsin, and interned at Walter Reed Army Medical Center. He participated in a test item writer workshop sponsored by the Commission on Dietetic Registration (CDR).
Wolf is a past Adjunct Associate Professor, Graduate School of Management & Technology, University of Maryland, and a former Adjunct Faculty Member, School of Continuing Studies, The Johns Hopkins University.
He is the past president of the DC Dietetic Association and has been honored by the Academy with the Award for Excellence in the Practice of Management; the Outstanding Dietitian of the Year Award; the Outstanding Service Award; and has delivered the Lenna Frances Cooper Lecture.
At the Academy he has served in numerous leadership roles including Chair, Scholarship Committee, DBC; Chair, Communication Committee, CDR; Chair, Area Coordinating Committee, COE; Chair, COE, and member of the Resource for Education Programs Committee; Honors Committee; CDR, Licensure Panel and Ethical Practices Task Force; CDR; House of Delegates and Board of Directors.
He is the author of more than 500 articles, numerous CPE self-study programs, and several popular books including Make It a Winning Life: Success Strategies for Life, Love and Business; Winning Management: 6 Fail-Safe Strategies for Building High-Performance Organizations; and Don't Oil the Squeaky Wheel and 19 Other Contrarian Ways to Improve Your Leadership Effectiveness.
ACKNOWLEDGMENTS
Special thanks to the following individuals for their careful review.
Denise Andersen, MS, RDN, LD, CLC
Past Chair, Women's Health Practice Group of the American Dietetic Association
Mendota Heights, MN

Cathy Fagen, MA, RDN
Region 6.1 California Diabetes and Pregnancy Program
Miller Children's Hospital
Perinatal Outreach Education Program
Long Beach, CA
Melanie Sipe, RDN, CDE
Claremore PHS Diabetes Program
Claremore, OK
---
If you prefer to order by phone, mail or fax click below
or click here to contact us with other questions.
For information about our other products and services return to the sidebar at the top of the page.