Nutrition and Cardiovascular Disease, 3rd Edition
Karen M. Chapman-Novakofski, PhD, RDN, LD and
Susan Martin Gould, PhD, RDN
Edited by Wolf J Rinke, PhD, CSP, RDN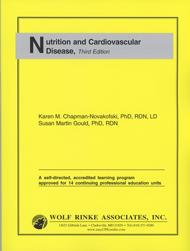 | | | | | |
| --- | --- | --- | --- | --- |
| C294 | 14 CPEUs | | SOLD OUT | |
| C294E | 14 CPEUs | ELECTRONIC | SOLD OUT | |
(Manual with 1 Reporting Form, 135 pgs.) Enables you to understand and apply preventative and medical nutrition therapy for cardiovascular diseases using evidence-based guidelines, and to understand the emerging issues your clients may be asking about prevention and treatment of CVD. This up-to-date manual will enable you to:

recognize how lipid transport disorders can contribute to cardiovascular diseases.

apply knowledge of the pathophysiology of cardiovascular diseases to explain prevention and treatment strategies.

explain the risk reduction approaches to cardiovascular disease.

integrate medical nutrition guidelines to develop and evaluate meal plans for patients and clients with cardiovascular disease.

explain the rationale and mechanism for medication guidelines for cardiovascular diseases.
For more information about this course and customer comments, click here.
Approved by CDR
For RDs/RDNs & DTRs/NDTRs for the Professional Development Portfolio

SUGGESTED Performance Indicators (PIs):
8.1.1, 8.1.2, 8.1.5, 8.3.1, 8.3.6, 10.1.3, 10.2.1, 10.2.2, 10.2.4, 10.2.7, 10.2.9, 10.2.10, 10.2.11, 10.2.12, 12.4.6

DON'T SEE your Performance Indicators Listed here?
There are many Performance Indicators (PIs) that are applicable we can't list them all &
Per CDR you may use ANY PI as long as it relates to your Learning Plan.
For details click here.


Share with a friend and Save! Click here for important information about sharing.
To order an ADDITIONAL Reporting Form click below:

| | | | | |
| --- | --- | --- | --- | --- |
| C294F | 14 CPEUs | REPORTING FORM | | |
Nutrition and Cardiovascular Disease, 3rd Edition
Karen M. Chapman-Novakofski, PhD, RDN, LD and
Susan Martin Gould, PhD, RDN
Edited by Wolf J Rinke, PhD, CSP, RDN
Copyright 2017 Wolf Rinke Associates, Inc.

CUSTOMER COMMENTS
Jennifer Hopper - "I liked that this course covered the most up to date guidelines for heart disease and what interventions should be made by the nutrition professional. I also loved the chapter on the emerging issues! Very useful information."
Holly Dykstra - "Great summary of cardiovascular nutrition. Easy to understand and also great presentation of information I needed to learn."
Amy B. Olszewski - "Overall a good course."

Diane K. Van Acke - "Very thorough, well organized, useful information. I especially enjoyed the information in Chapter 5 on prevention recommendations."
OVERVIEW AND INSTRUCTIONS
Cardiovascular disease prevention and treatment have made tremendous strides over the past decades. Nevertheless, cardiovascular disease morbidity and mortality affect millions each year. The largest federal programs and research interventions have focused on cardiovascular disease. To meet the nutritional needs of those who are concerned about preventing and treating cardiovascular disease, nutrition professionals must understand the rationale for specific nutrient and health recommendations in both preventive health and therapeutic nutrition.
This self-directed, accredited learning program begins with an explanation of basic heart and circulatory system physiology. In Chapter 2, the most common cardiovascular disease pathophysiologies are described, and lipid transport basics in Chapter 3.
Chapter 4 reviews the primary epidemiological studies that form the basis for preventive and therapeutic recommendations to help the nutritionist explain them to his/her clients. Chapter 5 summarizes the primary cardiovascular disease prevention recommendations. Chapter 6 introduces the Academy of Nutrition and Dietetics Nutrition Care Process and summarizes the first two components, nutrition assessment and diagnosis. Chapter 7 continues this therapeutic process with interventions, monitoring, and evaluation. Because medications usually are an integral part of therapy for many with cardiovascular disease, Chapter 8 describes usual pharmacological therapy. Finally, Chapter 9 describes emerging nutritional factors in cardiovascular disease. Two case studies provide practice and application.
This learning program is a Level 2 Continuing Professional Education (CPE) program. Level 2 means that you have general knowledge of the literature and professional practice in the areas covered. The focus of the program is to enhance knowledge and application.
To benefit optimally from this learning program, we suggest you follow these learning guidelines:
Read each chapter. Stop and think about how this might apply to situations you have experienced.
Read the case studies carefully, practicing the application of the information in each case.
Assess what you have learned by completing the self-assessment instrument at the end of this learning program.
Compare your answers to the answer key provided. For those that you answered incorrectly, read the explanations and review the material in the appropriate chapter.
Calculate your total score. If you scored at least 80% correct (40 answers) you are ready to transfer your answers to the CONTINUING PROFESSIONAL EDUCATION (CPE) REPORTING FORM. If you scored less than 80% correct, re-read this learning program until you score at least 80% correct. After you have successfully completed the program, complete the CPE REPORTING FORM and:
Submit it on-line at www.easyCPEcredits.com,
or fax it to: (410) 531-9282,
or mail it to: Wolf Rinke Associates, 3801 Schuylkill Road, Spring City, PA 19475.
We will email your Certificate of Completion.
When you submit your CPE Reporting Form to us via www.easyCPEcredits.com fax or mail, be sure to write your correct email address in the space provided on the CPE Reporting Form. If writing by hand, be sure to print your email address clearly.
To ensure that our emails are delivered to your inbox (instead of your junk/spam folders), please add cpesupport@wolfrinke.com to your Address Book or Safe List of allowed email senders. Also, be sure to allow attachments from this email address.
STUDY WELL AND ENJOY THE LEARNING PROCESS!
Karen Chapman-Novakofski, PhD, RD, LD, and Susan Martin Gould, PhD, RD
OBJECTIVES
Upon completion of this accredited, self-directed learning program, the nutrition professional will be able to:
explain how the structure and function of the cardiovascular system is integrated;
recognize how lipid transport disorders can contribute to cardiovascular diseases;
apply knowledge of cardiovascular diseases pathophysiology to explain prevention and treatment strategies;
evaluate findings from epidemiological studies to explain cardiovascular disease risk reduction approaches;
use CVD risk reduction tools in patient care;
apply cardiovascular prevention guidelines to develop and evaluate meal plans for those at risk of developing cardiovascular disease;
apply the nutrition care process and integrate medical nutrition guidelines to develop and evaluate meal plans for patients and clients with cardiovascular disease;
explain the rationale and mechanism for cardiovascular disease medication guidelines; and
integrate cardiovascular disease pathophysiology and medical therapy knowledge to explain emerging issues in nutrition and cardiovascular disease.

TABLE OF CONTENT
Chapter 1: Basic Cardiac Structure and Function
Structure
Heart
Blood Vessels
Function
Circulation
Testing Cardiac Function
Blood Pressure Measurements
Clinical Implications
Chapter 2: Cardiovascular Diseases: Description and Pathophysiology
Hypertension
Overview
Blood Pressure Classifications
Factors Influencing Blood Pressure
Complications of Prolonged Uncontrolled Hypertension
Atherosclerosis Conditions
Coronary Heart Disease
Peripheral Vascular Disease
Heart Failure
Clinical Implications
Chapter 3: Lipid Transport
Fatty Acids
Lipoproteins
Cholesterol Absorption
Protein Components of Lipoproteins
Storage and Mobilization of Fatty Acids
Lipoprotein Regulation
Clinical Implications
Chapter 4: Epidemiological Studies, Risk Factors and Risk Score Assessments
Epidemiological Studies
Framingham Heart Study
Bogalusa Heart Study
Seven Countries Study
Risk Score Assessments
Framingham Score
Reynold's Score
Independent Risk Factors
Obesity
Biochemical Tests
Other Indicators
Clinical Implications
Chapter 5: Prevention Recommendations
Dietary Guidelines for Americans
MyPlate and ChooseMyPlate.gov
Dietary Approaches to Stop Hypertension (DASH) Eating Plan
Mediterranean Dietary Pattern
American Heart Association
National Heart, Lung, and Blood Institute (NHLBI)
Clinical Implications
Chapter 6: Medical Nutrition Assessment and Diagnosis
Nutrition Assessment
Diet
Anthropometrics
Biochemical Measures
Clinical/Physical Assessment
Exercise Assessment
Nutritional Diagnosis
Coronary Artery Disease and Peripheral Artery Disease
Angina and Myocardial Infarction
Hypertension
Stroke
Heart Failure
Clinical Implications
Chapter 7: Interventions, Monitoring and Evaluation
Cardiovascular Disease
Lifestyle Interventions: Therapeutic Lifestyle Changes (TLC)
Hypertension
Heart Failure
Clinical Implications
Chapter 8: Medications
Coronary Artery Disease
Myocardial Infarction
Hypertension
Stroke
Heart Failure
Peripheral Vascular Disease
Clinical Implications
Chapter 9: Emerging Issues
Assessing Emerging Issues Evidence
Glycemic Load
Fish Oil
Folate, Vitamin B12 and Homocysteine
Soy
Bioactive Compounds and Phenolics
Flavonoids
Wine
Tea
Garlic
Cocoa
Multiple Functional Foods
Clinical Implications
Case Studies
Case Study 1
Case Study 2
References
Abbreviations
Glossary
Resources
Self-Assessment Questions
Answer Key
Explanations to Self-Assessment Questions
About the Authors
About the Editor

ABOUT THE AUTHORS
Karen Chapman-Novakofski, PhD, RDN, LDN is a professor of nutrition at the University of Illinois in Urbana-Champaign. Dr. Chapman-Novakofski earned her bachelor's degree from the University of Illinois at Urbana-Champaign (UIUC), her master's degree from Eastern Illinois University, and her doctorate from UIUC. She completed her dietetic internship at the University of Alabama in Birmingham, was a dietitian at the VA Medical Center in Danville, Illinois, for 11 years, has been at UIUC in the College of Medicine since 1983 and in the Department of Food Science and Human Nutrition and Division of Nutritional Sciences since 1991. She teaches community and clinical nutrition classes to undergraduate and graduate students, including cardiovascular disease prevention and treatment. She has published more than 100 peer-reviewed research papers and is a frequent invited lecturer both locally and nationally. A member of the Academy of Nutrition and Dietetics and the Society for Nutrition Education, Karen has received many professional awards, including the Abbott Award for Women's Health, the Excellence in Community Nutrition Award, and the Mary Abbott Hess Award for Innovation in Education from the Academy of Nutrition and Dietetics.
Susan Martin Gould, PhD, RDN, is an Assistant Professor in the Nutrition and Dietetics Program at the University of Northern Colorado. Dr. Gould earned her bachelor's degree from Montana State University in Physical Education and Health, K-12, with a minor in Spanish, and her master's and doctorate degrees from Colorado State University in Food Science and Human Nutrition. She teaches nutrition education, fitness and athletic nutrition, food science, and foodservice systems. She also has taught graduate level nutritional epidemiology. She has been involved in numerous research projects including those with media and interactive activities and worked with the Supplemental Nutrition Assistance Program–Nutrition Education component. She is a member of the Academy of Nutrition and Dietetics and the Society for Nutrition Education.
ABOUT THE EDITOR
Wolf J. Rinke, PhD, RDN, CSP is the president and founder of Wolf Rinke Associates, Inc., a company that has provided high quality CPE programs to nutrition professionals since 1990.
He earned a BS at Drexel University, a MS at Iowa State University, a PhD in Continuing and Vocational Education (Adult Ed) at the University of Wisconsin, and interned at Walter Reed Army Medical Center. He participated in a test item writer workshop sponsored by the Commission on Dietetic Registration (CDR).
Wolf is a past Adjunct Associate Professor, Graduate School of Management & Technology, University of Maryland, and a former Adjunct Faculty Member, School of Continuing Studies, The Johns Hopkins University.
He is the past president of the DC Dietetic Association and has been honored by the Academy with the Award for Excellence in the practice of Management; the Outstanding Dietitian of the Year Award; the Outstanding Service Award; and has delivered the Lenna Frances Cooper Lecture.
At the Academy he has served in numerous leadership roles including Chair, Scholarship Committee, DBC; Chair, Communication Committee, CDR; Chair, Area Coordinating Committee, COE; Chair, COE, and member of Resource for Education Programs Committee; Honors Committee; CDR, Licensure Panel and Ethical Practices Task Force; CDR; House of Delegates and Board of Directors.
He is the author of more than 500 articles, numerous CPE home-study programs, several popular books, and the free monthly eNewsletter "Read and Grow Rich" written specifically for savvy Nutrition Professionals like YOU!
Subscribe now at www.easyCPEcredits.com--you'll be glad you did!
ACKNOWLEDGEMENTS
Special thanks to the following individuals for their review.
Krista Casazza, PhD, RD
Assistant Professor
Department of Nutritional Sciences
University of Alabama at Birmingham
Birmingham, AL
Ann Diker, PhD, RD
Associate Professor
Department of Health Professions
Metropolitan State University of Denver
Denver, CO
Carol E. O'Neil, PhD, MPH, RD
Class of 1941 Alumni Professor School of Human Ecology
Louisiana State University
Baton Rouge, LA
---
If you prefer to order by phone, mail or fax click below
or click here to contact us with other questions.
For information about our other products and services return to the sidebar at the top of the page.