Medical Nutrition Therapy for Kidney Disease Second Edition
N. L. Kondracki, MS, RD, LDN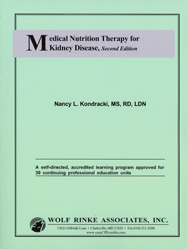 | | | | | |
| --- | --- | --- | --- | --- |
| C278 | 30 CPEUs | HARD COPY | SOLD OUT | |
| C278E | 30 CPEUs | ELECTRONIC | SOLD OUT | |
Course Expires: 5/31/2023
(Manual with 1 Reporting Form, 298 pgs) The most comprehensive CPE program we have ever published! Great resource to help you pass your Board Certification as a Specialist in Renal Nutrition (CSR). Discover how to apply the principles of medical nutrition therapy (MNT) for a variety of kidney diseases consistent with current clinical practice recommendations including how to:
Calculate dialysis adequacy for hemodialysis and peritoneal dialysis

Implement treatment goals for conditions associated with kidney disease

Assess fluid and nutrient needs for patients at each stage of kidney disease

Interpret laboratory tests important to the evaluation of kidney patients' nutrition status

Provide appropriate nutrition education to patients with kidney disease
For more information and customer comments, click here.
Approved/Accepted by CDR, NCBDE

For RDs/RDNs & DTRs/NDTRs for the Professional Development Portfolio

SUGGESTED Performance Indicators (PIs):
8.1.5, 8.3.1, 8.3.6, 10.1.1, 10.1.2, 10.1.3, 10.2.1, 10.2.2, 10.2.3, 10.2.4, 10.2.5, 10.2.6, 10.2.7, 10.2.8, 10.2.9, 10.2.10, 10.2.11, 10.2.12, 10.4.1, 10.4.2, 10.4.3, 10.4.4, 12.4.6


DON'T SEE your Performance Indicators Listed here?
There are many Performance Indicators (PIs) that are applicable we can't list them all &
Per CDR you may use ANY PI or CODE as long as it relates to your Learning Plan.
For details click here.

Share with a friend and Save! Click here for important information about sharing.
To order an ADDITIONAL Reporting Form click below:

| | | | | |
| --- | --- | --- | --- | --- |
| C278F | 30 CPEUs | DISCONTINUED | SOLD OUT | |
Copyright 2016 Wolf Rinke Associates, Inc. All rights reserved for this self-directed, accredited learning program. Reproduction in whole or part without written permission from the publisher is prohibited.
CUSTOMER COMMENTS
Jari Serra: "Very challenging for me. Got to learn about an area I don't normally work with. Feeling very well-informed now for someone who doesn't specialize in that field."
Andrea Hand: "I have worked in the dialysis setting for 14 years. This self study program helped me learn so much that will enhance the way I work and relate to my patients."
Jacqueline Grier: "This was great information on kidney disease and a great review."
Mattie Rojas: "I liked the synopsis type explanations for the answers and the referenced pages that supported the answers from the text."
Andrea Smith: "Very informative, learned a lot even in non nutrition areas. I really like how there are explanations to each question on the self-assessment section. Very helpful for retaining information learned."
Gladys Jones: "I like the test guide and the explanation for the questions, really made it less difficult with understanding the role of medical therapy and kidney disease."
Layna Broussard: "This course was amazing, I am a renal dietitian and will definately use what I have learned in my practice! So up to date and outlined perfectly."
Barbara Vogel: "Excellent detail provided. A good reference source to keep and use. Good depth of course material."
Juel Steffen: "This course provided info that is up to date & I can use on reg. basis. Liked the calculation formulas w/ Examples."

Rita Nauer: "The course was so very complete & I liked being able to study it over time."

Leslie Merklin-Barber: "Purchased to learn as a nurse about kidney disease Mgt. & to support my RD's."

Jennifer Rosario: "The level of instruction was high and I enjoyed learning the more detailed information regarding kidney disease."

Habiba Qurashi: "This book provides a lot of information about medical nutrition therapy and kidney disease. It is easy to read and understand also."

Arlene Patricia Williamson: "This was extremely comprehensive and challenging . Very well written. All I needed to know wanted to know dreamed of knowing the text is a keeper."

Barbara Dromazos: "Good overview course! The table of contents makes it easy to find specifics. I really appreciate the references, the glossary, and the resource list."

Joyce Whitford: "I love the explanations to the questions; a helpful learning tool."

Patricia Yacovoni: "It gave me indepth knowledge that I needed to better assess the residents receiving dialysis as well as those with poor kidney function."

Sarah O'Gara: "It was very complete, I feel confident in my CKD knowledge to apply for a position in that area."
INTRODUCTION AND INSTRUCTIONS

Historically, "renal nutrition" has been one of the most challenging areas of dietetics to master. The complexities of this area of study relate to the significant roles that the kidneys play in the human body, such as maintaining homeostasis and eliminating wastes, as well as the varied and continually evolving options for treating renal failure. Both the current best practices and indications for future practice based on emerging research are presented here.
In an effort to be more consumer-friendly many practitioners no longer use the term "renal" in favor of the more straightforward "kidney." The two terms are used interchangeably throughout this course. The human urinary system is comprised of the kidneys, ureters, bladder, and urethra. Although there are circumstances in which the latter three are discussed, this course will primarily focus on the functions, physiology, and treatments related to the function and dysfunction of the kidneys.
This self-directed learning program is a Level 2 Continuing Professional Education (CPE) program approved for 30 Continuing Professional Education Units (CPEUs). That means that the reader has general knowledge of the literature and professional practice within the area covered. The focus of the program is to enhance knowledge and application.
To get the most benefit from this program, we suggest you adhere to the following four steps:
Step 1: Review the objectives for the CPE program.
Step 2: Study each chapter. As you read, think of patients from your own practice who fit the situation described.
Step 3: Assess what you have learned by completing the self-assessment instrument at the end of this CPE program.
Step 4: Compare your answers with the answer key that has been provided. If you score at least 80% correct (40 questions), transfer your answers to the Continuing Professional Education Reporting Form. If you scored less than 80% correct, re-read this CPE program until you are able to score at least 80% correct.
After you have successfully completed the program, complete the CPE REPORTING FORM and:
Submit on-line at www.easyCPEcredits.com,
Or fax to: (410) 531-9282,
Or mail to: Wolf Rinke Associates, 3801 Schuylkill Road, Spring City, PA 19475.
We will email your Certificate of Completion.
When you submit your CPE Reporting Form to us via www.easyCPEcredits.com, fax, or mail be sure to write your correct email address in the space provided on the CPE Reporting Form. If writing by hand, be sure to print your email address clearly.
To ensure that our emails are delivered to your inbox (instead of your junk/spam folders), please add cpesupport@wolfrinke.com to your Address Book or Safe List of allowed email senders. Also, be sure to allow attachments from this email address.

GOAL
To provide current, accurate and practical information and resources that will assist you in applying the principles of medical nutrition therapy for a variety of kidney diseases in a manner consistent with current clinical practice guidelines and recommendations.
OBJECTIVES
As a result of studying and applying the concepts presented in this accredited, self-directed leaning program, you will be better able to:
Recognize the functions and physiology of the human kidneys.

Assess the common diseases associated with kidney dysfunction.

Identify populations that present special challenges for renal dietitians and explain the challenges for each.

Assess different types of dialysis and recognize the advantages and disadvantages of each.

Calculate dialysis adequacy for hemodialysis and peritoneal dialysis.

Recommend basic medical nutrition therapy goals and treatments for a variety of kidney diseases and their manifestations.

Implement treatment goals and options for conditions that occur as complications of kidney disease.

Assess fluid and nutrient needs for patients at each stage of kidney disease.

Interpret laboratory tests important to the evaluation of kidney patients' nutrition status.

Provide appropriate nutrition education to patients with kidney diseases.
TABLE OF CONTENTS

Chapter 1: Kidney Disease Today
THE BURDEN OF KIDNEY DISEASE
ETHNIC DISPARITIES
CURRENT RENAL NUTRITION PRACTICE
MEDICAL NUTRITION THERAPY REIMBURSEMENT
Chapter 2: Kidney Anatomy, Physiology, and Function
THE URINARY TRACT SYSTEM
KIDNEY ANATOMY, PHYSIOLOGY, AND BLOOD FLOW
HOMEOSTATIC FUNCTIONS
Chapter 3: The Spectrum of Kidney Diseases
ACUTE KIDNEY INJURY
CHRONIC KIDNEY DISEASE
END-STAGE RENAL DISEASE
GLOMERULAR DISEASES
PYELONEPHRITIS
POLYCYSTIC KIDNEY DISEASE
KIDNEY STONES/NEPHROLITHIASIS
GOUT
RENAL CANCER
URINARY TRACT INFECTIONS
HEMOLYTIC UREMIC SYNDROME
DIABETES INSIPIDUS
Chapter 4: Treatment Modalities
TYPES OF DIALYSIS
ASSESSING DIALYSIS ADEQUACY
TYPES OF VASCULAR ACCESS
KIDNEY TRANSPLANT
Chapter 5: Populations Presenting Special Challenges
DIABETES
CARDIOVASCULAR DISEASE
CHILDREN AND ADOLESCENTS
OLDER ADULTS
PREGNANCY AND OTHER WOMEN'S ISSUES
HIV-ASSOCIATED NEPHROPATHY
HEPATITIS C INFECTION
VEGETARIAN DIET
CELIAC DISEASE/GLUTEN-FREE DIET
Chapter 6: Complications of CKD
MINERAL BONE DISORDERS
ANEMIA
UREMIA
UNDERNUTRITION
NEPHROGENIC FIBROSIS
Chapter 7: Assessment of Nutrition Status in Renal Patients
CLINICAL GUIDELINES
ASSESSMENT OF NUTRIENT NEEDS
MEASUREMENTS/CALCULATIONS
LABORATORY ASSESSMENT
REIMBURSEMENT REQUIREMENTS FOR RENAL MNT
IMPLEMENTING THE NUTRITION CARE PROCESS WITH KIDNEY PATIENTS
Chapter 8: Nutrition Support in CKD
ENTERAL FEEDING GUIDELINES
PARENTERAL NUTRITION
Chapter 9: Nutrition Education
THE NATIONAL RENAL DIET
CARBOHYDRATE COUNTING
FOCUS ON FOOD LABELS
Chapter 10: Lifestyle Factors other than Diet
PHYSICAL ACTIVITY
SMOKING CESSATION
SLEEP
Chapter 11: Dietary Supplements and Kidney Care
VITAMINS AND MINERALSOVER-THE-COUNTER AND HERBAL PRODUCTS
COMBINATION PRODUCTS DESIGNED FOR KIDNEY PATIENTS
References
Appendix: Renal Resources
Glossary
Abbreviations
Self-Assessment Questions
Answer Key
Explanations To Questions
About The Author
About The Editor

ABOUT THE AUTHOR

Nancy L. Kondracki is a registered dietitian with a Master of Science degree in Nutrition and Dietetics from Florida International University (Miami, FL), and a Bachelor of Arts in Biology from Franklin & Marshall College (Lancaster, PA). She is an Independent Contractor in Greensboro, NC who specializes in evidence-based nutrition writing, CE course development, PowerPoint design, and recipe and menu analysis. She works locally with a variety of public and private companies providing seminars and other resources, and is active with the Greensboro and North Carolina Dietetic Associations as well as other nonprofits that promote health and wellbeing including Eat Smart, Move More NC and Action for Healthy Kids.
Nancy has clinical experience and also served in the past as manager of Nutrition Projects at Nutrio Technologies and Manager of Nutrition Communications with the public relations firm GBA Health Communications where she consulted on projects for several brands, including Sweet 'N Low and Ester-C. Nancy is a past winner of the North Carolina Dietetic Association Emerging Leader Award, the Broward County (Florida) Dietetic Association Recognized Young Dietitian, and the American Dietetic Association Outstanding Dietetic Student awards.
ABOUT THE EDITOR
Wolf J. Rinke, PhD, RDN, CSP is the president and founder of Wolf Rinke Associates, Inc., a company that has provided high quality CPE programs to nutrition professionals since 1990.
He earned a BS dgreee at Drexel University, a MS at Iowa State University, a PhD in Continuing and Vocational Education (Adult Ed) at the University of Wisconsin, and interned at Walter Reed Army Medical Center. He participated in a test item writer workshop sponsored by the Commission on Dietetic Registration (CDR).
Wolf is a past Adjunct Associate Professor, Graduate School of Management & Technology, University of Maryland, and a former Adjunct Faculty Member, School of Continuing Studies, The Johns Hopkins University.
He is the past president of the DC Dietetic Association and has been honored by the Academy with the Award for Excellence in the practice of Management; the Outstanding Dietitian of the Year Award; the Outstanding Service Award; and has delivered the Lenna Frances Cooper Lecture.
At the Academy he has served in numerous leadership roles including Chair, Scholarship Committee, DBC; Chair, Communication Committee, CDR; Chair, Area Coordinating Committee, COE; Chair, COE, and member of Resource for Education Programs Committee; Honors Committee; CDR, Licensure Panel and Ethical Practices Task Force; CDR; House of Delegates and Board of Directors.
He is the author of more than 500 articles, numerous CPE home-study programs, several popular books, and the free monthly eNewsletter "Read and Grow Rich" written specifically for savvy Nutrition Professionals like YOU!
Subscribe now at www.easyCPEcredits.com--you'll be glad you did!
ACKNOWLEDGMENTS
Special thanks to the following individuals for their careful review of this program:
Mary Ellen Hansson, MEd, RD, LDN
Renal Dietitian
High Point Kidney Center
Greensboro, NC
Julie Higgins, RD, LDN
Renal Dietitian
Greensboro, NC
Rita Miller, MEd, RD, LD/N
Registered Dietitian
AGE Institute of Florida, Aramid
Panama City, FL

---
If you prefer to order by phone, mail or fax click below
or click here to contact us with other questions.
For information about our other products and services return to the sidebar at the top of the page.