Win-Win Negotiation:
Fail-Safe Strategies to Help You Get More of What You Want, Second Edition
Wolf J. Rinke, PhD, RD, CSP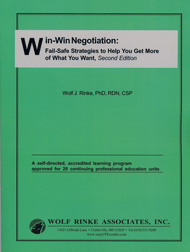 | | | | | |
| --- | --- | --- | --- | --- |
| C277 | 20 CPEUs | HARD COPY | | |
| C277E | 20 CPEUs | ELECTRONIC | | |
(Manual with 1 Reporting Form, 154 pgs)
This CPE program shows you how to stretch your budget and get more for less! Whether you are shopping for food, a gift or a car, Wolf will show you how to pay less, and even help you get a pay raise. Plus he will share fail-safe negotiation secrets which will enable you to make up to one million dollars more in compensation over a 50 year professional career. This CPE program will pay for itself many times over, and teach you how to:
overcome the fear of negotiation,

take advantage of the three crucial variables in all negotiations,

apply five steps that will enable you to achieve win-win outcomes,

deal effectively with "tough" negotiators who want to take advantage of you,

master specific negotiation "gambits" to get more of what you want.
Approved by CDR
For RDNs/RDs & NDTRs/DTRs:
Suggested Learning Need Codes for the Prof. Dev. Portfolio:
1000, 1010, 1110, 1130, 7000, 7020, 7030, 7040, 7070, 7080, 7120, 7150, 7210, 8000, 8120
Suggested Performance Indicators:
2.1.7, 6.1.2, 11.3.9, 14.2.7
Share with a friend and Save! Click here for important information about sharing.
To order an ADDITIONAL Reporting Form click below:
| | | | | |
| --- | --- | --- | --- | --- |
| C277F | 20 CPEUs | REPORTING FORM | DISCONTINUED | |
Win-Win Negotiation:
Fail-Safe Strategies to Help You Get More of What You Want, Second Edition
Wolf J. Rinke, PhD, RD, CSP
© 2016 Wolf Rinke. All rights reserved. Reproduction in whole or part without written permission from the author, except for brief quotations in reviews, is prohibited.
CUSTOMER COMMENTS
Brenda Mulder: "Very Valuable, I really enjoyed this class and am excited to apply theses principles to my every day life, both personal and business. Thank you! Liked examples & stories that anchored concepts."
Patricia O'Keefe: "Very helpful for a variety of negotiations and counseling."
Lara Hackney: "Gave me more courage to pursue more negotiation for things I stand for."
Jacklyn Wurzbacher: "This is information I will use throughout my career, as well as, in my personal life. Very easy read, could relate it well, to daily experiences. The information is something I can put into practice immediately."
Erin Siegfried: "I am a dietitian who has been in sales for 15 years. Finding a CPE course that focuses on business and business principals keeps me coming back and learning a joy!"
Michelle Parker: "I would like to buy several copies to provide to my hospital administration who would benefit from you advice. Your writing style made the program very enjoyable to read."
Shannon Tolbert: "...the information will benefit in negotiating salary and everyday negotiations in my life."
INTRODUCTION AND OVERVIEW
It's been said you don't necessarily get what you deserve…you get what you negotiate. So if you are not getting enough of the things you want then this self-directed learning program is for you. You will discover fail-safe strategies that will enable you to negotiate more effectively with your boss, your significant other, your children and maybe even your pet! Most importantly, while getting more of what you want, you will also enable others to get more of what they want. In other words, you will master powerful win-win negotiation strategies plus at the same time earn 20 level 2 continuing professional education units (CPEUs).
To get the most out of this Win-Win Negotiation self-directed learning program it is suggested that you follow these four steps:
Step 1: Review the objectives.
Step 2: Read the information in this self-directed learning program.
Step 3: Assess what you have learned by completing the self-assessment questions.
Step 4: Compare your answers to the answer key. If you scored at least 80 percent correct, you have passed this program and are ready to transfer your answers to the CONTINUING PROFESSIONAL EDUCATION (CPE) REPORTING FORM. If you should score less than 80 percent correct, read again until you improve your score and at least 80 percent of the answers are correct.
Complete the following optional steps to achieve real improvements in your negotiation skills:
Step 5: Apply what you have learned by practicing win-win negotiation at every possible opportunity, because the more you practice the better you will get.
Step 6: Monitor your progress and repeat those strategies that result in win-win outcomes and/or get you more of what you want, and stop using those that do not.
After you have successfully completed the program, complete the CPEU REPORTING FORM and:
Submit on-line at www.easyCPEcredits.com,
Or fax to: (410) 531-9282,
Or mail to: Wolf Rinke Associates, 3801 Schuylkill Road, Spring City, PA 19475.
We will e-mail your Certificate of Completion.
When you submit your CPE Reporting Form to us via www.easyCPEcredits.com, fax, or mail be sure to write your correct email address in the space provided on the CPE Reporting Form. If writing by hand, be sure to print your email address clearly.
To ensure that our e-mails are delivered to your inbox (instead of your junk/spam folders), please add cpesupport@wolfrinke.com to your Address Book or Safe List of allowed email senders. Also, be sure to allow attachments from this email address.
Happy Learning! Wolf J. Rinke, PhD, RDN, CSP

GOAL AND OBJECTIVES
Goal
To provide you with specific fail-safe strategies that will enable you to achieve more win-win outcomes and help you get more of what you want.
Objectives
As a result of studying and applying the concepts presented in this self-directed accredited learning program you will be better able to:
Master six specific steps that will enable you to receive a significant increase in compensation.

Overcome compensation inequities between men and women.

Distinguish between the three basic types of negotiation.

Recognize the five variables that must be present to achieve win-win outcomes.

Identify the five basic styles of negotiation.

Recognize your preferred negotiation style.

Identify expected outcomes associated with different negotiation styles.

Apply the negotiation style that will enable you to get more of what you want.

Master the top eight habits of highly effective negotiators.

Recognize that people are very poor communicators.

Master nine communication strategies that will facilitate win-win negotiations.

Apply five laws that will enable you to persuade and influence others.

Master four strategies that will cause others to like you.

Recognize why you must be willing to Walk Away.

Distinguish between your BATNA, WAP and ROSA.

Discover why it is to your advantage to negotiate over interests, not positions.

Separate option generation from decision making.

Discover when it is beneficial to resort to objective criteria.

Take advantage of the three crucial variables in all negotiations.

Master five rules to make time work for you.

Describe the six types of social power.

Apply the five steps that will enable you to achieve win-win outcomes.

Recognize and apply eighteen specific tactics and counter tactics (gambits) to insure that tough battlers do not take advantage of you.

Make others glad that they negotiated with you.

Dramatically improve your ability to achieve win-win outcomes.

TABLE OF CONTENTS

Chapter 1: Negotiation--the Basics
Negotiation--Why Bother?
The Short Course for Successful Salary Negotiation
Types of Negotiation
Win-Win Negotiation--How to Know It When You Get There
Win-Win Negotiation--A Brief Historical Perspective
Why Do We Play Win-Lose Games?
Five Basic Negotiation Styles--Which One Are You?
What Is Your Dominant Negotiation Style?
Who Wins Over the Long Run?
Summary
Answers to the Exercise in this Chapter
Notes
Chapter 2: The Top 8 Habits of Highly Effective Negotiators
Know Thyself
Manage Thyself
Motivate Thyself
Empathize With Others
Develop Charisma
Be Honest
Let Go Of the Past
Kill Your Ego
Summary
Answers to the Mental Stretch Break in this Chapter
Notes
Chapter 3: Communicate As If the Outcome Depends On It--It Does
Communication--Why We Have Such a Tough Time with It
Nine Communication Strategies to Facilitate Win-Win Negotiation
Summary
Answers to the Mental Stretch Break in this Chapter
Notes

Chapter 4: Persuade and Influence and Get More of What You Want
The Law of Liking--People Like People Who Like Them
The Law of Reciprocity--Whatever You Give Is What You're Going to Get
The Law of Commitment--People Are More Likely to Do What They Commit To
The Law of Scarcity--People Want More of What They Can't Have
The Law of Expectation--Over the Long Run People Get What They Expect
How to Take It to the Next Level
Summary
Answer to the Mental Stretch Break in this Chapter
Notes
Chapter 5: Make-Or-Break Strategies in Any Negotiation
Manage Your Perceptions
Be Willing To Walk Away
Know Your BATNA, WAP and ROSA
Negotiate Over Interests, Not Positions
Separate Option Generation from Decision Making
If All Else Fails, Resort to Objective Criteria
Summary
Answer to the Mental Stretch Break in this Chapter
Notes
Chapter 6 Take Advantage of Three Crucial Variables Encountered
In Every Negotiation--TIP It
Time
Information
Power
Summary
Answer to the Mental Stretch Break in this Chapter
Notes
Chapter 7: Tactics and Counter Tactics for Distributive Negotiation; or
How to Make Sure That Tough Battlers Don't Take Advantage of You
Make It a Habit to Ask For More Than You Expect
Take Advantage of the Anchoring Effect
Avoid Accepting the First Offer
Avoid Making Concessions Unless
Make the Other Person Right--Never Wrong
Act Dumb
Be Reluctant
Do the Work
Resort to Higher Authority
Take a Nibble
Avoid Accepting the Hot Potato
Don't Forget to Flinch
How to Split the Difference
Recognize the Prostitute Effect
Withdraw the Offer
Watch Out For the Good-Guy, Bad-Guy Gambit
Don't Succumb To Psychological Warfare
Call Deliberate Deceptions
Summary
Answers to the Mental Stretch Break in this Chapter
Notes
Chapter 8: Five Steps to Achieving Win-Win Outcomes--and Help You
Get Your PRISE
Case Study--Jane Patience
How to Get Your PRISE
Summary
Answer to the Mental Stretch Break in this Chapter
Notes

List of Abbreviations
For Your Continuing Learning
Self-Assessment Questions
Answer Key
Explanations to Self-Assessment Questions
About The Author
ABOUT THE AUTHOR
Wolf J. Rinke, PhD, RDN, CSP is the president and founder of Wolf Rinke Associates, Inc., a company that has provided high quality CPE programs to nutrition professionals since 1990.
He earned a Bachelor of Science degree at Drexel University, a Master of Science at Iowa State University, a PhD in Continuing and Vocational Education (Adult Ed) at the University of Wisconsin, and interned at Walter Reed Army Medical Center. He participated in a test item writer workshop sponsored by the Commission on Dietetic Registration (CDR).
Wolf is a past Adjunct Associate Professor, Graduate School of Management & Technology, University of Maryland, and a former Adjunct Faculty Member, School of Continuing Studies, The Johns Hopkins University.
He is the past president of the DC Dietetic Association and has been honored by the Academy with the Award for Excellence in the Practice of Management; the Outstanding Dietitian of the Year Award; the Outstanding Service Award; and has delivered the Lenna Frances Cooper Lecture.
At the Academy he has served in numerous leadership roles including Chair, Scholarship Committee, DBC; Chair, Communication Committee, CDR; Chair, Area Coordinating Committee, COE; Chair, COE, and member of Resource for Education Programs Committee; Honors Committee; CDR, Licensure Panel and Ethical Practices Task Force; CDR; House of Delegates and Board of Directors.
He is the author of more than 500 articles, numerous CPE home-study programs, several popular books, and the free monthly eNewsletter "Read and Grow Rich" written specifically for savvy Nutrition Professionals like YOU!
Subscribe now at www.easyCPEcredits.com--you'll be glad you did!
ACKNOWLEDGMENTS
Special thanks to the following individuals for their careful review of this program.
Donna S. Martin, EdS, RDN, LD, SNS, FAND
Director, School Nutrition Program
Burke County Public Schools
Waynesboro, GA
Richard F. Patterson, EdD, RDN
Associate Dean, College of Health and Human Services
and
Associate Professor, Hospitality Management and Dietetics
Western Kentucky University
Bowling Green, KY
Sara Long Roth, PhD, RDN
Professor Emerita
Department of Animal Science, Food & Nutrition
Southern Illinois University
Carbondale, IL
---
If you prefer to order by phone, mail or fax click below
or click here to contact us with other questions.
For information about our other products and services return to the sidebar at the top of the page.