The Gut Balance Revolution
Boost Your Metabolism, Restore Your Inner Ecology, and Lose The Weight For Good!
Book by Gerard E. Mullin, MD
Study Guide by Susan Burke March, MS, RDN, LDN, CDE
Edited by Wolf J. Rinke, PhD, CSP, RDN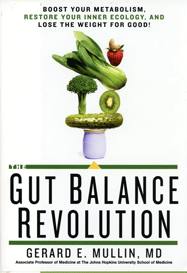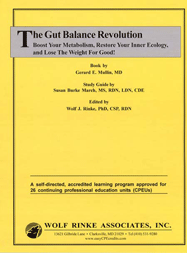 | | | | | |
| --- | --- | --- | --- | --- |
| C276 | 26 CPEUs | HARD COPY | $174.95 | |
Book, 409 pgs, and study guide with 1 reporting form, 27 pgs.
Recent cutting-edge research shows that human intestinal microbiota influence metabolism, appetite, energy, hormones, inflammation, and insulin resistance. Provides a science-based program to restore and retain weight loss by achieving a balanced gut flora that burns fat and restores health. More specifically you will be able to:
Recognize the interrelationship between gut microflora, inflammation and obesity.

Instruct patients how to rebalance gut microbiome to achieve permanent weight loss.

Identify specific health issues associated with the overuse of antibiotics.

Recommend strategies for incorporating probiotic and prebiotic foods into the diet.

Recognize how the bacteria that reside in the gut can influence health and immunity.
For more information and customer comments, click here.
Approved/Accepted by CDR
For RDs/RDNs & DTRs/NDTRs for the Professional Development Portfolio

SUGGESTED Performance Indicators (PIs):
8.1.2, 8.1.3, 8.1.4, 8.1.5, 8.2.2, 8.3.1, 8.3.6, 8.4.1, 8.4.2, 10.1.1, 10.1.2, 10.1.3, 10.2.1, 10.2.2, 10.2.3, 10.2.4, 10.2.5, 10.2.6, 10.2.7, 10.2.8, 10.4.1, 10.4.2, 10.4.3, 10.4.4, 10.4.5, 12.4.6, 13.2.2, 13.2.3, 13.2.7

DON'T SEE your Performance Indicators Listed here?
There are many Performance Indicators (PIs) that are applicable we can't list them all &
Per CDR you may use ANY PI as long as it relates to your Learning Plan.
For details click here.

Share with a friend and Save! Click here for important information about sharing.
To order an ADDITIONAL Reporting Form click below:

| | | | | |
| --- | --- | --- | --- | --- |
| C276F | 26 CPEUs | REPORTING FORM | $50.00 | |
The Gut Balance Revolution
Boost Your Metabolism, Restore Your Inner Ecology, and Lose The Weight For Good!
Book by Gerard E. Mullin, MD
Study Guide by Susan Burke March, MS, RDN, LDN, CDE
Edited by Wolf J. Rinke, PhD, CSP, RDN
©2016 Wolf Rinke Associates, Inc. No part of this publication may be reproduced, stored in a retrieval system, or transmitted in any form or by any means, electronic, mechanical, photocopying, recording, scanning, or otherwise, without the prior written permission of the Publisher.
CUSTOMER COMMENTS
Paloma Chastain: "I could do this easily at home. It was the perfect way to gain a ton of interesting knowledge and CEU's at the same time!"
Tiffany Chaves: "The book was very informative, it addressed exactly what the course description said it would. I like that I can apply the information I learned into my life and my family's lifestyle."
Rhonda Lester: "Science based up to date information on a difficult and changing topic."
Desiree Backman: "I enjoyed everything about Gut Balance Revolution. The up-to-date content, plan, and practical application is valuable. Thank you!"
Marlene Starns: "New information to me about the bacteria in the gut and how much it influences your overall health.
This is one of the best CUE's I have taken in a long time."
Erica Julson: "Gut health is something I discuss a lot in my practice. This book and CPE course contained some great takeaways and info to share w. clients."
Amy Shook: "I enjoyed learning in depth about one specific category. This was much more interesting than taking multiple classes to meet the same CPE hours."
Tonja Oliver: "Very informative! I also liked having the food charts, meal plans, recipes and tips on how to eat on the program."
Diane Habash: "This book is very easy to read and follow. I liked how you created case studies to incorporate the knowledge comprehensively as we do when we have clients! I am very interested in the microbiome and this helps organize the information."
OVERVIEW AND INSTRUCTIONS

Welcome to the pre-approved, accredited CPE program for The Gut Balance Revolution. The program consists of a book of the same title by Gerard E. Mullin, MD and this study guide. The CPE program is designed to help you understand how the gut microbiome is integral to good health, and identify and modify eating patterns that are linked to chronic digestive disorders and overweight. It is also designed to help you earn 26 Level 2, Continuing Professional Education Units (CPEUs).
To get the most out of this CPE program, it is suggested that you adhere to the following four steps:
Review the objectives in this study guide.
Read and study the book.
Assess what you have learned by answering the self-assessment questions in this study guide.
Compare your answers to the answer key, which you will find at the end of the study guide. If you scored at least 80% (40 questions) correct, you have completed the program and are ready to transfer your answers to the CONTINUING PROFESSIONAL EDUCATION REPORTING FORM in front of this study guide. If you scored less than 80% correct, re-read the appropriate sections of the book and until you score at least 80% correct.
After you have successfully completed the program, complete the CPE REPORTING FORM and:
Submit on-line at
www.easyCPEcredits.com
.
Or fax to: (410) 531-9282,
Or mail to: Wolf Rinke Associates, 3801 Schuylkill Road, Spring City, PA 19475.
We will email your Certificate of Completion.
When you submit your CPE Reporting Form to us via www.easyCPEcredits.com, fax, or mail be sure to write your correct email address in the space provided on the CPE Reporting Form. If writing by hand, be sure to print your email address clearly.
To ensure that our emails are delivered to your inbox (instead of your junk/spam folders), please add cpesupport@wolfrinke.com to your Address Book or Safe List of allowed email senders. Also, be sure to allow attachments from this email address.
LEARNING OBJECTIVES
Upon completion of this CPE program you will be better able to:
Discuss how the bacteria that reside in the gut can influence health and immunity.

Identify research that demonstrates interrelationship between gut microflora, inflammation and obesity.

Explain how yo-yo dieting impacts weight loss.

Discuss how the standard American diet (SAD) contributes to obesity resulting from a chronic imbalance of healthy gut microflora.

Review the research that links stress to chronic illness.

Recommend strategies to improve health by incorporating daily exercise and activity.

Identify the health benefits associated with breastfeeding.

Discuss the pros and cons of Caesarean section delivery and research on the relationship to gut health.

Provide guidelines for following each of the Gut Balance Revolution's three-phased programs to rebalance the gut microbiome.

Identify high FODMAP foods, and how they fit into each phase of the program.

Identify health benefits associated with coffee.

Examine the research that shows how environmental influences can impact an individual's genetic expression.

Identify health issues associated with overuse of antibiotics and exposure to antibiotics in food.

Discuss the impact that added sugars have on health and weight, and provide guidelines and recommendations for consumption.

Discuss research about the use and safety of artificial sweeteners.

Explain the health pros and cons associated with consuming alcohol.

Identify the health benefits associated with dietary fiber.

Assist clients in increasing consumption of high fiber foods.

Discuss the supporting factors that recommend a higher-protein, ketogenic diet in "Phase 1" of the program, and identify the best and worst protein sources.

Identify the health benefits of fermented foods, and assist clients in planning menus that incorporate fermented foods into their diet.

Assist clients in meeting recommended intakes for calcium while avoiding dairy foods.

Discuss research on health benefits of probiotic and prebiotic foods, and recommend strategies for incorporating these foods into their diet.

Recommend sources of healthy fats.

Identify health benefits of dried beans, and assist clients in incorporating dried beans into their diet.

Discuss research that identifies negative health effects of small intestinal bowel overgrowth (SIBO).

Recommend the most nutritious salad ingredients, and develop appropriate menus for each of the three "Phases" of the program.
TABLE OF CONTENTS

Introduction: It's Not Your Fault!

CHAPTER 1 The Hidden Secret to Weight Loss: Weed, Seed, and Feed Your Inner Garden
CHAPTER 2 Dysbiosis-Gut Microbe Imbalance:Seven Pathways to Weight Gain and Illness
CHAPTER 3 The Gut Balance Revolution Overview
CHAPTER 4 Phase 1: Reboot-Weed Your Inner Garden and Rev Up Your Metabolism
CHAPTER 5 Rev Up Your Metabolism with Dr. Gerry's Top 10 Superfoods for Phase 1
CHAPTER 6 Phase 2: Rebalance-Reseed and Fertilize Your Inner Garden
CHAPTER 7 Dr. Gerry's Top 10 Superfoods for Phase 2
CHAPTER 8 Phase 3: Renew-Keep Your Friendly Flora-and You-Healthy for Life
CHAPTER 9 Dr. Gerry's Top 10 Superfoods for Phase 3
CHAPTER 10 Living a Gut-Balancing Life
CHAPTER 11 The Gut Balance Revolution: Food Charts, Meal Plans, Shopping Lists, Recipes, and Other Tips on How to Eat on the Program

Conclusion: The Real Secret to Weight Loss
Appendix
Acknowledgments
Endnotes
Index
ABOUT THE AUTHOR OF THE BOOK

Gerard E. Mullin, MD, is an associate professor in the department of medicine as well as director of Integrative Gastroenterology Nutrition Services at The Johns Hopkins Hospital. Dr. Mullin is internationally renowned for his authoritative work in integrative digestive health and nutrition. Author of hundreds of publications and several books, he is an honorary member of the Academy of Nutrition and Dietetics and a recipient of the prestigious Grace A. Goldsmith award for achievement in the field of nutrition. In addition, Dr. Mullin teaches medical professionals across the globe about the role of nutrition, lifestyle, and the gut microbiome in digestive health and weight control. Visit Dr. Mullin's Web site thefoodmd.com to learn more.
ABOUT THE AUTHOR OF THE STUDY GUIDE
Over the past 25 years Registered and Licensed Dietitian Susan Burke March has made her personal passion for healthy living and smart weight management her vocation. Susan holds undergraduate and graduate degrees in nutrition and education, is a certified diabetes educator, and holds advanced certificates of training in Adult Weight Management (Levels 1 and 2) and Childhood and Adolescent Weight Management. She served as Chief Clinical Nutrition Manager at Mt. Sinai Hospital of Queens, New York.
Susan is the former Vice President of Nutrition and Chief Nutritionist for eDiets.com, a leader in the online weight management program arena. She led the nutritional development of a roster of healthy weight programs, and spearheaded development of unprecedented features and services that today are commonplace in the online weight management industry. Susan served on the board of the Weight Management Dietetic Practice Group of the Academy of Nutrition and Dietetics, and as a spokesperson for the Florida Academy of Nutrition and Dietetics.
Susan is the author of the practical and informative book Making Weight Control Second Nature: Living Thin Naturally (Mansion Grove House, 2009) and the accompanying 26-CPEU study guide published by Wolf Rinke Associates (2010). She and her husband Ken are currently living and studying Spanish in Ecuador's third largest city, Cuenca. Susan is the Nutrition and Health Columnist for CuencaHighlife.com, and blogs on SecondNatureNutrition.com about Ecuadorian food, health issues, and nutrition news for the expat community.
ABOUT THE EDITOR OF THE STUDY GUIDE
Wolf J. Rinke, PhD, RDN, CSP is the president and founder of Wolf Rinke Associates, Inc., a company that has provided high quality CPE programs to nutrition professionals since 1990.
He earned a Bachelor of Science degree at Drexel University, a Master of Science at Iowa State University, a PhD in Continuing and Vocational Education (Adult Ed) at the University of Wisconsin, and interned at Walter Reed Army Medical Center. He participated in a test item writer workshop sponsored by the Commission on Dietetic Registration (CDR).
Wolf is a past Adjunct Associate Professor, Graduate School of Management & Technology, University of Maryland, and a former Adjunct Faculty Member, School of Continuing Studies, The Johns Hopkins University.
He is the past president of the DC Dietetic Association and has been honored by the Academy with the Award for Excellence in the Practice of Management; the Outstanding Dietitian of the Year Award; the Outstanding Service Award; and has delivered the Lenna Frances Cooper Lecture.
At the Academy he has served in numerous leadership roles including Chair, Scholarship Committee, DBC; Chair, Communication Committee, CDR; Chair, Area Coordinating Committee, COE; Chair, COE, and member of Resource for Education Programs Committee; Honors Committee; CDR, Licensure Panel and Ethical Practices Task Force; CDR; House of Delegates and Board of Directors.
He is the author of more than 500 articles, numerous CPE home-study programs, several popular books, and the free monthly eNewsletter "Read and Grow Rich" written specifically for savvy Nutrition Professionals like YOU!
Subscribe now at www.easyCPEcredits.com--you'll be glad you did!
ACKNOWLEDGEMENTS
Special thanks to the following individuals for their careful review of this CPE program:
Marylou Anderson, MS, RD, CDE
Dietitian/Diabetes Educator
St. Joseph Medical Center
Tacoma, WA
Elizabeth Berry, MS, RDN
Eating Coach
Berry Nutrition
Phoenix, AZ
Erica Julson, MS, RDN
Blogger & Recipe Developer
at ericajulson.com
Los Angeles, CA
---
If you prefer to order by phone, mail or fax click below
or click here to contact us with other questions.
For information about our other products and services return to the sidebar at the top of the page.