The Ultimate Guide to Sugars & Sweeteners: Discover the Taste, Use, Nutrition, Science, and Lore of Everything from Agave Nectar to Xylitol
Book by Alan Barclay, PhD, Philippa Sandall, and Claudia Shwide-Slavin, MS, RD, CDE
Study Guide by Susan Burke March, MS, RDN, LDN, CDE
Edited by Wolf J. Rinke, PhD, CSP, RDN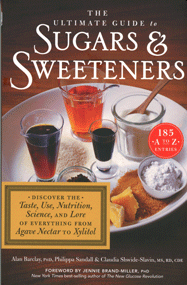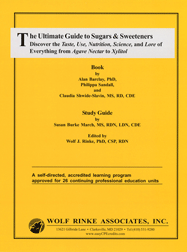 C270

26 CPEUs

HARD COPY

$174.95 $154.95
REDUCED
Save $20.00

Book, 279 pgs and study guide with 1 reporting form, 26 pgs.
This unique CPE program features more than 180 alphabetical entries, including the familiar (table sugar, honey), the controversial (aspartame, high-fructose corn syrup), the hyped (coconut sugar, monk fruit sweetener), and the unfamiliar (Chinese rock sugar, isomaltulose). You will discover:
What's the best pick for patients watching their weight, blood sugar, or environmental impact.

Which are superfoods, which are toxic.

Which perform well in baking and other applications.

What's their Glycemic index, plus much more.
For more information and customer comments, click here.
Approved/Accepted by CDR, NCBDE
For RDs/RDNs & DTRs/NDTRs for the Professional Development Portfolio

SUGGESTED Performance Indicators (PIs):
3.3.5, 6.3.11, 7.2.6, 8.1.2, 8.1.3, 8.1.4, 8.1.5, 8.3.1, 8.3.6, 8.4.2, 8.4.3, 11.2.7, 13.2.3


DON'T SEE your Performance Indicators Listed here?
There are many Performance Indicators (PIs) that are applicable but we can't list them all &
Per CDR you may use ANY PI as long as it relates to your Learning Plan.
For details click here.
Share with a friend and Save! Click here for important information about sharing.
To order an ADDITIONAL Reporting Form click below:

| | | | | |
| --- | --- | --- | --- | --- |
| C270F | 26 CPEUs | REPORTING FORM | $50.00 | |
The Ultimate Guide to Sugars & Sweeteners: Discover the Taste, Use, Nutrition, Science, and Lore of Everything from Agave Nectar to Xylitol
Book by Alan Barclay, PhD, Philippa Sandall, and Claudia Shwide-Slavin, MS, RD, CDE
Study Guide by Susan Burke March, MS, RDN, LDN, CDE
Edited by Wolf J. Rinke, PhD, CSP, RDN
©2015 Wolf Rinke Associates, Inc. No part of this publication may be reproduced, stored in a retrieval system, or transmitted in any form or by any means, electronic, mechanical, photocopying, recording, scanning, or otherwise, without the prior written permission of the Publisher.
CUSTOMER COMMENTS
Annessa Chumbley: "I strongly did not agree with some of the foundational food philosophies of this book, but I absolutely loved the scientific explanations of processes, food history, affects on BG, etc. Overall, a GREAT resource!"
Brenda Sullivan: "I loved the reliable, peer reviewed & research based information on a timely topic."
Courtney Goff: "A very descriptive resource. Especially liked the section on special diets - wonderful run down of how to interpret and educate patients."
Heather Leonard: "Important topic with a lot of misinformation out in the world. Good to have a book (and course) to nicely summarize the research and evidence."
OVERVIEW AND INTRODUCTION

Welcome to the pre-approved, accredited CPE program for The Ultimate Guide to Sugars & Sweeteners. The program consists of a book of the same title by Alan Barclay, Philippa Sandall, and Claudia Shwide-Slavin and this study guide. The CPE program is designed to help you educate your patients/clients about the myriad of nutritive and non-nutritive sweeteners available in the marketplace, and to communicate evidence-based findings regarding the safety and usage of both. It is also designed to help you earn 26 Level 2, Continuing Professional Education Units (CPEUs).
To get the most out of this CPE program, it is suggested that you adhere to the following four steps:
Review the objectives in this study guide.
Read and study the book.
Assess what you have learned by answering the self-assessment questions in this study guide.
Compare your answers to the answer key, which you will find at the end of the study guide. If you scored at least 80% (40 questions) correct, you have completed the program and are ready to transfer your answers to the CONTINUING PROFESSIONAL EDUCATION REPORTING FORM in front of this study guide. If you scored less than 80% correct, re-read the appropriate sections of the book and until you score at least 80% correct.
After you have successfully completed the program, complete the CPE REPORTING FORM and:
Submit on-line at
www.easyCPEcredits.com
,
Or fax to: (410) 531-9282,
Or mail to: Wolf Rinke Associates, 3801 Schuylkill Road, Spring City, PA 19475.
We will email your Certificate of Completion.
When you submit your CPE Reporting Form to us via www.easyCPEcredits.com, fax, or mail be sure to write your correct email address in the space provided on the CPE Reporting Form. If writing by hand, be sure to print your email address clearly.
To ensure that our emails are delivered to your inbox (instead of your junk/spam folders), please add cpesupport@wolfrinke.com to your Address Book or Safe List of allowed email senders. Also, be sure to allow attachments from this email address.
LEARNING OBJECTIVES
Upon completion of this CPE program you will be better able to:
Discuss the difference between artificial sweeteners, non-nutritive sweeteners (NNS), natural sweeteners, and high-intensity sweeteners (HIS);

Evaluate intake of added sugars compared to recommendations of the World Health Organization (WHO), the American Heart Association (AHA), and the 2010 Dietary Guidelines for Americans;

Assist patients/clients in identifying sources of added sugars in their diet.

Apply knowledge of the acceptable daily limit (ADI) for NNS in recommending use for adults and children;

Counsel patients/clients with diabetes about the impact of NS and NNS on blood sugar;

Educate patients/clients in contributing factors to obesity;

Evaluate current research on weight loss and NNS;

Identify NNS that are considered "tooth friendly";

Communicate benefits of carbohydrates in planning a balanced diet, and the principles of "net carbs";

Counsel patients/clients on dairy foods and sources of lactose;

Identify sources of gluten and assist clients in planning gluten-free diets;

Provide recommendations for proper intake of foods containing polyols;

Educate patients/clients about the glycemic index (GI) and glycemic load (GL) and demonstrate how to find the respective values to choose foods that will have less impact on blood glucose;

Suggest mealtime strategies to achieve stable blood glucose;

Assist patients/clients in identifying good sources of soluble and insoluble fiber;

Plan low FODMAP diets for patients/clients with irritable bowel syndrome (IBS);

Pinpoint potential areas of difficulty in adhering to a low FODMAP diet;

Identify international regulatory agencies that evaluate NNS for safety;

Assist patients/clients in identifying NNS in foods produced in the USA, as well as in the European Union, Australia, New Zealand, and other countries that utilize E numbers to identify food additives;

Discuss specific recommendations for cooking and baking with NNS.
TABLE OF CONTENTS

Foreword by Jennie Brand-Miller, PhD
Introduction: Seeking sweetness
About using this book
Measuring and counting
What acronym is that?
Understanding the glycernic index (GI) and why it matters
PART I SUGARS AND SWEETENERS A TO 7
PART 2 HEALTH MATTERS
Added sugars equal added calories
Sugars, sweeteners, and digestion
Additional health issues
Special diets
Sweet talk on labels
PART 3 TEST KITCHEN: SUBSTITUTING SUGARS AND SWEETENERS IN TWO CLASSIC RECIPES
Challenge1: Vanilla Butter Cookie
Challenge 2: Blueberry Bran Muffin
Notes
Appendix: Brand names of high-intensity, nonnutritive sweeteners
Acknowledgments
Index
About the authors
ABOUT THE AUTHORS OF THE BOOK

Alan Barclay, PhD, is a consultant dietitian who worked for Diabetes Australia (NSW) from 1998 to 2014. He is coauthor of The New Glucose Revolution for Diabetes and a member of the editorial boards of the Diabetes Australia's consumer magazine, Conquest and Health Professional Magazine, and the Diabetes Management Journal. Barclay is currently Chief Scientific Officer at the Glycemic Index Foundation.
Philippa Sandall is editor of the University of Sydney Human Nutrition Unit's GI News newsletter (https://ginews.blogspot.com) which has more than 100,000 subscribers worldwide. She is also coauthor, with Jennie Brand-Miller, of several books in the New York Times-bestselling New Glucose Revolution series. A longtime book editor, she now runs her own editorial consulting agency, Philippa Sandall Publishing Services, in New South Wales, Australia.
Claudia Shwide-Slavin, MS, RD, CDE, has been a registered dietitian and a certified diabetes educator for over twenty years. She runs a clinical private practice in New York City, prior to which she set up and coordinated three diabetes centers in the NYC area. Her writing on diabetes and sweeteners has appeared in various peer- reviewed journals.
ABOUT THE AUTHOR OF THE STUDY GUIDE

Over the past 25 years Registered and Licensed Dietitian Susan Burke March has made her personal passion for healthy living and smart weight management her vocation. Susan holds undergraduate and graduate degrees in nutrition and education, is a certified diabetes educator, and holds advanced certificates of training in Adult Weight Management (Levels 1 and 2) and Childhood and Adolescent Weight Management. She served as Chief Clinical Nutrition Manager at Mt. Sinai Hospital of Queens, New York.
Susan is the former Vice President of Nutrition and Chief Nutritionist for eDiets.com, a leader in the online weight management program arena. She led the nutritional development of a roster of healthy weight programs, and spearheaded development of unprecedented features and services that today are commonplace in the online weight management industry. Susan served on the board of the Weight Management Dietetic Practice Group of the Academy of Nutrition and Dietetics, and as a spokesperson for the Florida Academy of Nutrition and Dietetics.
Susan is the author of the practical and informative book Making Weight Control Second Nature: Living Thin Naturally (Mansion Grove House, 2009) and the accompanying 26-CPEU study guide published by Wolf Rinke Associates (2010). She is currently living in Cuenca, Ecuador, where she's blogging about nutrition and local food, and studying Spanish.
ABOUT THE EDITOR OF THE STUDY GUIDE

Wolf J. Rinke, PhD, RDN, CSP is the president and founder of Wolf Rinke Associates, Inc., a company that has provided high quality CPE programs to nutrition professionals since 1990.
He earned a BS at Drexel University, a MS at Iowa State University, a PhD in Continuing and Vocational Education (Adult Ed) at the University of Wisconsin, and interned at Walter Reed Army Medical Center. He participated in a test item writer workshop sponsored by the Commission on Dietetic Registration (CDR).
Wolf is a past Adjunct Associate Professor, Graduate School of Management & Technology, University of Maryland, and a former Adjunct Faculty Member, School of Continuing Studies, The Johns Hopkins University.
He is the past president of the DC Dietetic Association and has been honored by the Academy with the Award for Excellence in the practice of Management; the Outstanding Dietitian of the Year Award; the Outstanding Service Award; and has delivered the Lenna Frances Cooper Lecture.
At the Academy he has served in numerous leadership roles including Chair, Scholarship Committee, DBC; Chai, Communication Committee, CDR; Chair, Area Coordinating Committee, COE; Chair, COE, and member of Resource for Education Programs Committee; Honors Committee; CDR, Licensure Panel and Ethical Practices Task Force; CDR; House of Delegates and Board of Directors.
He is the author of more than 500 articles, numerous CPE home-study programs, several popular books, and the free monthly eNewsletter "Read and Grow Rich" written specifically for savvy Nutrition Professionals like YOU!
Subscribe now at www.easyCPEcredits.com--you'll be glad you did!
ACKNOWLEDGEMENTS
Special thanks to the following individuals for their careful review of this CPE program:
Elizabeth Lee, MS, RD
Outpatient and Wellness Dietitian
County of Riverside--Human Resources
Fullerton, CA
Heather Leonard, RDN
Instructor
Lane Community College
Eugene, OR
Karen Sassaman, RDN
Clinical Dietitian
Martinsburg, WV
---
If you prefer to order by phone, mail or fax click below
or click here to contact us with other questions.
For information about our other products and services return to the sidebar at the top of the page.