Medical Nutrition Therapy forGestational Diabetes Mellitus
D. M. Reader, RD, LD, CDE
and M.J. Franz, MS, RD, LD, CDE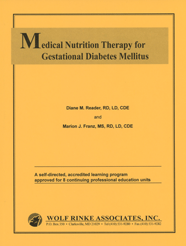 | | | | | |
| --- | --- | --- | --- | --- |
| C212 | 8 CPEUs | HARD COPYUnavailable | | |
| C212E | 8 CPEUs | ELECTRONIC | | |
Manual with 1 Reporting Form, 78 pgs.
Marion Franz, our best selling diabetes educator, has teamed up with Diane Reader, chair of the expert work group of the 2009 ADA Gestational Diabetes Mellitus (GDM) Evidence-Based Nutrition Practice Guidelines, to author this exceptional diabetes program. Discover how to:
Improve maternal and fetal outcomes when GDM complicates a pregnancy

Apply GDM management interventions—monitoring, medical nutrition therapy (MNT), physical activity, and medications

Recommend glucose goals for GDM and rationale for additional pharmaceutical therapy

Discuss issues related to the use of glyburide and metformin during GDM pregnancies

Plan and implement strategies for the prevention of type 2 diabetes in women with prior GDM
For more information and customer comments, click here.
Approved/Accepted by CDR, CBDM, NCBDE
For RDs/RDNs & DTRs/NDTRs for the Professional Development Portfolio:

SUGGESTED Learning Need Codes:
2000, 2060, 2070, 2090, 2100, 2110, 3000, 3005, 3010, 3040, 3060, 3070, 3090, 3100, 4000, 4010, 4040, 4050, 4060, 4090, 4120, 4130, 4140, 4150, 4180, 5000, 5010, 5120, 5160, 5180, 5190, 5260, 5280, 5290, 5310, 5370, 5390, 5400, 5410, 5460, 6000, 6010, 6030, 6060, 6070

SUGGESTED Performance Indicators (PIs):
8.1.5, 8.3.1, 8.3.6, 10.2.7, 10.2.9, 12.4.6

DON'T SEE your Performance Indicators or Code Listed here?
There are many Performance Indicators (PIs) that are applicable we can't list them all &
Per CDR you may use ANY PI or CODE as long as it relates to your Learning Plan.
For details click here.
Share with a friend and Save! Click here for important information about sharing.
To order an ADDITIONAL Reporting Form click below:
| | | | | |
| --- | --- | --- | --- | --- |
| C212F | 8 CPEUs | REPORTING FORM | $30.00 | |
MEDICAL NUTRITION THERAPY FOR GESTATIONAL DIABETES MELLITUS
D. M. Reader, RD, LD, CDE and M.J. Franz, MS, RD, LD, CDE
Copyright 2011 Wolf Rinke Associates, Inc. All rights reserved for this self-directed, accredited learning program. Reproduction in whole or part without written permission from the publisher is prohibited.
CUSTOMER COMMENTS
April Wiles: "It was current and will help me ensure I am providing the most suitable information possible to my patients with GDM."
Olga Fernandez: "Well organized, easy to do."
OVERVIEW AND INSTRUCTIONS
Change is an excellent word to describe what is happening in the gestational diabetes mellitus (GDM) field! A major change is the expected number of women who will be diagnosed with GDM. At present ~7% of pregnant women are diagnosed with GDM-a number that is expected to increase to ~16% when the new diagnostic criteria for GDM are implemented. One reason for this increase is the rising rate of obesity in women of child-bearing age, but this is not the main reason. The primary reason for the increase has to do with the change in how GDM is diagnosed. With the new diagnostic criteria for GDM discussed in chapter 1, the reported incidence of GDM is expected to increase dramatically. This will have a major impact on Registered Dietitians (RDs) as medical nutrition therapy (MNT) is, and will continue to be, the first line of therapy for GDM. Thus, the increase in women with GDM who are predicted to be referred to RDs for MNT is a major reason it is important for RDs to be up-to-date on the management of GDM.
Just as the diagnostic criteria for GDM have changed, the goals of therapy are also changing. Research has clearly shown that the risk of adverse outcomes for the mother and infant increase at glycemic levels previously thought to be normal during pregnancy. Glycemic goals for GDM are reviewed in chapter 3. As a result, it is likely RDs will find more and more health care providers using either glyburide or metformin combined with MNT if glucose goals are not met with MNT alone. Perhaps the most important change that will result from the changes in diagnosis and therapy will be an increase in healthier infants and mothers!
Several major research studies have contributed to these changes. The Hyperglycemia and Adverse Pregnancy Outcome (HAPO) study, a large-scale multinational epidemiologic study, demonstrated that previous glucose recommendations for diagnosis and therapy were too high. The frequency of adverse outcomes increased with increasing maternal glucose levels that were previously considered to be normal (HAPO Study Cooperative Research Group, 2008). Three studies documented the effectiveness of MNT as first-line therapy for GDM (Crowther, 2005, Reader, 2006, and Landon, 2009).
Also of importance were the 2001 American Dietetic Association (ADA) nutrition practice guidelines for gestational diabetes, which outlined optimal nutrition therapy and desired clinical outcomes. Based on an extensive review of evidence, the ADA published an updated Evidence-Based Nutrition Practice Guideline (EBNPG) for GDM in 2009 (ADA, 2009a).
This continuing education program is written to assist nutrition professionals (RDs, DTRs, and others) to become familiar with the changes in the GDM field and how they affect their practice. Chapter 1 reviews screening and the new diagnostic criteria for GDM. Chapter 2 reviews the pathophysiology and maternal and fetal risks of GDM. Management goals and self-management education, monitoring, and physical activity are covered in Chapter 3. Chapter 4 summarizes MNT for GDM using the nutrition care process and based on the ADA EBNPG. Medical therapies for GDM, including glucose-lowering medications and insulin, are reviewed in Chapter 5. Chapter 6 may be of most importance because it reviews the risks of developing GDM in future pregnancies and type 2 diabetes. Chapter 6 also covers the important role that nutrition professionals and lifestyle changes can make in preventing future diabetes in women diagnosed with GDM during their pregnancies.
As authors we are indebted to the researchers and clinicians who have pioneered and researched the changes reviewed in this continuing education program. We are also indebted to the professional staff at ADA and to the expert work group-Diane Reader, Susan Biastre, Sharmila Chatterjee, Maria Duarte-Gardea, Melanie Sipe, Alyce Thomas, and lead analyst, Erica Gradwell-authors of the 2009 American Dietetic Association Gestational Diabetes Mellitus (GDM) Evidence-Based Nutrition Practice Guideline.
It is our hope that completion of this continuing professional education (CPE) program will assist nutrition professionals in improving maternal and fetal outcomes when gestational diabetes complicates a pregnancy.
This learning program is a level 2 Continuing Professional Education (CPE) program approved for eight (8) continuing professional education units (CPEUs). That means that the reader has general knowledge of literature and professional practice in the area covered. The focus of the program is to enhance knowledge and application.
To get the most benefit from this program, we suggest you adhere to the following four steps:
Step 1: Review the objectives for the learning program.
Step 2: Study each chapter. As you read, think of patients from your own practice who fit the situation described.
Step 3: Assess what you have learned by completing the self assessment instrument at the end of this learning program.
Step 4: Compare your answers to the answer key that has been provided. If you score at least 80% correct, you are ready to transfer your answers to the CONTINUING PROFESSIONAL EDUCATION REPORTING FORM. If you scored less than 80% correct, re-read this learning program until you score at least 80% correct.
After you have successfully completed the program complete the CPEU REPORTING FORM and:
Mail to: Wolf Rinke Associates, Inc., 13621 Gilbride Lane, Clarksville, MD 21029,
Or fax to: (410) 531-9282,
Or submit on-line at www.easyCPEcredits.com.
We will email your Certificate of Completion.
When you submit your CPEU Reporting Form to us via mail, fax, or www.easyCPEcredits.com, be sure to write your correct email address in the space provided on the CPE Reporting Form. If writing by hand, be sure to print your email address clearly.
To ensure that our emails are delivered to your inbox (instead of your junk/spam folders), please add cpesupport@wolfrinke.com to your Address Book or Safe List of allowed email senders. Also, be sure to allow attachments from this email address.
HAPPY LEARNING!
Diane Reader, RD, LD, CDE and Marion J. Franz, MS, RD, LD, CDE

OBJECTIVES
Upon completion of this accredited, self-directed learning program, the nutrition professional should be able to:
Apply the new diagnostic criteria for gestational diabetes mellitus (GDM) and state rationale for change in diagnostic criteria.

Recognize risk factors for development of GDM.

Describe the pathophysiology of glucose intolerance during pregnancy.

Identify maternal and fetal complications if glucose control is not achieved.

Apply the GDM management interventions-monitoring, medical nutrition therapy (MNT), physical activity, and medications if glucose target goals not met.

Recommend glucose goals for GDM and rationale for additional pharmaceutical therapy.

Describe expected outcomes from medical nutrition therapy for GDM and when to evaluate outcomes.

Implement assessments needed in order to provide MNT for GDM.

Recognize potential nutrition diagnosis related to GDM.

Plan and implement nutrition interventions for women with GDM.

Apply energy and weight gain recommendations for normal weight and obese women with GDM.

Recommend the amount, type, and timing of carbohydrate intake for GDM.

Apply recommendations for protein, fat, and micronutrients for GDM.

Implement food and meal planning approaches.

Recognize emotional responses of women diagnosed with GDM.

Monitor and evaluate outcomes from MNT.

Provide or plan for follow-up and ongoing nutrition care for the woman with GDM.

Recommend guidelines and precautions for physical activity.

Discuss issues related to the use of glyburide and metformin during GDM pregnancies.

Describe the use of insulin in GDM.

Discuss labor and delivery issues.

Implement recommendations for postpartum glucose monitoring.

Plan and implement strategies for the prevention of type 2 diabetes in women with prior GDM.

TABLE OF CONTENTS
CHAPTER 1: Screening and Diagnosis of Gestational Diabetes Mellitus (GDM) 1
INCIDENCE AND RISK FACTORS 1
Risk Factors 2
SCREENING AND DIAGNOSIS 3
Who to Screen 3
When to Screen 3
How to Screen 3
Problems with the 2-Step Diagnostic Criteria 4
The HAPO Study 4
New Diagnostic Criteria for GDM 5
CHAPTER 2: Fetal and Maternal Risks of Gestational Diabetes Mellitus 7
FETAL COMPLICATIONS 8
Macrosomia 8
Neonatal Hypoglycemia 9
Other Fetal Complications 9
MATERNAL COMPLICATIONS 9
Hypertension 9
CHAPTER 3: Management of Gestational Diabetes Mellitus 11
GOALS FOR GLYCEMIC CONTROL 11
SELF-MANAGEMENT EDUCATION 12
MONITORING 13
Glucose 13
Ketones 13
PHYSICAL ACTIVITY 14
SURVEILLANCE DURING PREGNANCY 14
DELIVERY AND POST-DELIVERY POSTPARTUM CARE 15
CHAPTER 4: Medical Nutrition Therapy for Gestational Diabetes Mellitus 16
GOALS AND DEFINITION OF NUTRITION THERAPY FOR GDM 17
NUTRITION ASSESSMENT 17
NUTRITION DIAGNOSIS 18
NUTRITION INTERVENTIONS 19
Calories and Weight Gain 20
Carbohydrate Intake 23
Other Nutrient and Food Recommendations 24
Nutrition Counseling 27
NUTRITION MONITORING AND EVALUATIONS 28
CHAPTER 5: Pharmacologic Therapy for Gestational Diabetes Mellitus 29
GLYBURIDE 29
METFORMIN 30
INSULIN 30
Hypoglycemia 31
CHAPTER 6: Postpartum Care for Gestational Diabetes Mellitus 32
BREASTFEEDING 32
RISK OF FUTURE GDM AND TYPE 2 DIABETES 32
POSTPARTUM SCREENING FOR PRE-DIABETES AND DIABETES 33
CONTRACEPTION AND PREGNANCY PLANNING 34
RISKS FOR OFFSPRING OF WOMEN WITH GDM 34
PREVENTING FUTURE DIABETES 35
CONCLUSION 35
CASE STUDY 36
REFERENCES 39
FOR YOUR CONTINUING EDUCATION 44
LIST OF ABBREVIATIONS 45
GLOSSARY 47
RESOURCES 51
SELF-ASSESSMENT QUESTIONS 53
ANSWER KEY 63
EXPLANATION TO QUESTIONS 64
ABOUT THE AUTHORS 69
ABOUT WOLF RINKE ASSOCIATES, INC. 70

ABOUT THE AUTHORS

Diane Reader has been manager of diabetes professional training programs at International Diabetes Center since 2000. She has extensive experience providing nutrition education and counseling at the Park Nicollet Medical Center for adults with all types of diabetes. Diane is nationally known as an advocate for quality diabetes education and her work in gestational diabetes. She served on the board of directors of the American Diabetes Association and was chair of the Education Recognition Program Committee from 2005-2007.
A special area of interest of hers has been gestational diabetes. She has lectured on this subject extensively, including at the 5th International Conference on Gestational Diabetes in November 2005. She was the chairperson of the committee that developed Nutrition Practice Guidelines for Gestational Diabetes for the Evidence Analysis Library of the American Dietetic Association, published in December 2008. She has authored the booklets Gestational Diabetes and Taking Care of Gestational Diabetes and the GDM BASICS client book and curriculum published by the International Diabetes Center at Park Nicollet, Minneapolis, Minn.
Diane has been active with the Diabetes Care and Education Practice group for many years, receiving their Distinguished Service Award in 2005. She has a Bachelor of Science degree in Nutrition and Dietetics from the University of Minnesota and completed their Coordinated Undergraduate Program.
Marion J. Franz is a registered dietitian and a certified diabetes educator with a master's degree in nutrition from the University of Minnesota. She is a nutrition/health consultant with Nutrition Concepts by Franz, Inc. For more than 20 years she was the Director of Nutrition and Health Professional Education at the International Diabetes Center, Minneapolis. She has authored books, numerous articles in professional and lay journals, and chapters in texts and manuals for professionals and the lay public. She lectures frequently in the United States and internationally on nutrition, exercise, and diabetes. She has co-chaired and been a member of task forces to write the American Diabetes Association's nutrition recommendations and technical reviews, the American Dietetic Association's evidence-based nutrition practice guidelines for type 1 and type 2 diabetes, and was editor of the American Association of Diabetes Educators Core Curriculum for Diabetes Education, 4th and 5th editions. She received the 2001 American Diabetes Association Charles H. Best Medal for Distinguished Service in the Cause of Diabetes, the American Dietetic Association 2006 Medallion Award, the American Dietetic Association 2008 Huddleson Award, and was the American Dietetic Association 2002 Lenna Frances Cooper Memorial Lecturer.
---
If you prefer to order by phone, mail or fax click below
or click here to contact us with other questions.
For information about our other products and services return to the sidebar at the top of the page.