Effective Nutrition Education for Behavior Change, Fourth Edition
Rayane AbuSabha, PhD, RD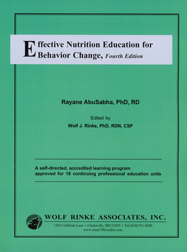 | | | | | |
| --- | --- | --- | --- | --- |
| C271 | 18 CPEUs | HARD COPY | DISCONTINUED | |
| C271E | 18 CPEUs | ELECTRONIC | DISCONTINUED | |
Manual with 1 Reportin form, 166 pgs.
This program is ideal for diabetes educators and a must for anyone who works with the public. Learn how to:
apply the principles of nutrition education

recognize the challenges facing nutrition educators

realize the role theory plays in designing nutrition interventions

select suitable intervention strategies for various subgroups of the population

apply various communication strategies

utilize effective communication skills with clients and program participants

identify the characteristics of lectures and group discussions

deliver successful presentations

recognize the significant role mass media plays in nutrition education

develop effective tools to communicate nutrition messages

recognize common pitfalls of ineffective educational tools

identify appropriate content and designs for print materials

write effective manuals and lesson plans

develop appropriate visual aids

For more information click here.
Approved/Accepted by CDR, NCBDE
For RDs/RDNs & DTRs/NDTRs for the Professional Development Portfolio

SUGGESTED Learning Need Codes:
1000, 1020, 1040, 1060, 1090, 1130, 1140, 6000, 6010, 6020, 6030, 6040, 6050, 6060, 6070, 6080, 7120

SUGGESTED Performance Indicators (PIs):
1.3.3, 2.1.5, 2.3.3, 8.2.4, 8.3.6, 8.4.5, 9.1.4, 9.1.5, 9.2.1, 9.2.2, 9.2.3, 9.2.4,
9.3.2, 9.3.4, 9.3.5, 9.4.1, 9.4.2, 9.4.3, 9.4.5, 9.4.6, 9.4.8, 9.5.4, 9.5.8, 10.2.9, 12.4.3, 12.4.5


DON'T SEE your Performance Indicators or Code Listed here?
There are many Performance Indicators (PIs) that are applicable we can't list them all &
Per CDR you may use ANY PI or CODE as long as it relates to your Learning Plan.
For details click here.



Share with a friend and Save! Click here for important information about sharing.
To order an ADDITIONAL Reporting Form click below:

| | | | | |
| --- | --- | --- | --- | --- |
| C271F | 18 CPEUs | REPORTING FORM | $50.00 | |
Effective Nutrition Education for Behavior Change, Fourth Edition
Rayane AbuSabha, PhD, RD
© 2015 Wolf Rinke Associates, Inc.
No part of this publication may be reproduced, stored in a retrieval system, or transmitted in any form or by any means, electronic, mechanical, photocopying, recording, scanning, or otherwise, without the prior written permission of the Publisher.
Customer Comments
Darreldean Winkler: "Format was excellent. I will use the concepts, anxious to develop patient education materials. Testing was excellent using case scenerious."
Kim Johnson: "Simple, basic & concise. It was really to the point"
Frances Frey: "Having follow-up explanations for each question: very helpful."
Janet Seagren: "Probably the most well written, interesting, and applicable home study course I've completed in the past 5 years! It was superb."
Mary Ann Mihok: "Examples, practical applications, references and resources cited. Format of questions based on situations."
Kim LaRue, RD: "The learning program contained a lot of valuable information. I would have had to read a lot of books & references to attain all this information. Fantastic, concise program."
Rita Pendergast: "I liked the opportunity of putting into practice the tips and techniques recommended by the author."
OVERVIEW AND INTRODUCTION
Welcome to Effective Nutrition Education for Behavior Change, a self-directed, accredited, learning program.
Nutrition professionals often graduate knowing all about the biochemical science of nutrition, but very little about the behavioral science or applications of nutrition. Many of us end up working in community programs and are expected to educate clients, develop nutrition education materials, and develop theory-based interventions; yet, we receive little training on how to accomplish these tasks. How should we communicate with our audience? What should a brochure look like? How do we use a printed piece with different population groups? How could we reach specific population groups more effectively and impact their dietary behaviors? This learning program was developed to answer a number of these questions and many others to help you, the nutrition professional, better serve your clients and program participants. Please note that this learning program does not discuss program evaluation. To thoroughly cover all facets of program evaluation requires a learning program on its own.

This learning program is divided into two parts. Part I introduces you to the principles of nutrition education. Part II provides you with practical information to help you develop and evaluate print materials and other educational tools.
This level 2 learning program is designed to help you earn 18 Continuing Professional Education units (CPEUs). To get the most benefit from this program, adhere to the following four steps:
Step 1: Review the objectives for the learning program.
Step 2: Study each chapter. As you read, think of experiences from your own practice and situations where you could apply the ideas provided.
Step 3: Assess what you have learned by completing the self-assessment instrument provided at the end of this learning program.
Step 4: Compare your answers with the answer key provided. If you score at least 80% correct, you are ready to transfer your answers to the CONTINUING PROFESSIONAL EDUCATION REPORTING FORM. If you score less than 80% correct, re-read this learning program until you score at least 80% correct.
After you have successfully completed the program complete the CPEU REPORTING FORM and:
submit on-line at www.easyCPEcredits.com
or fax to: (410) 531-9282,
or mail to: Wolf Rinke Associates, 3801 Schuylkill Road, Spring City, PA 19475.

Upon receipt of your completed CPE REPORTING FORM we will send you a Certificate of Completion.
When you submit your CPEU Reporting Form to us via mail, fax or www.easyCPEcredits.com, be sure to write your correct email address in the space provided on the CPE Reporting Form. If writing by hand, be sure to print your e-mail address clearly.
To ensure that our e-mails are delivered to your inbox (instead of your junk/spam folders), please add cpesupport@wolfrinke.com to your Address Book or Safe List of allowed email senders. Also, be sure to allow attachments from this email address.
HAPPY LEARNING!
Rayane AbuSabha, Ph.D., R.D.

GOAL AND OBJECTIVES
Goal
To provide nutrition professionals with an understanding of the factors influencing human dietary behavior.
Objectives
After reviewing and applying the information presented in this accredited, self-directed learning program you will be better able to:
1. Apply the principles of nutrition education
Recognize the challenges facing nutrition educators

Realize the role theory plays in designing nutrition interventions

Select suitable intervention strategies for various subgroups of the population
2. Apply various communication strategies
Utilize effective communication skills with clients and program participants

Identify the characteristics of lectures and group discussions

Deliver successful presentations

Recognize the significant role mass media plays in nutrition
3. Develop effective tools to communicate nutrition messages
Recognize common pitfalls of ineffective educational tools

Identify appropriate content and designs for print materials

Write effective manuals and lesson plans

Develop appropriate visual aids

TABLE OF CONTENTS
Part I: Principles of Nutrition Education and Behavior Change
Chapter 1. Introduction to Nutrition Education
What Is Nutrition Education?
The Job of the Nutrition Educator
Interpreting Science
Keeping Up-to-Date
Using Proper Communication
Facilitating Change
Lobbying for Nutrition Causes
Evaluating Interventions
Mentoring Colleagues
Methods and Tools Used by Nutrition Educators
Conclusion
Chapter 2. The Challenges of Changing Dietary Behavior
Challenges to Behavior Change
Dietary Factors
Individual Factors
Environmental Factors
The Science of Nutrition
Conclusion
Chapter 3. Theories and Models Used in Nutrition Behavior Research
Why Use Theory?
Definitions
Concepts and Constructs
Variables
Propositions.
Principles
Models
Theories
Theories and Models for Behavior Change
Social Cognitive Theory
Theory of Reasoned Action
Health Belief Model
Stages of Change Model
Motivational Interviewing
Conclusion
Chapter 4. Audience Segmentation
Children
Child Development Research.
Implications for Nutrition Education
Adolescents
Implications for Nutrition Education
Adults
Theories of Adult Learning
Nutrition Knowledge and Attitudes of Adults
Implications for Nutrition Education
Older Adults
Review of Characteristics of Older Adults
Implications for Nutrition Education
Multicultural Groups
Implications for Nutrition Education
Low-Income Populations
Implications for Nutrition Education
Conclusion
Chapter 5. Teaching Nutrition Meaningfully: Traditional Versus
Participatory Education Approaches
What Is Meaningful Education
Traditional Approaches to Nutrition Education
Less Traditional Approaches to Nutrition Education
Conclusion
Part II: Developing Effective Educational Strategies and Resources
Chapter 6. Working with the Media
Characteristics of the Media
Uses and Advantages of the Media
Drawbacks of the Media
Working with Media Representatives
Conclusion
Chapter 7. Developing Good Counseling Skills
Definitions
Communicating
Counseling
Verbal Communication
Be Objective.
Avoid Sarcasm
Be Flexible
Involve Clients
Paraphrase
Use Open-Ended Questions
Nonverbal Communication
Listening Skills
Addressing Counseling Challenges
Conclusion

Chapter 8. Delivering Successful Presentations
Preparing Your Presentation
Research Your Audience
Know Your Time Limit.
Consider the Content
Use Your Visual Aids Effectively
Consider the Resources
Delivering Your Presentation
Evaluate Your Presentation
Conclusion
Chapter 9. Designing Educational Print Materials
Designing Print Materials
Steps in the Designing Process
Factors to Be Considered when Designing Print Materials
Conclusion
Chapter 10. Creating Effective Lesson Plans
Getting Ready to Build Your Lesson Plan
Adhere to LearningPrinciples
Structure Your Knowledge
Writing Instructional Objectives
Why Care About Objectives?
General versus Specific Instructional Objectives
Writing Effective Specific Instructional Objectives
Components of Lesson Plans
Conclusion
Chapter 11. Developing Practical Manuals
Why Develop Manuals?
Types of Manual
Tutorial
User's Guide
Policy and Procedure Manual
Reference Manual
Practical Considerations in Developing Manuals
Know Your Target Audience
Readability
Flow and Organization
Appearance
Practicality
Testing Your Manual
Conclusion
Bibliography
For Your Continuing Learning
Self-Assessment Instrument
Answer Key
Explanations to Self-Assessment Instrument
About the Author
About the Editor: Wolf Rinke Associates, Inc.
ABOUT THE AUTHOR
Rayane AbuSabha, PhD, RD, is Program Director and Professor at The Sage Colleges, Troy, NY. Rayane's specialized field of work is in the areas of public health, nutrition education, food behavior, and evaluation of nutrition programs and interventions. Rayane received her bachelor's degree in food technology and nutrition from the American University of Beirut, Lebanon, and master's and doctoral degrees in nutrition from The Pennsylvania State University, University Park, PA. She has been a registered dietitian since 1989, and has counseled hundreds of individuals for obesity, hypertension, diabetes, eating disorders, and other diagnoses.
For over a decade, Rayane has given presentations and workshops to nutrition professionals on topics such as Knowledge and Self-Efficacy of WIC Participants, Functional and Nutritional Status of Older Women, Program Evaluation and Facilitated Nutrition Education. She helped develop a distance learning version and an electronic mail version of an introductory nutrition education course, and was involved in evaluating several broadcast satellite teleconferences, and interventions conducted in the Food and Nutrition Supplemental program for Women, Infants and Children (WIC). She has led evaluations of the WIC Program, the Child and Adult Care Food Program (CACGFP), the Commodity Supplemental Food Program (CSFP) as well as other local community nutrition programs. Rayane is planning to continue her research in nutrition education and behavior change in order to understand individual dietary patterns and unravel the factors that affect food behavior.

---
If you prefer to order by phone, mail or fax click below
or click here to contact us with other questions.
For information about our other products and services return to the sidebar at the top of the page.