MAKE It a WINNING Life
Perpetual Desk Calendar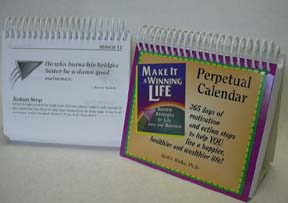 Words of wisdom and inspiration for each day of the year! Powerful motivational messages and easy to apply action steps to help YOU make the message a reality! Size 5-1/2" x 5-1/4", comes with a build-in stand. The easy way to live a happier, healthier and wealthier life! This perpetual calendar will be your personal success coach and keep you on track forever! (M105 $12.95 )

---
Sample page from November 18:
"Some people like to be miserable.
Don't take it away from them."
-- Wolf J. Rinke
Action Step
Most of us have a very difficult time changing ourselves, let alone others. So focus all of your energy where you can make a difference and endeavor to become the best you can be. And spend the absolutely minimum amount of time with negative people.
---
Here is what others have said:
A calendar for your next 10 years
At first I thought "why am I getting this in February, I've already missed a whole month's of advice!" And then I opened it! It is a never-ending calendar, applicable in year 2000 and in year 2010. What a useful tool for personal development, with new and fresh quotations, as well as "food for thought" from the masters. Action steps on each page prompt the thoughts and deeds necessary for success and fulfillment. The only way to start the day!
–Raimonda Mikatavage
Every day help for your lasting success
This is a GREAT calendar! Every day it's something different--humor, wisdom, poetry, advice, inspiration. The variety keeps me engaged and looking forward to the message each day. The action step with each page provides a missing link and reminds me to get moving on changes in my life.
I ordered several calendars thinking I would give them away for the holidays. When they arrived, I liked it so much I decided I had to give one to my husband so we'd have one at home. Although my husband and I just put it out on January 1, I know we're going to enjoy it...perpetually! I heartily recommend this as a gift for friends and colleagues, but get one for yourself too!
–Laurie Aomari
Inspirations from leaders and legends
The Perpetual Calendar is a thought provoking collection of inspiration and instruction for practical, daily living. The Perpetual Calendar was given to employees as holiday gifts. One employee stated that he could not put it down...he read the whole year on the first day! Other Calendar recipients were family and party hostesses. Everyone agreed it was a great gift that lasts! The daily quote and complementary action step is read everyday at work. It is uplifting, positive, and a great way to start the day.
–Laura J. Ritter
---
Buy 4 calendars and SAVE $21.80!
A Super Fantastic Gift any time of the year!
Ideal for your employees, co-workers, friends,
neighbors, loved-ones.
4 calendars for $30.00! (X105)
---
Contact us for bulk discounts!
100% Money Back Guarantee!
If you are not 100% satisfied, return your order
and we will cheerfully refund your money!
---
For more information about our services return to the top of the green bar.
If you prefer to order by phone or fax click below
or click here to contact us with other questions.