Pediatric Nutrition for the School-Aged Child: An Evidenced-Based Approach
Aurea Thompson, MSH, RDN, CSP
Edited by
Mary Ann Cockram, MS, RD and Wolf J. Rinke, PhD, RDN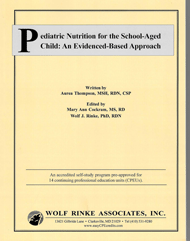 | | | | | |
| --- | --- | --- | --- | --- |
| T366 | 14 CPEUs | HARD COPY | | |
| T366E | 14 CPEUs | ELECTRONIC | $124.95 | |
Manual with 1 Reporting Form (129 pgs) Provides practical information that will enable you to assess nutrient and fluid needs of the school-age child, including children with developmental disabilities who may require enteral nutrition support. It will help you:
educate children and their families regarding sound nutrition practices

develop nutrition care plans for school-age children

assess nutrient needs for overweight children

provide parental interventions for weight management

evaluate the difference between eating disorders and disordered eating

specify nutrient intervention and repletion

assess fluid and nutrient needs for children participating in physical activity

evaluate nutrient needs for children with developmental disabilities

implement feeding delivery for children receiving enteral nutrition support
For more information click here.
Approved by CDR
For RDs/RDNs & DTRs/NDTRs for the Professional Development Portfolio:
SUGGESTED Performance Indicators (PIs):
3.3.1, 4.1.1, 4.1.2, 6.2.5, 8.1.1, 8.1.2, 8.1.3, 8.1.4, 8.1.5, 8.2.2, 8.2.4, 8.4.1, 9.1.1, 9.4.1, 9.4.4, 9.4.5, 10.1.1, 10.2.1, 10.2.5, 10.2.8, 10.2.11,10.4.4, 12.1.1, 12.2.3

DON'T SEE your Performance Indicator Listed here?
There are many Performance Indicators (PIs) that are applicable we can't list them all &
Per CDR you may use ANY PI as long as it relates to your Learning Plan.
For details click here.
Share with a friend and Save! Click here for important information about sharing.
To order an ADDITIONAL Reporting Form click below:

| | | | | |
| --- | --- | --- | --- | --- |
| T366F | 14 CPEUs | REPORTING FORM | $50.00 | |
Pediatric Nutrition for the School-Aged Child: An Evidenced-Based Approach
Aurea Thompson, MSH, RDN, CSP
Edited by
Mary Ann Cockram, MS, RD and Wolf J. Rinke, PhD, RDN
OVERVIEW AND INTRODUCTION
Welcome to Pediatric Nutrition for the School-Aged Child: An Evidence-Based Approach, a pre-approved, accredited Continuing Professional Education (CPE) program. Pediatric Nutrition is specialized medical nutrition therapy (MNT) that focuses on nutrition intervention over the spectrum from infancy to adolescence. This CPE program specifically focuses on nutrition therapy for the school-aged child (ages 5 to 12 years) and some of the nutritional/medical issues that are particular to this population. With the childhood obesity epidemic on the rise in the United States, nutrition professionals must be savvy regarding normal pediatric nutrient needs, as well as how to properly assess the overweight child. Surprisingly, school-aged children are also vulnerable to eating disorders. It is also the age when many children get involved in sports activities through school or in their community for the first time. Therefore, it is during these school-aged years that some parents and even the children themselves begin to ask questions about proper nutrition and seek out various resources for the answers. Being able to educate children and their families and develop nutrition care plans while incorporating evidence-based nutritional practices is what distinguishes the nutrition professional as the expert.
This is a level 2 CPE program pre-approved for 14 continuing professional education units (CPEUs). That means that the reader has general knowledge of the literature and professional practice in the area covered. The focus of this CPE program is to enhance knowledge and application.
To get the most benefit from this program, we suggest you adhere to the following four steps:
Step 1: Review the objectives for the CPE program.
Step 2: Study each chapter. As you read, think of patients from your practice who fit the situation described.
Step 3: Assess what you have learned by completing the self-assessment instrument at the end of this CPE program.
Step 4: Compare your answers to the answer key that has been provided. If you score at least 80% (40 questions) correct, you are ready to transfer your answers to the CONTINUING PROFESSIONAL EDUCATION REPORTING FORM. If you scored less than 80% correct, re-read the appropriate sections of the book and re-test yourself until you score at least 80% (40 questions) correct.
After you have completed the program, fill out the CPE REPORTING FORM and the MANDATORY Critical Thinking Evaluation Tool (CTT) that must be completed per CDR by all credentialed practitioners and:
Submit them online at www.easyCPEcredits.com,
Or fax them to (410) 531-9282,
Or mail them to Wolf Rinke Associates, Inc., 13621 Gilbride Lane, Clarksville, MD 21029.
Upon receipt of your CPE Reporting Form and the CTT, we will email you a Certificate of Completion within 3-5 business days.
NOTE: Per CDR, we are NOT able to send you a Certificate of Completion unless we receive your completed CTT.
When you submit your CPE Reporting Form and the CTT to us via www.easyCPEcredits.com, fax, or mail, be sure to write your correct email address in the space provided on the CPE Reporting Form. If writing by hand, be sure to print your email address.
GOAL AND OBJECTIVES
Goal
To provide you with practical information that will enable you to properly assess nutrient and fluid needs of the school-age child, including children with developmental disabilities that may require enteral nutrition support.
Objectives
Upon the completion of this accredited, self-directed learning program you should be able to:
Assess energy, protein, and fluid needs for children ages 5 through 12 years.

Explain the role MyPlate has in family meal planning and food selection.

Explain the role of the School Breakfast Program and the National School Lunch Program in the diet of the school-aged child.

Assess energy, protein, and fluid needs for the overweight child.

Calculate Body Mass Index and be able to interpret growth parameters for a child in this school-aged population.

Explain the importance of portion distortion, food insecurity, and the role that dietary and lifestyle modifications have in the therapy of childhood weight management.

Explain how parental behaviors and attitudes can influence children's eating habits.

Assess nutrient needs and learn how to screen for malnutrition when developing a medical nutrition care plan for children with eating disorders.

Evaluate energy and hydration requirements for children participating in physical activities.

Assess energy, protein, and fluid needs for children with developmental disabilities.

Apply anthropometric measurements for children with developmental disabilities utilizing the appropriate growth charts for this population.

Evaluate different routes of enteral nutrition therapy for children requiring short- or long-term nutrition support.

Evaluate different types of pediatric oral and/or enteral formulas by analyzing their compositions.
TABLE OF CONTENTS
Chapter 1: Nutrition for the School-Aged Child
New Plate, New Ideas
Customize Your Plate
Planetary Health Plate
Dietary Guidelines 2020-2025
Healthy People 2030 Objectives
Childhood Independence and Food Selection           
Assessing Growth Parameters in the School-Aged Child
Assessing Nutrient Needs in the School-Aged Child
Calculating Energy Needs
Calculating Protein Needs
Calculating Fluid Needs
Vitamins and Minerals for the School-Aged Child
Iron
Calcium
Vitamin D
Medical Nutrition Therapy (MNT) for the School-Aged Child
Case Study #1
Summary
Chapter 2: Childhood Obesity
Food Insecurity and Obesity
Portion Distortion
School Nutrition Dietary Assessment and the School Nutrition and Meal Cost Study
Ethnicity and School Breakfast/Lunch Participation
School Nutrition Policy Initiative
Assessment of Obesity
Pediatric Evidenced-Based Multi-Component Weight Management Programs
Parental Recognition of Obesity
Parental Behaviors to Prevent Obesity
Parenting Styles and the Impact on Childhood Obesity
Case Study #2
Assessing Energy Needs for the Overweight Child/Adolescent
Case Study #3-part A
MNT for Pediatric Weight Management
Case Study #3-part B
Summary
Chapter 3: Eating Disorders and Disordered Eating
Disordered Eating
Eating Disorders
Anorexia nervosa (AN)
Bulimia nervosa (BN)
Binge Eating Disorder (BED)
Treatment Options
Malnutrition
Nutrition Focused Physical Exam (NFPE)
MNT Goals
Nutrition Education Principles for Eating Disorder Recovery
Case Study #4, part A
Case Study #4, part B
Summary
Chapter 4: Physical Activity for the School-Aged Child
Hydration
Fuels for Energy
Pre-Exercise and Post-Exercise Meals
Case Study #5
Summary
Chapter 5: Developmental Disabilities
Anthropometric Measurements in Children with Special Health Care Needs
Goals of MNT
Down Syndrome
Case Study #6
Cerebral Palsy
Case Study #7
Spina Bifida
Prader-Willi Syndrome
Feeding the Child with Very Low Energy Needs
Physical Activity in the Child with Developmental Delay
Summary
Chapter 6: Pediatric Enteral Nutrition Support
Pediatric Enteral Formulas
Polymeric Formulas
Peptide-based Formulas
Elemental Formulas
Blenderized Formulas
Enteral Feeding Delivery
Use of Oral Feedings with Tube Feedings
Tube Feeding Complications
Mechanical
Gastrointestinal
Metabolic
Monitoring Enteral Feedings
Pediatric Enteral Nutrition Therapy Goals
Pediatric Inflammatory Bowel Disease
Summary
References
List of Abbreviations
Glossary
Nutrition Information Resources
Resources and Growth Charts Relevant to Pediatric Nutrition
Appendix A: MyPlate for Children 6 to 11 years
Appendix B: Tips to Help Families Incorporate MyPlate Messages
Appendix C: Pediatric Formulas
Self-Assessment Questions
Answer Key
Explanation for the Answers
About the Author
About the Editors
ABOUT THE AUTHOR
Aurea R. Thompson is a registered dietitian and member of the Academy of Nutrition and Dietetics. She obtained her Board Certification as a Pediatric Specialist in Nutrition in November 2007. An Ohio native, she holds a B.S. in Dietetics from Eastern Michigan University, Ypsilanti, MI, where she completed a coordinated undergraduate program including an internship rotation through the University of Michigan hospital system. She then went on to complete her master's degree at the University of North Florida, Jacksonville, FL.
Aurea has more than 25 years of experience as a registered dietitian. She started her career as a public health nutritionist for the Nassau County Department of Health working in the WIC program. She went on to become the WIC Director for both Nassau and Baker County. In 1999, she left community dietetics to begin her clinical career as a dietitian at St Vincent's Medical Center in Jacksonville, FL. During this time, Aurea authored two publications for Ronald Watson's series Nutrition and AIDS and AIDS and Heart Disease. In 2000, she was named "Young Dietitian of the Year" by the Jacksonville Dietetic Association and was recognized by the Florida Dietetic Association. In 2003 Aurea became a pediatric dietitian at Wolfson Children's Hospital in Jacksonville, FL, where she currently specializes in pediatric and neonatal critical care nutrition. She has earned her Certification as a Specialist in Pediatric Nutrition from the Academy of Nutrition and Dietetics. In addition to her hospital work, Aurea writes a monthly nutrition article for Jax4kids, a publication that features local community topics and information with a focus on children and adolescents. Aurea resides with her husband, son, and daughter in Florida.
ABOUT THE EDITORS
Mary Ann Cockram, MS, RD is retired from Abbott Nutrition where she was a Research Scientist in the Scientific and Medical Affairs group. In this role, she provided clinical nutrition education and brand support internally to Sales and Marketing and externally to clinicians and consumers for Abbott's critical care and surgical enteral nutrition products. Her area of interest is enteral feeding.
Mary Ann received a Bachelor of Science in Home Economics from Valparaiso University in Valparaiso, Ind., and a Master of Science in Clinical Nutrition from Rush University in Chicago.
Mary Ann served as chair of the Medical Nutrition Practice Group, and as the assistant editor and editor of Medical Nutrition Matters, the newsletter of this practice group. Mary Ann participated as an evidence analyst on the Evidence Analysis Team for Adult Weight Management for the Academy of Nutrition and Dietetics, and she attended the test item writer workshop sponsored by the Commission on Dietetic Registration.
Wolf J. Rinke, PhD, RDN is the president and founder of Wolf Rinke Associates, Inc., a company that has provided high-quality CPE programs to nutrition and dietetics practitioners since 1990.
Dr. Rinke earned a BS at Drexel University, an MS at Iowa State University, a PhD in Continuing and Vocational Education (Adult Ed) at the University of Wisconsin, and interned at Walter Reed Army Medical Center. He participated in a test item writer workshop sponsored by the Commission on Dietetic Registration (CDR).
Dr. Rinke is a past Adjunct Associate Professor, Graduate School of Management & Technology at the University of Maryland, and a former Adjunct Faculty Member of the School of Continuing Studies at The Johns Hopkins University.
He has served as past president of the District of Columbia (DC) Dietetic Association and has been honored by the Academy of Nutrition and Dietetics with the Award for Excellence in the Practice of Management, the Outstanding Dietitian of the Year Award, and the Outstanding Service Award, in addition to delivering the Lenna Frances Cooper Lecture.
Dr. Rinke has served in numerous leadership roles at the Academy of Nutrition and Dietetics: Chair of the Scholarship Committee for Dietitians in Business and Communications; Chair of the Communication Committee, Honors Committee, and Licensure Panel and Ethical Practices Task Force for the Commission on Dietetic Registration; Chair of the Area Coordinating Committee and Chair for the Code of Ethics; Member of the Resource for Education Programs Committee; Member of the House of Delegates; and Member of the Board of Directors.
Dr. Rinke is the author of more than 500 articles, numerous CPE self-study programs, and several popular books including Make It a Winning Life: Success Strategies for Life, Love and Business; Winning Management: 6 Fail-Safe Strategies for Building High-Performance Organizations; and Don't Oil the Squeaky Wheel and 19 Other Contrarian Ways to Improve Your Leadership Effectiveness.
Special thanks to the following individuals for their careful review of this program.
Kristina Bramlett, MSH, RD, LD/N, CNSC
Clinical Dietitian
St. Vincent's Medical Center
Jacksonville, FL
Catherine Christie, PhD, RD, LD/N, FADA
Associate Dean
Brooks College of Health
University of North Florida
Jacksonville, FL
Stephanie Crosier, MSH, RD, LD/N
Owner, Crosier Health & Wellness, LLC
Jacksonville, FL
---
If you prefer to order by phone, mail or fax click below
or click here to contact us with other questions.
For information about our other products and services return to the sidebar at the top of the page.