Irritable Bowel Syndrome: Fodmaps, Fat, Fiber and Flora, Second Edition

Kate Scarlata, RDN, LDN
Edited by
Mary Ann Cockram, MS, RDN, LD
Wolf J. Rinke, PhD, RDN, CSP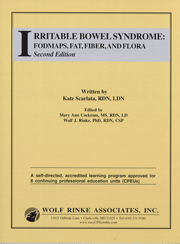 | | | | | |
| --- | --- | --- | --- | --- |
| C307 | 8 CPEUs | HARD COPY | $89.95 | |
| C307E | 8 CPEUs | ELECTRONIC | $84.95 | |
Manual with 1 reporting form 75 pgs.
This up-to-date program will enable you to help your clients manage their IBS symptoms. More specifically you will learn how to:
Assess symptoms and discuss treatment options for your clients with IBS.

Distinguish between food allergy, food sensitivities, gluten sensitivity and celiac disease.

Recommend a low FODMAP diet for symptoms management when appropriate.

Develop IBS nutrition care plans with patient tolerable fiber-rich foods and supplements.
Create menu plans and grocery lists to assist IBS clients in lifestyle management.
For more information and customer comments, click here.
Approved by CDR
For RDs/RDNs & DTRs/NDTRs for the Professional Development Portfolio:
SUGGESTED Performance Indicators (PIs):
6.3.11, 8.1.5, 8.2.1, 8.2.3, 8.3.1, 8.3.6, 8.4.4, 10.2.7, 10.2.9, 12.4.6

DON'T SEE your Performance Indicators Listed here?
There are many Performance Indicators (PIs) that are applicable we can't list them all &
Per CDR you may use ANY PI as long as it relates to your Learning Plan.
For details click here.
Share with a friend and Save! Click here for important information about sharing.
To order an ADDITIONAL Reporting Form click below:
| | | | | |
| --- | --- | --- | --- | --- |
| C307F | 8 CPEUs | REPORTING FORM | $30.00 | |
Irritable Bowel Syndrome: Fodmaps, Fat, Fiber and Flora, Second Edition
Kate Scarlata, RDN, LDN
Edited by
Mary Ann Cockram, MS, RDN, LD
Wolf J. Rinke, PhD, RDN, CSP
©2018 Wolf Rinke Associates, Inc. All rights reserved for this self-directed, accredited learning program. Reproduction in whole or part without written permission from the publisher is prohibited.
CUSTOMER COMMENTS
Lauren R. Weinstein - "It expanded my knowledge on IBS in a very concise, organized manner."
Stephanie Payne - "This course contains a lot of great information on IBS and the FODMAPS protocol. I learned some new information and it was a really good review of FODMAPS. It provides great practical information to give to patients as well."
Dana Artinyan - "Was nice to have a refresher on digestion and the GI tract. The test at the end was a really practical way to test my knowledge and make me feel more prepared to counsel patients."
Colleen Gerg - "I really like the 'case study' format and the booklet to use as a reference. Love that I can complete the course on my own time. Thankful for the section on probiotics. Thought questions were a tiny bit easy, but maybe because I knew more than I thought."
Kaitlynn Reed - "I enjoyed how there was plenty of information in the program from research papers however the information was laid out in a very practical and easy to read way."
Jennifer Chapler - "In regard to IBS and associated GI medical conditions this course was well researched, presented and informative. I appreciated the diet therapeutic approaches, dietary tools and suggested diet options I can use in practice with IBS/GI patients."
Silvia R. Guidry - "This is a very complete course and it was easy to understand considering that the subject matter is complex. I think more CPEUs should be granted, maybe 12."
Emily Ann Taylor - "I liked that this was very straightforward and written in clear language. I was hoping it would be a bit of a deeper dive for someone already familiar with this work but regardless it was really helpful."
INTRODUCTION AND OVERVIEW
Irritable bowel syndrome (IBS) is classified as a functional gut disorder (FGD) characterized by symptoms of chronic, episodic abdominal pain, altered bowel habits, bloating, sensation of incomplete bowel movement, straining and/or urgency which is not explained by structural abnormalities. Mood disorders are a common co-morbidity. The conceptual model of the pathophysiology of IBS is evolving, as gut microbiome research continues to advance it becomes evident that alterations in gut flora appear to play a key role. The notion that IBS is a psychosomatic disorder is being challenged as emerging data reveals that in up to half of those with IBS, alterations in gut symptoms preceded the onset of mood disorders. (Jones 2017). IBS, a highly prevalent condition in North America, is estimated to impact 10%-15% of the population (Saito 2002). An international survey revealed that IBS patients were willing to give up 25% of their remaining life for a treatment that would provide complete symptom relief, revealing the enormous impact of IBS on quality of life (Drossman 2009).
In Chapter 1, you will learn about the pathophysiology, pathogenesis and diagnostic criteria of IBS. In Chapter 2, the low fermentable oligosaccharide, disaccharide, monosaccharide and polyol (FODMAP) diet approach examines how fermentable fibers and sugars contribute to IBS symptoms. You will learn how to identify foods containing these poorly absorbed FODMAPs. Chapter 3 will focus on different fibers and their role in IBS. Chapter 4 reveals the physiologic role of fat in stimulating the gastro-colic reflux and intestinal motility. The impact of co-morbid conditions associated with fat malabsorption will be further elucidated. Review of the digestive process will unfold in Chapter 5, with an introduction to key strategies to enhance digestion and minimize malabsorption. Dietary indulgences such as alcohol, caffeine, and chocolate can wreak havoc on the gastrointestinal tract as detailed in Chapter 6. The basics to help clients manage their IBS symptoms in their everyday life including grocery shopping, menu planning, traveling, and exercise will be reviewed in Chapter 7. Appreciating the role of gut flora and their potential role in IBS will be covered in Chapter 8, in addition to pharmaceuticals, herbal remedies, and cognitive strategies.
This CPE program is a level 2 CPE program approved for eight (8) continuing professional education units (CPEUs). That means that the reader has general knowledge of literature and professional practice in the area covered. The focus of the program is to enhance knowledge and application.
To get the most benefit from this program, we suggest you adhere to the following four steps:
Step 1: Review the objectives for the CPE program.
Step 2: Study each chapter. As you read, think of patients from your own practice who fit the situation described.
Step 3: Assess what you have learned by completing the self-assessment instrument at the end of this CPE program.
Step 4: Compare your answers to the answer key that has been provided. If you score at least 80% correct (40 questions), you are ready to transfer your answers to the CONTINUING PROFESSIONAL EDUCATION REPORTING FORM. If you scored less than 80% correct, re-read this learning program until you score at least 80% correct.
After you have successfully completed the program complete the CPEU REPORTING FORM and:
Submit on-line at www.easyCPEcredits.com,
or fax to: (410) 531-9282,
or mail to: Wolf Rinke Associates, 3801 Schuylkill Road, Spring City, PA 19475.
We will e-mail your Certificate of Completion within 3-5 business days.
When you submit your CPEU Reporting Form to us via www.easyCPEcredits.com, fax or mail, be sure to write your correct email address in the space provided on the CPE Reporting Form. If writing by hand, be sure to print your e-mail address clearly.
To ensure that our emails are delivered to your inbox (instead of your junk/spam folders), please add cpesupport@wolfrinke.com to your Address Book or Safe List of allowed email senders. Also, be sure to allow attachments from this email address.

OBJECTIVES
Upon completion of this accredited, self-directed learning program you should be able to:
Identify the physiological abnormalities present in the IBS body.

Recognize the diagnostic criteria for IBS.

Assess symptoms and discuss treatment options for your clients with IBS.

Determine if other co-morbid conditions may be impacting symptom management.

Distinguish between food allergy and food sensitivities.

Identify the difference between gluten sensitivity and celiac disease.

Detect FODMAP sources in the diet.

Recommend a low FODMAP diet for symptoms management when appropriate.

Assess how different fibers impact IBS symptoms and management.

Develop IBS nutrition care plans with patient tolerable fiber-rich foods and supplements.

Specify consequences of malabsorption on nutritional status.

Explain the digestive process.

Recommend key strategies to maximize digestion.

Evaluate the impact of alcohol on the gastrointestinal tract.

Identify caffeine sources and explain their impact on symptom management.

Specify the potential role of chocolate and alcohol as IBS triggers.

Counsel patients on the role of probiotics for their condition.

Create menu plans and grocery lists to assist their IBS clients in lifestyle management.

TABLE OF CONTENTS
Chapter 1. Irritable Bowel Syndrome: Diagnosis and Classification
PHYSIOLOGICAL ABNORMALITIES IN THE IBS GUT
IBS: PATHOGENESIS
GENETICS/ENVIRONMENT
MICROBIOTA ALTERATIONS
Small Intestinal Bacterial Overgrowth (SIBO)
Risk factors
Diagnosis and nutritional consequences
SIBO treatment
INFLAMMATORY CONDITIONS
BRAIN/GUT RELATIONSHIP
SEROTONIN DISRUPTION
FOOD ALLERGIES VS. INTOLERANCE
CELIAC DISEASE AND NON-CELIAC GLUTEN SENSITIVITY
IBS DIAGNOSTIC CRITERIA
Manning
Rome
RED FLAG SYMPTOMS
Chapter 2. FODMAPs: Efficacy and Basis for Use in IBS
DIET SOURCES OF RAPIDLY FERMENTABLE CARBOHYDRATES
Lactose
Fructose
Fructans
GOS
Polyols
THE LOW FODMAPS APPROACH
Got lactose intolerance?
Fructose malabsorption
FODMAPS IN OUR FOODS
SAVVY LABEL READING
REINTRODUCTION OF FODMAPS
LIMITATIONS OF USE
Chapter 3. Fiber: Friend or Foe in IBS
HEALTH BENEFITS OF FIBER
SOLUBLE VS. INSOLUBLE FIBER
MAXIMIZING FIBER WITHOUT FODMAPS
SUPPLEMENTS
Chapter 4. Role of Fat in IBS
FATS IN HEALTH
CO-MORBID CONDITIONS IMPAIRING FAT DIGESTION
DETERMING FAT LIMITS
HIDDEN FATS
MODIFYING FAT INTAKE
Choosing lower fat food sources and recipe replacements
Low fat cooking
Chapter 5. Digestion 101
THE DIGESTIVE PROCESS
FOOD TO DIGESTIBLE COMPONENTS
MALDIGESTION
MINIMIZING AIR INGESTION
MIGRATING MOTOR COMPLEX
Chapter 6. Dietary Indulgences: Impact of Alcohol, Caffeine and Chocolate
ALCOHOL'S IMPACT ON THE GASTROINTESTINAL TRACT
FODMAPs and drink choices
CAFFEINE
Impact on intestinal motility
Caffeine sources in the diet
CHOCOLATE
Fiber content
Chocolate as a caffeine source
Fat content
Chapter 7. IBS Lifestyle Solutions
GROCERY SHOPPING
MENU PLANNING
SNACKS
DINING OUT
TRAVELING
EXERCISE
Chapter 8. Beyond Diet: Probiotics, Supplements and Medications
PROBIOTICS
Types of probiotics
Role of probiotics in IBS
Use in SIBO
Prebiotics
PHARMACEUTICALS
HERBAL THERAPIES
COGNITIVE STRATEGIES
Summary
References
List of Abbreviations
Glossary
Resources
Self-Assessment Questions
Explanation to Questions
About The Author
About The Editors

ABOUT THE AUTHOR
Kate Scarlata is a registered and licensed dietitian with a Bachelor of Science degree from Simmons College in Boston, Massachusetts. Her postgraduate training was completed at Brigham and Women's Hospital, a Harvard Medical School teaching affiliate and she is currently a Masters of Public Health candidate at University of Massachusetts. As a digestive health expert, Kate has co-authored the New York Times Best Seller, The 21 Day Tummy Diet and authored The Complete Idiot's Guide to Eating Well with IBS and many digestive health focused articles. In addition to her health writing, Kate provides nutritional consultation in her private practice in Medway, Massachusetts.
ABOUT
THE EDITORS
Mary Ann Cockram, MS, RDN, LD is a Research Scientist in the Scientific and Medical Affairs group at Abbott Nutrition where she provides clinical nutrition education and brand support internally to Sales and Marketing and externally to clinicians and consumers for Abbott's critical care and surgical products. Her area of interest is enteral feeding.
Mary Ann received a Bachelor of Science degree in Home Economics from Valparaiso University in Valparaiso, IN, and a Master of Science degree in Clinical Nutrition from Rush University in Chicago.
She is a member of the American Society for Parenteral and Enteral Nutrition (ASPEN) and the Society of Critical Care Medicine. Mary Ann has served as chair of the Medical Nutrition Practice Group, and as the assistant editor and editor of Medical Nutrition Matters, the newsletter of this practice group. Mary Ann continues to write continuing professional education test questions for the articles in Medical Nutrition Matters. She participated as an evidence analyst on the Evidence Analysis Team for Adult Weight Management for the Academy of Nutrition and Dietetics, and she attended the test item writer workshop sponsored by the Commission on Dietetic Registration.
Wolf J. Rinke, PhD, RDN, CSP is the president and founder of Wolf Rinke Associates, Inc., a company that has provided high quality CPE programs to nutrition professionals since 1990.
He earned a BS at Drexel University, a MS at Iowa State University, a PhD in Continuing and Vocational Education (Adult Ed) at the University of Wisconsin, and interned at Walter Reed Army Medical Center. He participated in a test item writer workshop sponsored by the Commission on Dietetic Registration (CDR).
Wolf is a past Adjunct Associate Professor, Graduate School of Management & Technology, University of Maryland, and a former Adjunct Faculty Member, School of Continuing Studies, The Johns Hopkins University.
He is the past president of the DC Dietetic Association and has been honored by the Academy with the Award for Excellence in the Practice of Management; the Outstanding Dietitian of the Year Award; the Outstanding Service Award; and has delivered the Lenna Frances Cooper Lecture.
At the Academy he has served in numerous leadership roles including Chair, Scholarship Committee, DBC; Chair, Communication Committee, CDR; Chair, Area Coordinating Committee, COE; Chair, COE, and member of the Resource for Education Programs Committee; Honors Committee; CDR, Licensure Panel and Ethical Practices Task Force; CDR; House of Delegates and Board of Directors.
He is the author of more than 500 articles, numerous CPE self-study programs, and several popular books including Make It a Winning Life: Success Strategies for Life, Love and Business; Winning Management: 6 Fail-Safe Strategies for Building High-Performance Organizations; and Don't Oil the Squeaky Wheel and 19 Other Contrarian Ways to Improve Your Leadership Effectiveness.
ACKNOWLEDGMENTS
Special thanks to the following individuals for their review.
Cindy H. Carroll, MS, RD, LDN
Private Practice
Lexington, Massachusetts
Sophia C. Kamveris, MS, RD, LD
Private Practice
Arlington, Massachusetts
Janine Clifford-Murphy, MS, RD, LDN, CDE
Visiting Nurses Association
Boston, Massachusetts

---
If you prefer to order by phone, mail or fax click below
or click here to contact us with other questions.
For information about our other products and services return to the sidebar at the top of the page.