The Blue Zones Solution: Eating and Living Like the World's Healthiest People
Book by Dan Buettner
Study Guide by Susan Burke March, MS, RDN, LDN, CDE
Edited by Wolf J. Rinke, PhD, CSP, RDN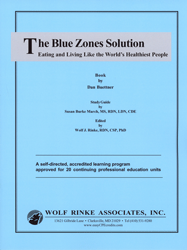 | | | | | |
| --- | --- | --- | --- | --- |
| C272 | 20 CPEUs | HARD COPY | | |
Book, 319 pgs and Study Guide with 1 reporting form, 25 pgs. This groundbreaking best-selling CPE program reveals how to transform your client's health using smart eating and lifestyle habits gleaned from new research on the diets, eating habits, and lifestyle practices of the communities with the world's longest-lived, and healthiest, people. You too can apply what the author has learned from launching the largest preventive health care project in the United States. Upon completion of this CPE program you will be better able to:
Integrate outcomes research to plan programs that help clients achieve healthier nutrition, lifestyles and longevity.

Utilize proven lifestyle evaluation tools to assess pre- and post-program participant's or client behaviors and health status.

Recommend "best" and "worst" foods for promoting health and longevity.

Identify health benefits, recommended servings and the healthiest varieties of various foods such as meat, fish, eggs, nuts, bread, and plant-based foods.

Assist clients in identifying barriers to change, and formulating positive social relationships linked to improved health.
For more information and customer comments, click here.
Approved/Accepted by CDR, CBDM, NCBDE
For RDs/RDNs & DTRs/NDTRs for the Professional Development Portfolio

SUGGESTED Learning Need Codes:
1040, 1060, 1120, 2000, 2020, 2030, 2040, 2050, 2070, 2090, 2110, 3000, 3020, 3030, 3040, 3070, 3100, 4000, 4010, 4040, 4050, 4060 4070, 4090, 4110, 4120, 4170, 4180, 4190, 5000, 5160, 5190, 5200, 5260, 5280, 5370, 6010, 6020, 8015, 8018, 8090, 8100

SUGGESTED Performance Indicators (PIs):
1.3.6, 1.3.9, 8.1.1, 8.1.2, 8.1.3, 8.1.4, 8.1.5, 8.2.1, 8.2.4, 8.3.1, 8.3.6, 8.4.1, 8.4.2, 8.4.4, , 10.2.1, 10.4.3, 11.2.7, 12.1.1, 12.1.3, 12.2.1, 12.2.6, 12.2.7, 12.3.7, 12.4.2, 12.4.4, 13.2.3, 13.2.7.


DON'T SEE your Performance Indicators or Code Listed here?
There are many Performance Indicators (PIs) that are applicable we can't list them all &
Per CDR you may use ANY PI or CODE as long as it relates to your Learning Plan.
For details click here.


Share with a friend and Save! Click here for important information about sharing.
To order an ADDITIONAL Reporting Form click below:

| | | | | |
| --- | --- | --- | --- | --- |
| C272F | 20 CPEUs | REPORTING FORM | $50.00 | |
The Blue Zones Solution: Eating and Living Like the World's Healthiest People
Book by Dan Buettner
Study Guide by Susan Burke March, MS, RDN, LDN, CDE
Edited by Wolf J. Rinke, PhD, CSP, RDN
©2015 Wolf Rinke Associates, Inc. No part of this publication may be reproduced, stored in a retrieval system, or transmitted in any form or by any means, electronic, mechanical, photocopying, recording, scanning, or otherwise, without the prior written permission of the Publisher.
CUSTOMER COMMENTS
Martie Slaughter: "I loved the very positive environmental focus of this course. Promoting Individual choice in the behaviors that could be adopted."
Laura Vogt: "I love the layout of the book. It was easy to follow and very interesting. The recipes were awesome."
Brontie Radgman: "The information was amazing. I am a Seventh day Adventist and follow many of their practices. I like how the information was presented. I creates a desire to follow practices of the other Blue Zones."
Jeryl Topalian: "I liked the case studies, and the recipes. It offered some great practical tips."
Colleen Brezicky: "I found this course to be very interesting and inspiring for someone who wishes to understand and make changes with their relationship with food and eating. I was moved by several observations and quotes that the author stated.I am very glad I selected it."
OVERVIEW AND INTRODUCTION

Welcome to the pre-approved, accredited CPE program for The Blue Zones Solution. The program consists of a book of the same title by Dan Buettner and this study guide. The CPE program is designed to enable you to help your patients/clients live healthier, longer and more fulfilling lives. It is also designed to help you earn 20 Level 2, Continuing Professional Education Units (CPEUs).
To get the most out of this CPE program, it is suggested that you adhere to the following four steps:
Review the objectives in this study guide.
Read and study the book.
Assess what you have learned by answering the self-assessment questions in this study guide.
Compare your answers to the answer key, which you will find at the end of the study guide. If you scored at least 80% (40 questions) correct, you have completed the program and are ready to transfer your answers to the CONTINUING PROFESSIONAL EDUCATION REPORTING FORM in front of this study guide. If you scored less than 80% correct, re-read the appropriate sections of the book and until you score at least 80% correct.
After you have successfully completed the program, complete the CPE REPORTING FORM and:
Submit on-line at
www.easyCPEcredits.com
,
Or fax to: (410) 531-9282,
Or mail to: Wolf Rinke Associates, Inc., 13621 Gilbride Ln, Clarksville, MD 21029.
We will email your Certificate of Completion.
When you submit your CPE Reporting Form to us via www.easyCPEcredits.com, fax, or mail be sure to write your correct email address in the space provided on the CPE Reporting Form. If writing by hand, be sure to print your email address clearly.
To ensure that our emails are delivered to your inbox (instead of your junk/spam folders), please add cpesupport@wolfrinke.com to your Address Book or Safe List of allowed email senders. Also, be sure to allow attachments from this email address.
LEARNING OBJECTIVES
Upon completion of this CPE program you will be better able to:
Identify geographical areas around the world where people live measurably longer and healthier lives.
Recommend specific lifestyle characteristics that are associated with longevity.
Identify Blue Zones foods that are linked to longevity.
Integrate outcomes research to plan programs that help clients achieve healthier nutrition and lifestyles.
Discuss the importance of the paradigm shift, which result in healthier outcomes.
Utilize proven lifestyle evaluation tools to assess pre- and post-program participant's or client behaviors and health status.
Discuss research that links higher healthcare costs to the incidence of overweight and obesity.
Recommend potential health benefits of plant-based diets, and assist clients in developing menus.
Suggest "best" and "worst" foods for promoting health and longevity.
Assist clients in meeting recommended protein needs from vegetarian sources.
Identify health benefits, recommended servings and the healthiest varieties of various foods such as meat, fish, eggs, nuts, bread, and plant-based foods..
Recommend culinary herbs, and discuss their unique protective health benefits.
Discuss "mindless eating" and identify environmental modifications that can help clients eat more mindfully, healthfully, and naturally.
Recommend strategies for dining out more healthfully.
Discuss the research and potential benefits associated with calorie restriction.
Provide guidelines for alcohol consumption, and identify potential health benefits and detriments.
Discuss how social interaction and support is integral to health and longevity.
Assist clients in identifying barriers to change, and formulating positive social relationships linked to improved health.
Provide guidelines for sugar consumption, and recommend possible alternatives.
Recommend eating patterns associated with longevity and weight management.
Suggest healthful modifications to improve sleep.
Recommend strategies to help clients develop a taste for new flavors and textures.
TABLE OF CONTENTS

Foreword by Dean Ornish, M.D.
Introduction: Discovering the Blue Zones Solution
PART ONE
Discovering the Blue Zones
The Secrets of a Mediterranean Diet: Ikaria, Greece
A Diet From the World's Longest-Lived Women: Okinawa, Japan
A Diet From the World's Longest-Lived Men: Sardinia, Italy
An American Blue Zones Diet: Loma Linda, California
History's Best Longevity Diet: Nicoya Peninsula, Costa Rica
PART TWO
Making an American Blue Zone
Finland's Miracle Makeover
The Minnesota Experiment
Thriving in the Beach Cities
Blue Zoning the Pork State
PART THREE
Building Your Own Blue Zone
Food Rituals: How to Eat to 100
Blue Zones Menus: Meals and Snacks
Blue Zones Living: A Design for Easy Health
PART FOUR
Blue Zones Recipes
77 Easy, Delicious Recipes
The Science Behind the Blue Zones Solution
Acknowledgments
Selected Bibliography
Index
ABOUT THE AUTHOR OF THE BOOK

New York Times best-selling author and National Geographic Fellow Dan Buettner has delivered more than 3,000 speeches to audiences' world-wide. His TED Talk "How to live to be 100+" has been viewed over 2 million times and his New York Times Sunday Magazine article, "The Island Where People Forget to Die" was the second most popular article of 2012. Dan has keynoted speeches for Bill Clinton's "Health Matters Initiative", Google's "Zeitgeist", "TEDMED", and many other nationally renowned conferences.
In 2009 Dan, in conjunction with AARP, applied principles of The Blue Zones to Albert Lea, Minnesota and successfully raised life expectancy and lowered health care costs by some 40%. He's currently working with Healthways to implement the Blue Zones Project in cities throughout America.
ABOUT THE AUTHOR OF THE STUDY GUIDE
Over the past 25 years Registered and Licensed Dietitian Susan Burke March has made her personal passion for healthy living and smart weight management her vocation. Susan holds undergraduate and graduate degrees in nutrition and education, is a certified diabetes educator, and holds advanced certificates of training in Adult Weight Management (Levels 1 and 2) and Childhood and Adolescent Weight Management. She served as Chief Clinical Nutrition Manager at Mt. Sinai Hospital of Queens, New York.
Susan is the former Vice President of Nutrition and Chief Nutritionist for eDiets.com, a leader in the online weight management program arena. She led the nutritional development of a roster of healthy weight programs, and spearheaded development of unprecedented features and services that today are commonplace in the online weight management industry. Susan served on the board of the Weight Management Dietetic Practice Group of the Academy of Nutrition and Dietetics, and as a spokesperson for the Florida Academy of Nutrition and Dietetics.
Susan is the author of the practical and informative book Making Weight Control Second Nature: Living Thin Naturally (Mansion Grove House, 2009) and the accompanying 26-CPEU study guide published by Wolf Rinke Associates (2010). She and her husband Ken are currently living and studying Spanish in Ecuador's third largest city, Cuenca. Susan is the Nutrition and Health Columnist for CuencaHighlife.com, and blogs on SecondNatureNutrition.com about Ecuadorian food, health issues, and nutrition news for the expat community.
ABOUT THE EDITOR
Wolf J. Rinke, PhD, RDN, CSP is the president and founder of Wolf Rinke Associates, Inc., a company that has provided high quality CPE programs to nutrition professionals since 1990.
He earned a Bachelor of Science degree at Drexel University, a Master of Science at Iowa State University, a PhD in Continuing and Vocational Education (Adult Ed) at the University of Wisconsin, and interned at Walter Reed Army Medical Center. He participated in a test item writer workshop sponsored by the Commission on Dietetic Registration (CDR).
Wolf is a past Adjunct Associate Professor, Graduate School of Management & Technology, University of Maryland, and a former Adjunct Faculty Member, School of Continuing Studies, The Johns Hopkins University.
He is the past president of the DC Dietetic Association and has been honored by the Academy with the Award for Excellence in the Practice of Management; the Outstanding Dietitian of the Year Award; the Outstanding Service Award; and has delivered the Lenna Frances Cooper Lecture.
At the Academy he has served in numerous leadership roles including Chair, Scholarship Committee, DBC; Chair, Communication Committee, CDR; Chair, Area Coordinating Committee, COE; Chair, COE, and member of Resource for Education Programs Committee; Honors Committee; CDR, Licensure Panel and Ethical Practices Task Force; CDR; House of Delegates and Board of Directors.
He is the author of more than 500 articles, numerous CPE home-study programs, several popular books, and the free monthly eNewsletter "Read and Grow Rich" written specifically for savvy Nutrition Professionals like YOU!
Subscribe now at www.easyCPEcredits.com–you'll be glad you did!
ACKNOWLEDGEMENTS
Special thanks to the following individuals for their careful review of this CPE program:
Lynn Grieger, RDN, CDE, CPT, CWC
Health, Food and Fitness Coach
Prescott, AZ
Erin Macdonald, RDN
Nutrition, Fitness, and Wellness Coach
Dove Canyon, CA
Martie M. Slaughter, MS, FACHE, RDN, FAND, CDE
Certified Diabetes Educator
Centra Health
Lynchburg, VA
---
If you prefer to order by phone, mail or fax click below
or click here to contact us with other questions.
For information about our other products and services return to the sidebar at the top of the page.